Do you have a composite deck but don't know how to properly take care of it? Because composite decks are made from wood byproducts (i.e. wood chips, sawdust) and plastics, they require less maintenance work than other wood decks. These types of decks come in a variety of styles, colors, and grains to choose from.
Taking care of your deck isn't a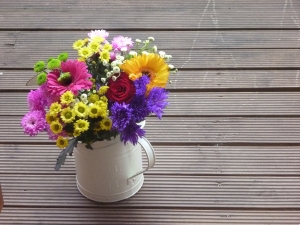 hard process at all. The first thing you should do is to grab a broom and dustpan and begin sweeping your deck. Sweeping frequently will help keep your deck clean. As you're sweeping, make sure to sweep all of the debris off of your low-maintenance deck. Pick up any leaves or sticks that might be stuck within the cracks of your deck board. Composite decking material cannot be sanded nor refinished so if you see any stains on the deck, be sure to address them quickly so that they can be removed.
Composite Deck Cleaning
Next, scrub your deck with soap and hot water or composite deck cleaner. Use a deck brush while scrubbing the surface of your composite deck. The deck brush that you use should have soft bristles to make your deck even smoother.
Finally, rinse off your low-maintenance deck using the water hose. Make sure all of the soap's residue is removed. If your composite deck has any marks on it, use nail polish remover, rubbing it in a circular motion, on a wet cotton ball to get it off. Once finished, allow your deck to dry.
Miles Bradley Building and Remodeling, INC specializes in building composite decks. If you're interested or have any questions, contact us at any one of our locations.
Posted In: composite decking, Deck Cleaning, Decks, Low Maintenance Decks, wood-alternative
Tags: composite deck stain, composite decking, Composite decks, Deck Cleaning, easy to clean deck, low maintenance deck, maintaining composite deck