Have you ever wondered what the difference was between a deck or a patio? They are very similar but one might fit or look better than the other in your backyard. It is important to understand the differences between a patio and a deck in order to make an informed buying decision.
Decks are platforms made of wood or composite materials. Also, decks work best if you have a sloped yard and you want to create a flat area. Homes that sit high above the ground are also good for decks. In addition, decks can be built as high as you need them, unlike patios.
Patio Options
Patios are normally built on flat ground. They are made of wood, concrete, or flagstone. It is also possible for them to be built on a sloped lot but building it can be more costly. If your door is ground level, then many people choose to have them built instead of a deck.
When deciding to get a patio or a deck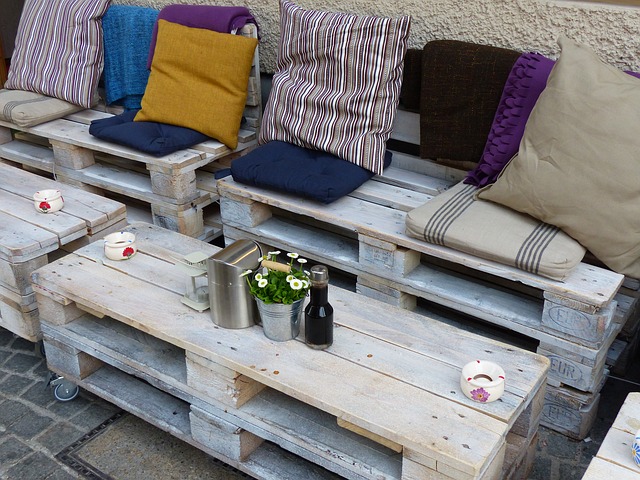 built, you should consider how many people you want it to accommodate and what activities you want to do outside. This will help Miles Bradley figure out traffic flow, safety measures, and size estimates. A growing trend in the deck industry is to build a multi-level deck with steps leading down to a patio. This is a great way to enjoy the benefits of both if you still can't decide which one to get.
Let Miles Bradley in Michigan build your next deck or patio. We have over 20 years of experience constructing decks on a variety of landscapes. We do great work and have excellent testimonials to prove it. A Miles Bradley deck comes with exceptional workmanship and is built with high-quality materials. Finally, contact Miles Bradley today to start your deck or patio project!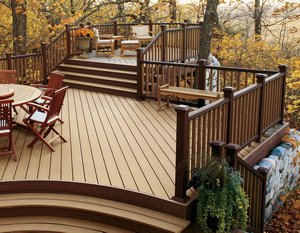 Over time, the decking industry has made drastic improvements to materials used to create your dream deck. Trex or Timbertech are very popular composite deck companies. Also, manufacturing composite decking materials that give homeowners the wood look they want, yet easy maintenance and longevity. As time continues to pass, composite decking continues to transform and other composite decking manufacturers are being introduced.
If you are planning on having your dream deck constructed out of low maintenance composite decking materials, Trex or Timbertech both supply high-quality decking materials and have very similar collections for you to choose from. So what is the difference between the two? Which should you choose? Looking fo tips on maintaining your Trex deck? Click here.
Timbertech or Trex
The decision on when to choose Trex composite decking or Timbertech composite decking is completely up to you. As far as the product goes, they are very similar and both offer the same low maintenance aspect that everyone is searching for. You may realize that your decision on which company to select may come down to texture, color, or customization you wish for your deck or landscaping project to have.
When searching for a Timbertech installer, look no further than Miles Bradley!
Miles Bradley Building has been installing composite decks for decades. Our experienced staff can help find exactly what you are looking for. At Miles Bradley, we construct your low maintenance dream deck with the highest quality Trex or Timbertech composite decking materials. Our decking professionals will review your deck plans and help you determine whether Timbertech or Trex composite decking is right for you. Finally, contact our professional deck builders today so we can get started.
View Trex Composite Decking Collections
View Timbertech Composite Decking Collections
Pergolas and gazebos are becoming more popular additions to add value to your home. Have you recently had a pergola or gazebo added to your deck or yard in Michigan? If so, you may be wondering how you can decorate it for the winter. There are many creative decorating ideas for pergolas or creative decorating ideas for gazebos that will turn heads. Of course without any work at all, the wood stain against Michigan's bright white snow is beautiful in itself, here are some simple additions that will  truly make your pergola or gazebo stand out.
Gazebo Lighting
Adding simple holiday lighting to your pergola or gazebo will create a stunning ambiance that will illuminate your structure. Whether you select a basic white lighting or other color, it will reflect beautifully off of accumulated snow. Because of the unique structure of your custom pergola or custom gazebo, your lighted snow covered gazebo or pergola is sure to produce a great photo op!
Greenery
Whether you go with a faux garland or choose real evergreen, you will create a stunning contrast to your pergola or gazebos finish. Garland can be wrapped around the posts of the bottom of your gazebo of pergola, or draped from the roof. You may also choose to incorporate your lighting into your greenery by twisting it around as you would for holiday decorations. Some even add red bows in the center of draping or at the top of posts wrapped in garland to really add a holiday touch.
Whether or not you choose to decorate your gazebo or pergola is completely up to you. Check out some of the awesome winter decoration ideas for pergolas or winter decoration ideas for gazebos that we have found on Pinterest.
If you haven't contacted us to have a pergola or gazebo added to your home, its not too late. In fact, this is the perfect time to schedule your pergola construction or gazebo construction in Michigan. With off season building you can save up to 20% on your project! Contact Miles Bradley today for more information.
Spring is in the air in the Metro Detroit area. When spring cleaning your house, don't forget about  your Michigan deck. Leaving stains or improperly cleaning your deck can lead to the warranty on your deck being voided out. Miles Bradley recommends that you watch the video below to learn the proper steps to clean your composite custom deck in Novi, Northville or all over southeastern Michigan.
How to Properly Clean Your Trex Deck Without Voiding Your Warranty
Spring is the season for deck building in Michigan and Illinois. During this season, we get many questions asking about the cost of a new deck. There are many deck building companies out there but few can compete with the high quality workmanship, materials and knowledge that Miles Bradley provides. We will tell you all you need to know about the procedures and costs of getting a new deck built for you home.
Miles Bradley cost guideline for a typical new custom deck construction.
The average deck is around 300-400 square feet.
Pressure treated wood deck can cost around $8,500-$12,000 depending on how it is constructed.
Cedar decks can cost between $10,000 and $13,000 depending on the specs of the deck.
Composite decks can cost between $13,000 and $19,000. Check out our Trex Low Maintenance Composite Decks, don't let the price discourage you, these decks are built to stand up to the outdoor weather. There is no need to paint, seal or stain they last up to warping, weathering and insects.
Deck cost pricing includes; permits from the city, clean up, labor, material , warranty, and some beautiful rail lighting.(We add in to thank you for your business!)
The prices above are for a complete deck construction. Your custom deck will vary within the pricing. Contact us for pricing on building a new deck for your home.
Custom Deck features can increase deck building cost;
Your options are endless! Keep in mind custom features such as curved rails, steel frames, spiral staircases, radius decks, and custom decking patterns can increase costs.
The first day of spring has started, right now is the perfect time to have Miles Bradley help design and build your custom deck. Call our Detroit Michigan office: 248-478-8660 or our Chicago Illinois office: 847-920-7601 for new deck building costs in your area.
>