Miles Bradley has been busy this summer! Offering a variety of composite deck materials that comes in different grain patterns and colors, along with full deck planning and all the extras you can add to your deck. In addition, as a certified Trex Pro Platinum builder, we build low-maintenance decks using composite deck materials.
Check out this new deck build In Novi, Michigan with our favorite products from Trex.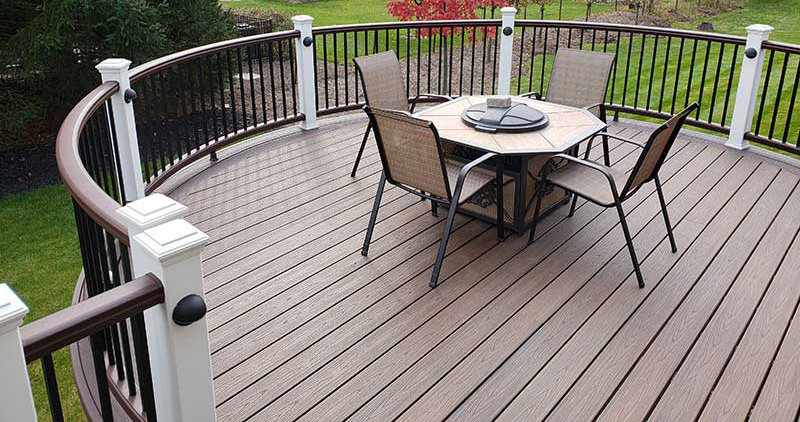 While enjoying the outdoors on your new Trex Composite Deck, you may think you would like a fire pit on the deck.  So the question becomes, can you put a fire pit on your composite deck? Well, the answer is a little muddy. First, you should never put a fire pit directly on your deck with no protection. The heat alone can warp the decking materials as well as embers can burn the deck as well.
Trex decking can soften at about 176 degrees Fahrenheit so you have to very cautious about the size of your fire. In addition, never install the firepit directly on top of the deck.  A gas type fire pit is a much better option than a wood-burning one
Composite Deck Fire Pit On Trex Safety Steps
If you are determined to add a fire pit to your deck try to keep some of this advice in mind.  Make sure under the firepit you install fire-resistant material for the pit to rest on. Insulated walls of stone or other types of materials are used to prevent heat from escaping. Deck Protect is another product that is used to prevent fire damage to your deck. Also, you can have a new custom-built deck that encompasses the fire pit and does not have the fire pit directly on the deck.
At Miles Bradley, we custom build low-maintenance composite decks all the time and we can accommodate your needs. While it is not highly recommendable to put a large fire pit on your composite deck. With careful planning and the right type of materials and fire pit, it can be done. Call us today at 248-478-8660 in the Detroit area or 847-920-7601 in the Chicago area. Finally, we can answer any questions you have about Trex composite decks and your options.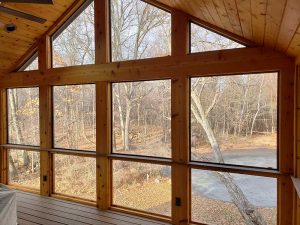 A screened enclosure is a great thing to construct before the Summer arrives. At the beginning of Summer, bugs start to spawn, trees start to pollinate and mess with your allergies, and hot temperatures force you to blast your air conditioning system. In addition, a screened enclosure from Miles Bradley allows for you and your family to be outside with all of the benefits of being indoors! Furthermore, you can avoid the numerous bug species, pesky tree pollen, and even the hot temperatures (by installing a fan in the enclosure)!
Advantages of having a screened enclosure
Summer weather can be unpredictable. When it rains, usually it ruins your plans for outdoor festivities. With an enclosure, you can still enjoy the outdoor activities and festivities with your family while still being protected against the rain or other harsh elements.
Enclosures use up that extra space that you don't really use. Do you have a deck or porch that sits empty for half of the year? With a screened enclosure, you can use the space year-round. You can use the full value of your property all the time!
The enclosures we build are a great fit with your composite deck made from Trex decking. You can have a matching enclosure and deck that would make your house look great!
Enclosures and Decks are all the rage nowadays. Homebuyers look for houses with a screened enclosure and well-made deck so they will not have to add to the cost of buying the house when they add one.
Contact
If you are interested in having a screened enclosure constructed at your home, contact Miles Bradley today! Request a quote for your home and check out our website gallery to see some of our previous projects. So, what are you waiting for? Contact us today!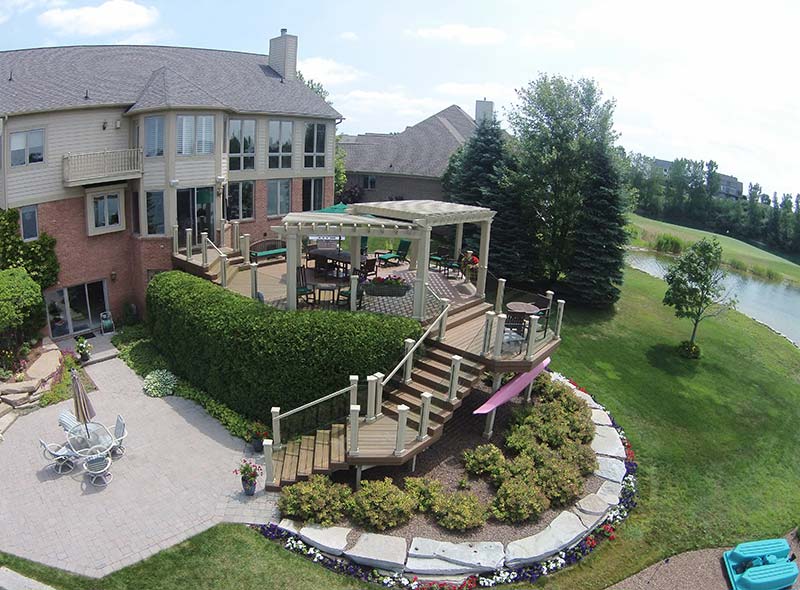 Are you looking for a deck builder near you in Farmington Hills? Here at Miles Bradley, we build composite decks in Farmington Hills. While they are stable and dependable, they are also unmatched in beauty. With decades of experience and customer satisfaction, we are there to help you make the custom deck of your dreams.
Farmington Hills is a beautiful and prosperous Michigan city. The schools are top-of-the-line and the area is shrouded in wealth. The beautiful houses should be accompanied by beautiful custom decks! A nice deck can make or break your home, so why not aim for the best?
Why a Composite Deck?
Unlike a wood deck which shows its age over the years, low-maintenance composite decks are built to last. Composite decks are made from Trex materials that can withstand harsh Michigan weather patterns. That is why more and more homeowners are seeing the benefits of low-maintenance composite decks. They maintain their beauty for a longer amount of time and by requiring little-to-no maintenance, they are practical for anyone. Furthermore, there are several advantages to having a composite deck.
The deck boards are made from recycled materials so you will not have to worry about killing trees in order to get new wood.
Composite decking is designed to resist scratching, fading, staining, and mold. Also, unlike wood, composite decks are insect-proof so you have no threat of infestation or material damage.
At first, a composite deck will be higher a cost but in the long run with way less maintenance and longer durability, you will save money.
Contact
If you are interested in building a new composite deck, contact Miles Bradley right away! We treat your home like it is our own, the care only expected of family. The best place to go for a new deck is here with our decades of experience and customer satisfaction. Finally, request a quote from us today!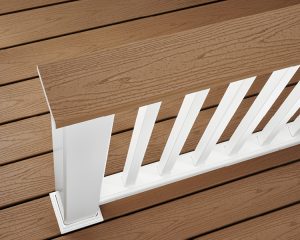 Are you looking for a brand-new composite deck for your dream backyard? You have a few choices on what to make your deck out of. Trex, the world's number one decking brand, TimberTech, America's number one in premium decking, or original wood, an easy material to use that is the go-to for many people.
Each material has its own advantages and disadvantages, so we cover the great Trex vs Timbertech debate.
Benefits of a Trex deck
Trex is an eco-friendly decking material. Unlike wood, Trex decks come will not rot, split, swell, or crack from insect infestation. And because the color is ingrained within the material, Trex does not require repainting, annual staining, or sealing.
Benefits of a TimberTech deck
TimberTech is number one in premium decking. These decks are durable enough to withstand almost anything your family, friends, and the elements throw at them. They do not require any staining or sealing in their long-lasting life in your backyard.
Wood decks are the original design that many flocks to in the spring and summer months. Even though wood is in need of replacement every couple of years, wooden decks are easy to construct at a reasonably affordable price. Unfortunately, this resource is scarce and can lead to deforestation. It also splits and splinters with age. So, perhaps wood is not the best option for today's standards.
Why Choose Trex vs Timbertech
Trex is by far the best and most reliable brand to use when constructing a deck. Your deck will last for years to come with Trex as its construction base. You can make the deck of your dreams in the color of your choice. So why wait?
Contact Miles Bradley Decks today to get a free quote! We can make your deck in any color you choose. Our main seller is Trex but we can do whatever you'd like most on your favorite deck. So, let's make your dreams a reality, call us today or contact us through our form!