Do you have a composite deck but don't know how to properly take care of it? Because composite decks are made from wood byproducts (i.e. wood chips, sawdust) and plastics, they require less maintenance work than other wood decks. These types of decks come in a variety of styles, colors, and grains to choose from.
Taking care of your deck isn't a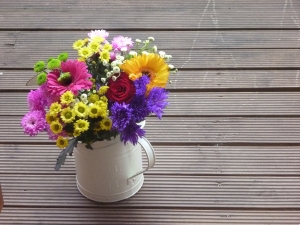 hard process at all. The first thing you should do is to grab a broom and dustpan and begin sweeping your deck. Sweeping frequently will help keep your deck clean. As you're sweeping, make sure to sweep all of the debris off of your low maintenance deck. Pick up any leaves or sticks that might be stuck within the cracks of your deck board. Composite decking material cannot be sanded nor refinished so if you see any stains on the deck, be sure to address them quickly so that they can be removed.
Composite Deck Cleaning
Next, scrub your deck with soap and hot water or composite deck cleaner. Use a deck brush while scrubbing the surface of your composite deck. The deck brush that you use should have soft bristles to make your deck even smoother.
Finally, rinse off your low maintenance deck using the water hose. Make sure all of the soap's residue is removed. If your composite deck has any marks on it, use nail polish remover, rubbing it in a circular motion, on a wet cotton ball to get it off. Once finished, allow your deck to dry.
Miles Bradley Building and Remodeling, INC specializes in building composite decks. If you're interested or have any questions, contact us at any one of our locations.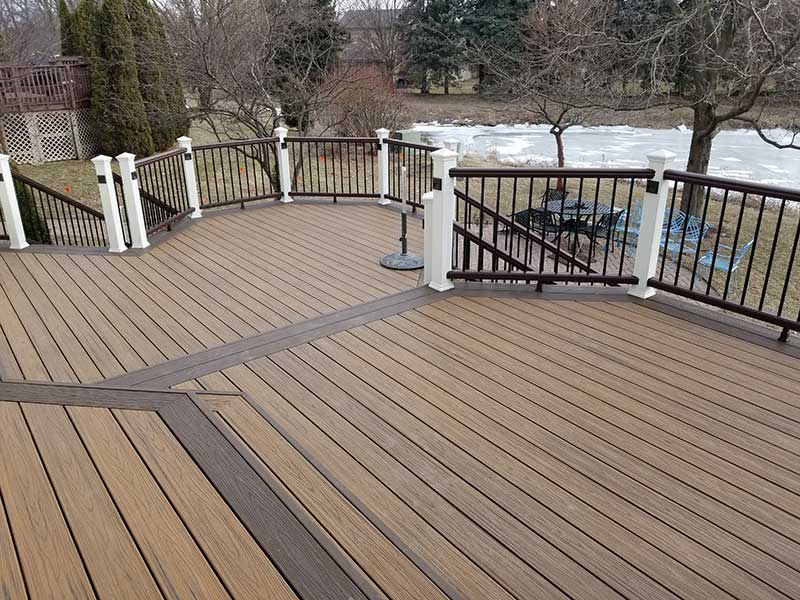 Fall is the perfect time to perform deck maintenance. Not only is the weather much cooler than the Summer weather but it is also the perfect time to perform safety checks before the Winter. Trex decking is incredibly low-maintenance and also hassle-free! Caring for Trex decks is extremely easy, especially in the Fall. Only occasionally you have to perform any maintenance. Here are a few simple tips on how to maintain your Trex deck in the Fall. 
Simple Maintenance Tips To Maintain A Trex Deck
Why Should You Get Trex Decking?
Trex decking is a hassle-free, low-composite, and eco-friendly decking material. Made from 95% recycled materials, Trex planks contain special three-sided shell protection. This allows the planks to retain its beautiful look for many years in the color of your choice.
Here at Miles Bradley, our distinguished installers are experienced and certified Trex Platinum Contractors. We know how to install Trex and make it look its best. To get your new deck installed, contact us today and request a free quote. We can't wait to hear from you!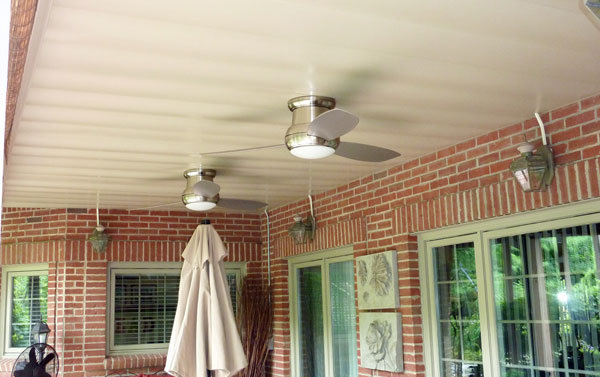 When it comes to entertaining guests and storing your outdoor equipment, more outdoor storage is a necessity. Between kids sports, BBQ equipment, lawn maintenance equipment and other things storage is at a premium when comes to your back yard. At Miles Bradley Building and Remodeling, we can build you the perfect dry space to store all your belongings.
Outdoor Storage and Under Deck Storage
If you enjoy having friends and family over and entertaining guests then a beautiful composite deck is the answer for you. These beautiful Trex decks, keep their beauty all year long with little to no maintenance. One of the great options for these decks is to have an under deck storage area built. With this big dry area, you can add outdoor storage or seating areas for guests the options are limitless.
One option people like to do is add a nice outdoor ceiling fan and comfortable patio furniture set. In addition, people like to have their BBQ and tools therefor outdoor cooking even when it is raining. Of course, large storage bins and containers are always useful as well to keep all the kids sports equipment in.
Deck Options
When it comes to your under deck storage and all your deck options, the experts at Miles Bradley can explain them all. No matter if you want a low maintenance composite Trex deck or a natural wood deck, we can help.  We can help you decide on the look and color of your new deck.  Another great look for your yard is an enclosure or gazebo. Looking for a great place to put your new hot tub? Let Miles Bradley build an enclosure for you so you can enjoy your privacy.
When it comes to deck building, we service all of Michigan and the Chicago area. If you are in Chicago give us a call at 847.920.7601. For the Metro Detroit area call 248.478.8660 or use our easy quote form!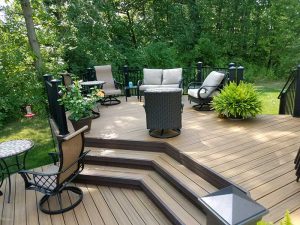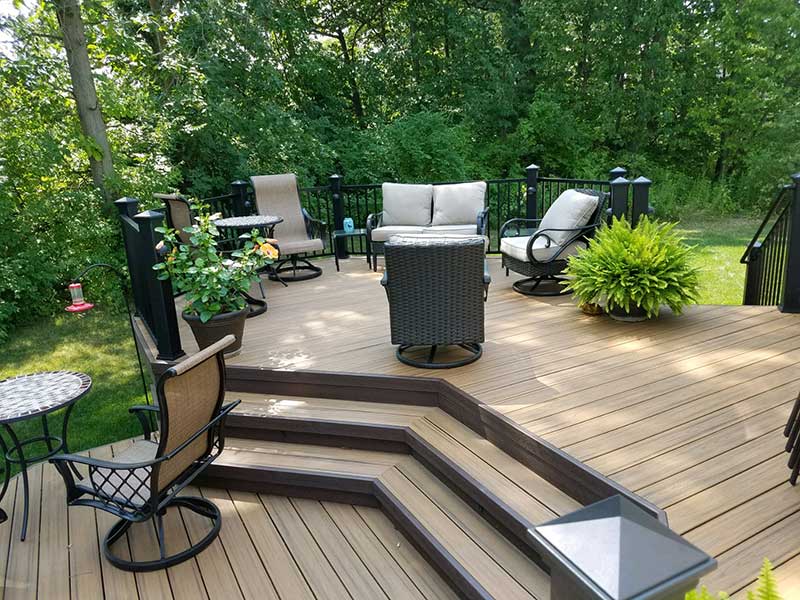 Farmington Hills is a beautiful and lavish Michigan city with a general population of 80,971. It is also a very family-oriented city. In addition, the schools are top-of-the-line and the area is shrouded in wealth. Also, the average home value is $207,200. The houses are big and beautiful and should be accompanied by gorgeous decks! A nice deck can make or break your home, so why not aim for the best?
Here at Miles Bradley, we build custom composite decks in Farmington Hills. We use Timbertech and Trex composite decking materials for the best quality decks. While our decks are of the highest quality, they are also beautiful. 
Timbertech vs Trex
Both Timbertech and Trex are popular composite decking companies. This means that both companies have similar advantages. Unlike wood, composite decks have desirable factors of durability, longevity, and maintainability. But there are some differences between Timbertech and Trex as well. 
Timbertech
Timbertech decks are generally more expensive than Trex decks. This is because of the slight difference in the board design. Although Timbertech boards are also made of recycled material, they contain a protective polymer shell that protects all four sides of the board. Because of this extra coverage, Timbertech materials are more resistant to harsh weather, an important quality to have in Michigan.
Trex
All of the Trex decking materials are made up of a protective shell and a composite core. The protective shell provides coverage to three sides of the board; the top and both sides. The bottom of the board is left unsealed, allowing the material to respire while also being protected. Furthermore, Trex decking materials tend to have more scratch resistance than Timbertech.
Composite Deck Building In Farmington Hills
Here at Miles Bradley, we construct Timbertech and Trex low-maintenance composite decks. We have served the people in Farmington Hills for over 25 years. With decades of experience and customer satisfaction, we are there to help you make the custom deck of your dreams. For more information, request a free quote! Finally, contact us today to make your deck building appointment.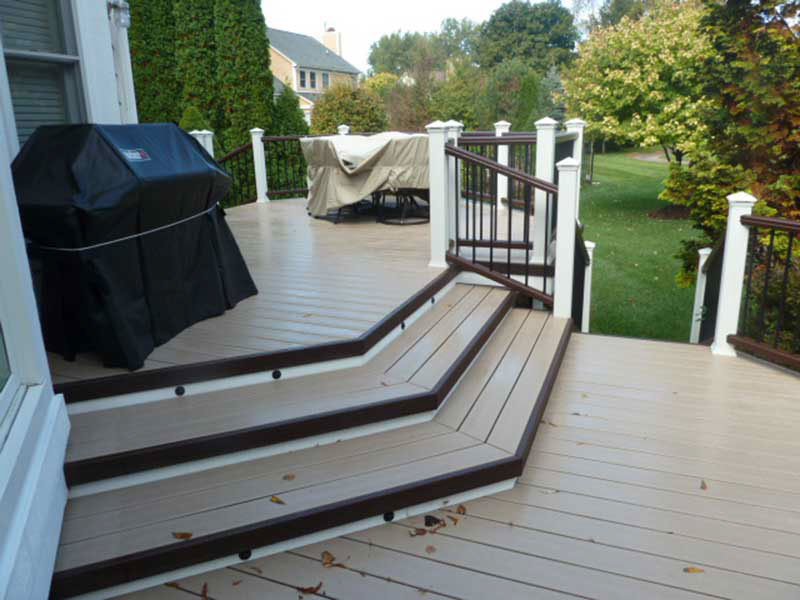 Maintenance free deck builders are always available at Miles Bradley Building and Remodeling.  What does it mean to have a maintenance free deck? When it came to older more traditional wood decks, there was a certain level of maintenance you needed to do. Maintenance for the wood deck can include, cleaning, sanding, repairs, stain and much more.  Now a wood deck is a fine choice but just be aware there is more work in owning one.
A low maintenance composite deck is the most popular choice when it comes to new decks. In addition, the maintenance on these type of decks is at a bare minimum. You do not have to worry about splinters or chipping paint, just sweep off the deck and you are good to go. One of the big choices people ask is Trex vs Timbertech when choosing materials for their deck.
Trex Decking For Maintenance Free Deck Builders
Here at Miles Bradley Building and Remodeling, we work almost exclusively with Trex Decking. Also, we have certified Trex Decking installers with years of experience in the product. Timbertech is also a nice choice and quality material as well. Either way, you are getting some of the best materials for your new deck. The beauty of Trex decks is you will not experience rot, splitting, swelling, or cracking. Making it a great choice.
In addition, Trex will never require repainting, staining, or sealing. When it comes to a maintenance free deck builder, you need a licensed and certified builder you can trust. Miles Bradley Building and Remodeling has been building composite decks in the Detroit area since 1991. In addition, we also have a branch in the Chicago area as well. You can request a quote today or give us a call for Michigan residents at 248-478-8660 or in Chicago at 847-920-7601. Finally, beat the spring and summer rush and request your deck today!