The recent Michigan snowfall has stirred up concerns for new deck owners on how to properly maintain their decks during the winter months. We often get questions about removing the snow on your deck in the winter. As your trusted deck-building company, we are happy to address any concerns that you may have about maintaining your deck in the winter.
Should I remove the snow from my winter deck? 
You do not have to remove the snow from the deck. Also, we only recommend that you clear a path if the deck is connected to your house to avoid accidents.
Will my deck collapse if I don't remove the snow from it?
Your deck will not collapse from the added weight of the snow. Miles Bradley builds high-quality low-maintenance decks that are built to withstand the Michigan winter. When you mix Trex decking with our great workmanship, you get a strong deck that can handle the weight of people, furniture, or snow.
Will I mess up the deck by shoveling it?
If you plan to shovel the snow off of your deck, we recommend that you use a rubber shovel. Metal shovels can possibly scratch up your deck. When shoveling, we also recommend that you use one big stroke and run the shovel down the length of the boards.
What products are recommended to remove snow and ice?
To remove snow and ice, we recommend that you use rock salt or calcium chloride.
Finally, thanks for being a valued customer of Miles Bradley. We look forward to another great year with you. If you are in need of deck repairs or a new deck this fall or winter call 248-478-8660. In addition, you can request a quote right now!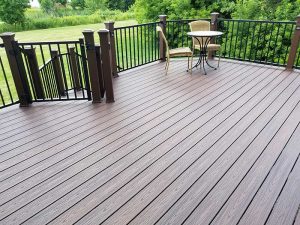 As the weather gets colder, you may be looking to make some home improvements around the house. Thankfully, we do fall and winter deck installations! The fall and winter seasons are a great time to get a new wooden or composite deck built! Not only can you miss the spring and summer rush but you will get more time to enjoy the deck once the warm weather comes around!
Deck Inspections in Southeast Michigan
For people that already have decks, we offer deck inspections! Whether you have a wooden or low-maintenance composite deck, we can tell you exactly what you need to make your deck its best. Also, there are several benefits that come from a deck inspection. 
Damage- Our expert contractors can tell you if there are signs of damage or rotting materials that need to be replaced. Catching these issues soon can prevent further damage and can save you money in the long run.
Stability- As decks get older, the framework and materials get weaker. With a deck inspection, we can tell you what needs to be fixed or reinforced. This will keep your deck strong and secure!
Safety- Weak railings, missing screws or bolts, and wood damage have the potential to cause injury to you and your family. We look for these signs during a deck inspection and alert you to them being there.
Winter Deck Installations
Here at Miles Bradley, we have decades of experience building and maintaining decks in West Bloomfield, Farmington Hills, Northville, and other cities around Southeast Michigan. If you want your deck built in the colder seasons, get a quote on our fall and winter deck installations! We also offer fall and winter deck inspections! For a free quote on deck inspections, contact us today. We will make sure your deck is safe and up to code! 
Do you have a composite deck but don't know how to properly take care of it? Because composite decks are made from wood byproducts (i.e. wood chips, sawdust) and plastics, they require less maintenance work than other wood decks. These types of decks come in a variety of styles, colors, and grains to choose from.
Taking care of your deck isn't a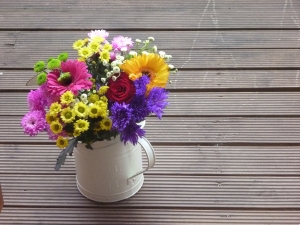 hard process at all. The first thing you should do is to grab a broom and dustpan and begin sweeping your deck. Sweeping frequently will help keep your deck clean. As you're sweeping, make sure to sweep all of the debris off of your low-maintenance deck. Pick up any leaves or sticks that might be stuck within the cracks of your deck board. Composite decking material cannot be sanded nor refinished so if you see any stains on the deck, be sure to address them quickly so that they can be removed.
Composite Deck Cleaning
Next, scrub your deck with soap and hot water or composite deck cleaner. Use a deck brush while scrubbing the surface of your composite deck. The deck brush that you use should have soft bristles to make your deck even smoother.
Finally, rinse off your low-maintenance deck using the water hose. Make sure all of the soap's residue is removed. If your composite deck has any marks on it, use nail polish remover, rubbing it in a circular motion, on a wet cotton ball to get it off. Once finished, allow your deck to dry.
Miles Bradley Building and Remodeling, INC specializes in building composite decks. If you're interested or have any questions, contact us at any one of our locations.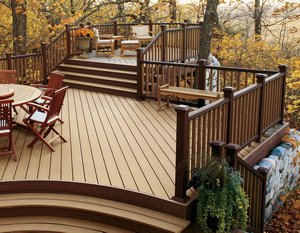 Over time, the decking industry has made drastic improvements to materials used to create your dream deck. Trex or Timbertech is a very popular composite deck company. Also, manufacturing composite decking materials that give homeowners the wood look they want, yet easy maintenance and longevity. As time continues to pass, composite decking continues to transform and other composite decking manufacturers are being introduced.
If you are planning on having your dream deck constructed out of low-maintenance composite decking materials, Trex or Timbertech both supply high-quality decking materials and have very similar collections for you to choose from. So what is the difference between the two? Which should you choose? Looking for tips on maintaining your Trex deck? Click here.
Timbertech or Trex
The decision on when to choose Trex composite decking or Timbertech composite decking is completely up to you. As far as the product goes, they are very similar and both offer the same low maintenance aspect that everyone is searching for. You may realize that your decision on which company to select may come down to texture, color, or customization you wish for your deck or landscaping project to have.
When searching for a Timbertech installer, look no further than Miles Bradley!
Miles Bradley Building has been installing composite decks for decades. Our experienced staff can help find exactly what you are looking for. At Miles Bradley, we construct your low-maintenance dream deck with the highest quality Trex or Timbertech composite decking materials. Our decking professionals will review your deck plans and help you determine whether Timbertech or Trex composite decking is right for you. Finally, contact our professional deck builders today so we can get started.
View Trex Composite Decking Collections
View Timbertech Composite Decking Collections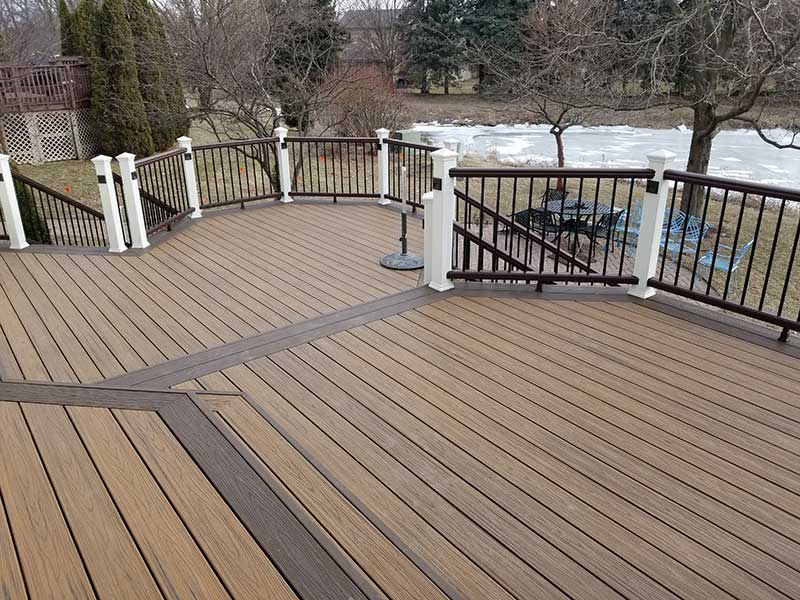 Fall is the perfect time to perform deck maintenance. Not only is the weather much cooler than the Summer weather but it is also the perfect time to perform safety checks before the Winter. Trex decking is incredibly low-maintenance and also hassle-free! Caring for Trex decks is extremely easy, especially in the Fall. Only occasionally you have to perform any maintenance. Here are a few simple tips on how to maintain your Trex deck in the Fall. 
Simple Maintenance Tips To Maintain A Trex Deck
Why Should You Get Trex Decking?
Trex decking is a hassle-free, low-composite, and eco-friendly decking material. Made from 95% recycled materials, Trex planks contain special three-sided shell protection. This allows the planks to retain their beautiful look for many years in the color of your choice.
Here at Miles Bradley, our distinguished installers are experienced and certified Trex Platinum Contractors. We know how to install Trex and make it look its best. To get your new deck installed, contact us today and request a free quote. We can't wait to hear from you!