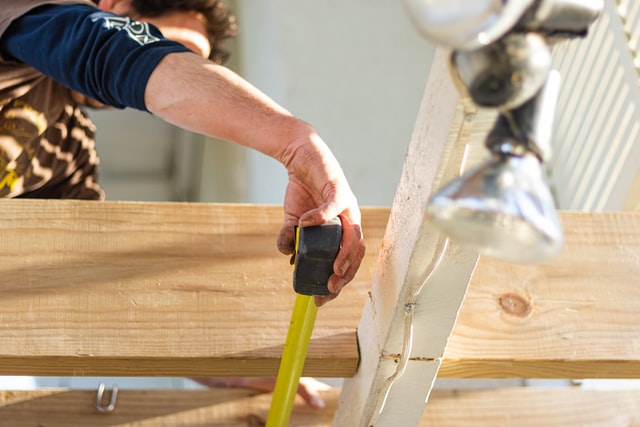 What to look for in a professional deck builder? It is an important question to ask. After all, you need someone to be prepared and capable of getting the job done. There are a variety of different deck-building companies out there. However, some of these companies could be complete duds. So, how can you distinguish which one is a true professional deck builder? Here are a few qualities that you should be looking for.
---
Proof of License and Insurance
License and insurance are required and vital to start building. A Contractor's license proves that your contractor holds liability for the project being up to code and the safety of workers. Hiring an unlicensed is just asking for trouble. If your contract is not licensed, you can not legally enforce a contractor without a license. If something happens during the project, such as damage to your house and or a worker gets hurt, you hold all liability. Furthermore, if they do not build it code, you will be responsible for bringing it to code at additional cost. If a contractor is unable to show their license, do not hire them.
This includes if they refuse to show their insurance. There is multiple types of insurance that contractors should have. First of all, they should have worker compensation insurance. This type of insurance covers workers who get an injury on the job. While homeowners might not think it's their problem, they will be if there is no worker comp. Also, they should have general liability insurance. General liability covers damage that may occur during the project. Without it, any possible damages to other property will become your financial responsibility. In addition, general liability protects you from lawsuits for damages. It also gives you the policy to collect on if you are injured.
---
A Good Track Record
While you are sorting through builders, you should look at their track record. If you go on their website, do they complete projects on there? While looking through reviews, are they scathing or glowing? These are important things to consider. After all, you don't want to hire a company that has more negative reviews than positive ones. Furthermore, you should see if the company has testimonials. People who have a positive experience with a company typically will agree to tell their story. No testimonials might be a clear indication that most people were not satisfied.
---
Experience
Without a doubt, this is one of the important qualities you should be looking for. Experience matters. If you have to choose between an experienced or an inexperienced contractor, always choose the one with experience. When someone has been working in a field for an extended period of time, they gain skill and knowledge. An experienced contractor, they would be able to foresee potential issues with the project and make adjustments to avoid them. They will know the best ways to put your deck together that could make your project even better. Professionals with experience also are upfront about estimates and try to make them as accurate as possible.
---
Communication Skills
Communication is key. After all, it is the foundation where all relationships start. This is why this is a fundamental quality to look for. Does your contractor not return calls to answer questions? Are they avoid giving you cost and payment conditions? Is the contractor not being transparent about the end date? If you said yes to any of these then you should look for a new contractor. When looking for a contractor, you want someone who will return your calls, be clear with the cost and payment conditions, and be transparent about when the project will end. Do not settle for anything less. If the starting communication is bad then it will only get worse during the project. And you don't want them messing up on your deck.
---
Knowledge of Your Project
When it comes to your project, knowledge is everything. Your contractor/builder needs to understand what you want. Although you could have a clear idea of what you want, a professional can always give feedback and suggestions that can improve your project. They could even recommend add-ons that can improve the quality of life of your new deck.
---
Hire A Professional Deck Builder at Miles Bradley
All these qualities are what to look for in a professional deck builder. Question is, where can you find a professional that embodies all these traits? Well, look no further because Miles Bradley has all these qualities and more! For 20 years, Miles Bradley has been providing high-quality in deck building, enclosures/gazebos,trellises, and custom deck designs. Miles Bradley has an amazing track record with testimonials to prove it. We have a nationwide reputation for being experts in low-maintenance decks and building materials.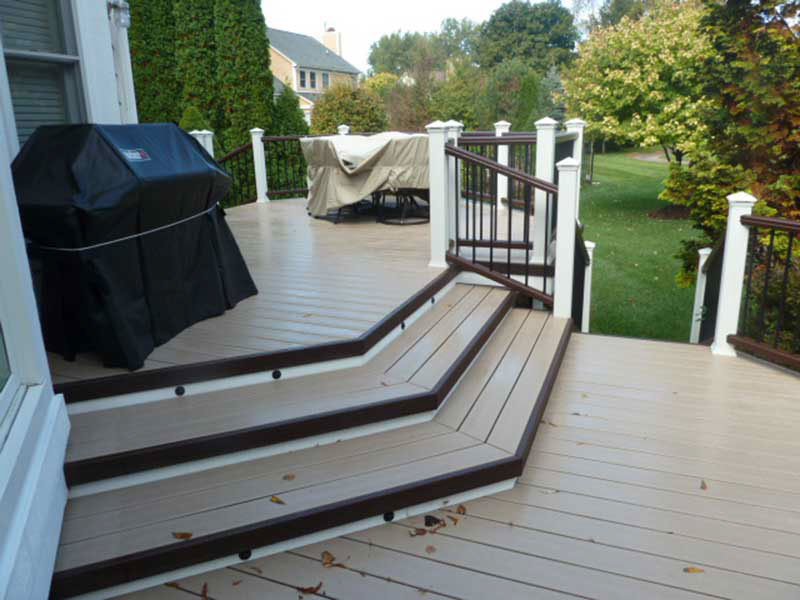 Maintenance-free deck builders are always available at Miles Bradley Building and Remodeling.  What does it mean to have a maintenance-free deck? When it came to older more traditional wood decks, there was a certain level of maintenance you needed to do. Maintenance for the wood deck can include, cleaning, sanding, repairs, stain, and much more.  Now a wood deck is a fine choice but just be aware there is more work in owning one.
A low-maintenance composite deck is the most popular choice when it comes to new decks. In addition, the maintenance on these types of decks is at a bare minimum. You do not have to worry about splinters or chipping paint, just sweep off the deck and you are good to go. One of the big choices people ask is Trex vs Timbertech when choosing materials for their deck.
Trex Decking For Maintenance Free Deck Builders
Here at Miles Bradley Building and Remodeling, we work almost exclusively with Trex Decking. Also, we have certified Trex Decking installers with years of experience in the product. Timbertech is also a nice choice and quality material as well. Either way, you are getting some of the best materials for your new deck. The beauty of Trex decks is you will not experience rot, splitting, swelling, or cracking. Making it a great choice.
In addition, Trex will never require repainting, staining, or sealing. When it comes to a maintenance-free deck builder, you need a licensed and certified builder you can trust. Miles Bradley Building and Remodeling has been building composite decks in the Detroit area since 1991. In addition, we also have a branch in the Chicago area as well. You can request a quote today or give us a call for Michigan residents at 248-478-8660 or in Chicago at 847-920-7601. Finally, beat the spring and summer rush and request your deck today!