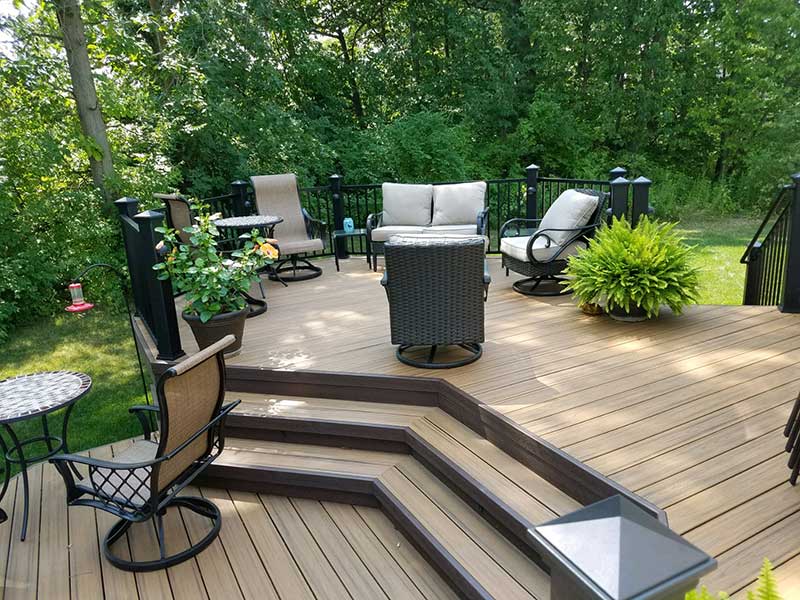 Getting a deck built is a big decision to make. Consider these 2 things before getting your deck built.
Things to Consider – How do you want to use your deck?
Comfort
Did you just want to create a snug spot in the backyard for you and your family? Design your deck to accommodate lounge chairs and a patio set based on how many people are in your family. Also, try to plan ahead for sunny spots by building a shade with greenery or build a shade.
Parties
Most decks are designed to support up to 60 pounds per square foot including the weight of the deck.  Overloading it could be very dangerous.  If you plan to have huge parties or heavy furniture, you may want to have a stronger supporting structure built. You also want to make sure that your deck is large enough to fit a lot of people, furniture, and appliances.
How do you want your deck to look?
There is a wide variety of materials that you can choose to have your deck built from as well as many benefits that go along with each type of material.
Pressure- Treated Wood: This type of wood takes stains and waterproofing easily. It is also cheaper than many of the other options for deck building in Michigan or Chicago
Composite Decking: This wood-look alternative is known for its long-lasting nature and durability. You can get composite decking in a variety of colors or textures. Composite decking doesn't splinter, crack, warp, or rot significantly reduced the need for maintenance.
PVC Cellular Decking: PVC is easy to clean and not prone to rot or termites which makes it stand out over wood. Having a cellular PVC deck built can be beneficial as it is moisture resistant and will not swell or shrink with temperature changes.
Cedar: Cedar decking has a natural insect resistance which can help eliminate termite problems that often arise in regular wood decks. Cedar is very easy to work with during installation and can be easily stained.
After selecting the material that you wish to have your deck built you then need to decide where do you want your deck or patio to be built? Can you accommodate the lifestyle that you want to live on your deck or patio?  Based on this, plan how you want to build your deck in Michigan or Chicago.
Finally, contact Miles Bradley to get started on building your dream deck today!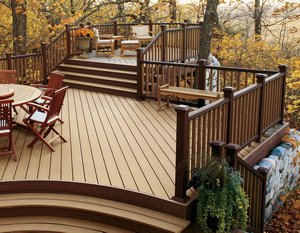 Over time, the decking industry has made drastic improvements to materials used to create your dream deck. Trex or Timbertech are very popular composite deck companies. Also, manufacturing composite decking materials that give homeowners the wood look they want, yet easy maintenance and longevity. As time continues to pass, composite decking continues to transform and other composite decking manufacturers are being introduced.
If you are planning on having your dream deck constructed out of low maintenance composite decking materials, Trex or Timbertech both supply high-quality decking materials and have very similar collections for you to choose from. So what is the difference between the two? Which should you choose? Looking fo tips on maintaining your Trex deck? Click here.
Timbertech or Trex
The decision on when to choose Trex composite decking or Timbertech composite decking is completely up to you. As far as the product goes, they are very similar and both offer the same low maintenance aspect that everyone is searching for. You may realize that your decision on which company to select may come down to texture, color, or customization you wish for your deck or landscaping project to have.
When searching for a Timbertech installer, look no further than Miles Bradley!
Miles Bradley Building has been installing composite decks for decades. Our experienced staff can help find exactly what you are looking for. At Miles Bradley, we construct your low maintenance dream deck with the highest quality Trex or Timbertech composite decking materials. Our decking professionals will review your deck plans and help you determine whether Timbertech or Trex composite decking is right for you. Finally, contact our professional deck builders today so we can get started.
View Trex Composite Decking Collections
View Timbertech Composite Decking Collections
Celebrate the Holidays in Downtown Detroit or Chicago!
On behalf of Miles Bradley, we would like to wish you a happy holidays. We appreciate your business and we look forward to spending another year servicing you.
Here are a list of things to do in Chicago or Detroit during the Christmas season.
Fun Things to do in Chicago during the holidays
The Nutcracker
The Nutcracker during the holiday is a must see. The production of The Nutcracker is being put on by the Joffrey Ballet Company at the Auditorium Theatre in Chicago, Illinois.  The performance will be running from December 5-28th, 2014 at 2:00 pm and at 7:00 pm.
Holiday Lights Segway Tour
Visit downtown Chicago during the holiday season on Segway. During the Segway tour, you will visit the Christkindlmarket, Christmas Tree at Daley Center Plaza, and the holiday lights at Millennium Park and Chicago's Theatre.
Fun Things to do in Detroit during the holidays
Wayne County Lightfest
The Wayne County Lightfest is the longest and largest show in the Midwest. It is running from now until December 31, 2014, but closed on Christmas Day. It features over four miles of holiday light displays.  The entry fee is $5.00 per car.
The Rink at Campus Martius Park
Ice skate in the heart of downtown Detroit at Campus Martius Park. This seasonal ice skating rink is open from now until March 1, 2014.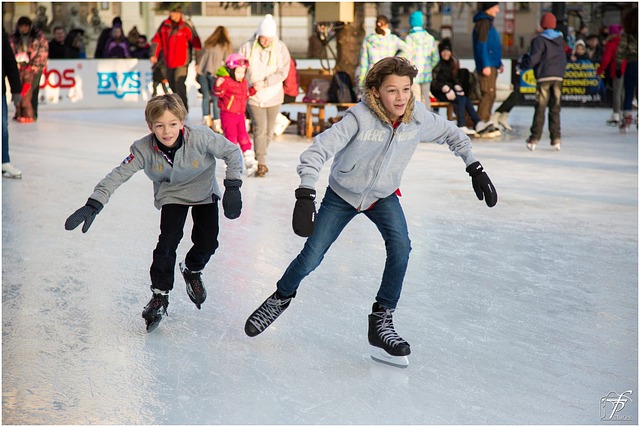 Have a great holiday!
Contact Miles Bradley for a quote. We are your affordable deck builders for multi-level deck building or pergolas or trellises that are low maintenance.
The words we all hate to hear, "summer is almost over" have become a part of conversations across Michigan and Chicago. Pretty soon your deck will be covered with snow and ice, and you will not be able to enjoy it as you did during the beautiful summer we had this year.
In case you didn't notice, we did say pretty soon, meaning its not over yet! Why not invite your friends over for an "End of Summer Deck Party!" Get the final use out of your new deck this year! But, if for some reason you are still lagging on getting your deck built, it's not too late!
Miles Bradley is offering great deals on deck builds as summer dwindles off. We will get your build scheduled and built in enough time for you to be able to host your very first deck party! Decks bring family and friends together, whether it is for a barbeque, a card game, or just to socialize. You will be glad you had your deck build by Miles Bradley this year!
Because the deals are so hot right now, we want to make sure that your deck is on our list of builds before summer is over. Contact Miles Bradley of Michigan or Chicago today and start planning your End of Summer Deck Party!