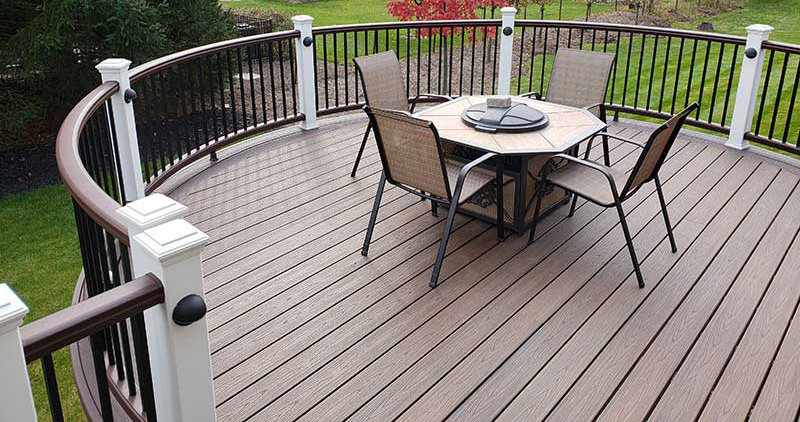 While enjoying the outdoors on your new Trex Composite Deck, you may think you would like a fire pit on the deck.  So the question becomes, can you put a fire pit on your composite deck? Well, the answer is a little muddy. First, you should never put a fire pit directly on your deck with no protection. The heat alone can warp the decking materials as well as embers can burn the deck as well.
Trex decking can soften at about 176 degrees Fahrenheit so you have to very cautious about the size of your fire. In addition, never install the firepit directly on top of the deck.  A gas type fire pit is a much better option than a wood-burning one
Composite Deck Fire Pit On Trex Safety Steps
If you are determined to add a fire pit to your deck try to keep some of this advice in mind.  Make sure under the firepit you install fire-resistant material for the pit to rest on. Insulated walls of stone or other types of materials are used to prevent heat from escaping. Deck Protect is another product that is used to prevent fire damage to your deck. Also, you can have a new custom-built deck that encompasses the fire pit and does not have the fire pit directly on the deck.
At Miles Bradley, we custom build low-maintenance composite decks all the time and we can accommodate your needs. While it is not highly recommendable to put a large fire pit on your composite deck. With careful planning and the right type of materials and fire pit, it can be done. Call us today at 248-478-8660 in the Detroit area or 847-920-7601 in the Chicago area. Finally, we can answer any questions you have about Trex composite decks and your options.
Fall, also known as "bonfire and hoodie season" is quickly approaching as we close out our first week of September. Family and friends will gather around fire pits sharing stories, laughter, and making unforgettable memories. It is important to remember throughout all of the fun, that safety still has to be a top priority.
Safely Using a Fire Pit on Your Deck
It is recommended that fire pits be used in areas that are open and away from decks or homes. With portable fire pits becoming more and more popular, it is becoming more frequent for homeowners to being using a fire pit on their deck space. It is important to remember that both wood decking and composite decking are flammable and can be damaged from the heat if your decking space is not properly protected.
Here are some steps to take to properly protect your deck from fire or damage.
Find a safe location away from deck railings, decorations, and your home. You
want to be sure that if the wind blows the flames of your fire will not come in contact with anything that may increase the risk of starting a fire.
Never place your fire pit directly on your deck. The heat from underneath the fire pit can cause damage to the wood decking or composite decking. Damage such as warping, discoloration, or burn spots may occur. To avoid this, you can use fire pit pads, or create your own barrier with patio stones. When creating a barrier, you will want to extend it about two feet in all directions from the edge of your fire pit. This will help with embers or in the event the fire pit tips over, your deck will still be protected.
Start your fire and cover with a fire pit screen. This will reduce flying embers and debris, while still allowing you to enjoy a full bonfire.
Due to the fact that you are starting a fire on a wood surface, it is important to take extra precautions. Something as small as an ember can cause your deck to catch fire. Be sure to have a fire extinguisher and hose readily available in the unfortunate event that does occur.
Don't have a deck? Are you looking to improve the value of your home by having a new deck built? Contact us today!