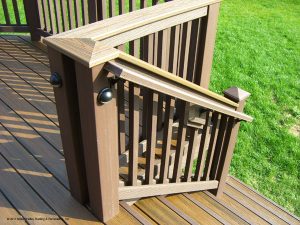 There are many decisions to be made when having a new deck built or even rebuilding or enhancing an old deck.
Adding lighting is a great way to improve your deck. We can put lighting on your steps, rails or posts on your deck. Adding this lighting provides an illuminating glow on your deck, decorative accents, and warm highlighting.
Step and rail lighting has many advantages not only is it a great enhancement for looks but is a safety advantage as well. Though the lighting is subtle the lights help people see where they are walking or the railing they are grabbing.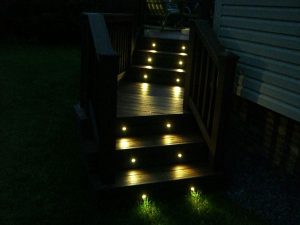 Our Experts in the Metro Detroit area or Chicago, Illinois area can help you decide on the many choices of deck lighting; function, combination, style, size, layout.
Right now we have a great special on our deck railings! Set of 6 free deck rail lights with photocell/timer with every deck purchased before the 4th of July!
Posted In: deck accessories, Deck rail lighting, Deck Rebuild, Decks, Miles Bradley
Tags: chicago deck builders, deck accessories, deck building, deck enhancement, deck lighting, deck step lighting, deck step lights, new deck accessories, rail lighting, rail lights