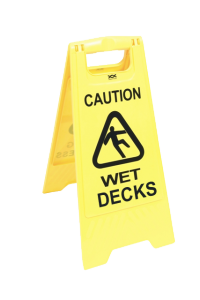 Are you worried about cleaning your composite deck before winter? Don't, it's easy! Although composite decking is very low maintenance, cleaning is important.  An exterior deck does require  a basic deck cleaning for composite decks. Ideal times to clean your composite deck are after installation and in the fall or spring.  You may purchase a composite deck cleaner at your local hardware shop.  If you prefer, you may use a combination of hot water and a soft bristle brush.
Cleaning Dirt and Debris From Composite Decking
For Dirt and Debris your deck should be sprayed with a hose to remove dirt from the surface. After you remove the loose dirt and debris from your composite deck use warm, soapy water and scrub with a soft bristle brush. This will allow you to remove the dirt and debris from the crevices of the embossing pattern.
It's important to be careful when using Chalk Lines on your deck. You must make sure you are using the right type of chalk. High performance chalk lines are likely to discolor a composite or PVC deck, we recommend using a dust off marking chalk like Irwin brand in purple you can find this at www.Irwin.com. If you accidentally snap a chalk line with permanent or bright chalk immediately scrub the line with soap and hot water to remove it.
Remove Grease, Oil, Mold or Mildew from Composite Decking
You definitely want to try to remove any Oil, Grease or Food stains on your composite deck before the winter comes. To remove these stains spray them off with a hose and use warm soapy water with a soft bristle brush.
Mold and Mildew is always possible. Due to it feeding on biofilm you want to remove as soon as you see it forming.
Last but not least when the time comes to remove Ice and Snow from your composite deck a plastic shovel may be used. It's safe to use rock salt or calcium chloride to melt the snow and ice from the deck surface.
If you need help or have any questions about cleaning your deck call us at 248-478-8660.
Fall, also known as "bonfire and hoodie season" is quickly approaching as we close out our first week of September. Family and friends will gather around fire pits sharing stories, laughter, and making unforgettable memories. It is important to remember throughout all of the fun, that safety still has to be top priority.
Safely Using a Fire Pit on Your Deck
It is recommended that fire pits be used in areas that are open and away from decks or homes. With portable fire pits becoming more and more popular, it is becoming more frequent for homeowners to being using a fire pit on your deck space. It is important to remember that both wood decking and composite decking are flammable and can be damaged from the heat if your decking space is not properly protected.
Here are some steps to take to properly protect your deck from fire or damage.
Find a safe location away from deck railings, decorations and your home. You
want to be sure that if the wind blows the flames of your fire will not come in contact with anything that may increase the risk of starting a fire.
Never place your fire pit directly on your deck. The heat from underneath the fire pit can cause damage to wood decking or composite decking. Damage such as warping, discoloration, or burn spots may occur. To avoid this, you can use fire pit pads, or create your own barrier with patio stones. When creating a barrier, you will want to extend it about two feet in all directions from the edge of your fire pit. This will help with embers or in the event the fire pit tips over, your deck will still be protected.
Start your fire and cover with a fire pit screen. This will reduce flying embers and debris, while still allowing you to enjoy a full bonfire.
Due to the fact that you are starting a fire on a wood surface, it is important to take extra precautions. Something as small as an ember can cause your deck to catch fire. Be sure to have a fire extinguisher and hose readily available in the unfortunate event does occur.
Don't have a deck? Are you looking to improve the value of your home by having a new deck built? Contact us today!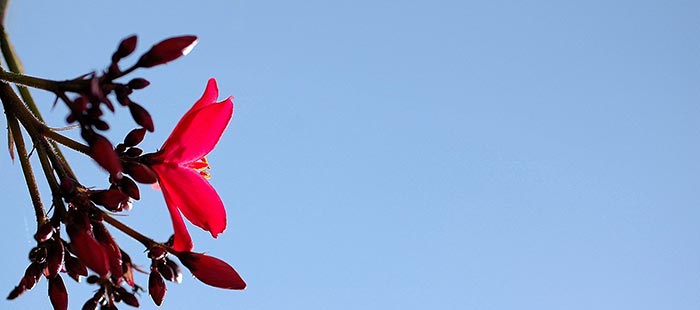 This past winter was one to remember. Not only was it one of the coldest winters we've had in a long time, but it was also one of the snowiest winters, too. It seemed as if every day there was something going on with the weather. If it wasn't snowing, it was hailing–if it wasn't hailing, it was windy. The list goes on and on…
With the ongoing commotion of all of the recent winter storms, there really hasn't been any time to keep your deck in tip-top shape until now. Spring is in full course and with these helpful tips, it'll help you learn how to properly clean and maintain your deck for this season.
Spring Deck Cleaning
Too many homeowners nowadays think that spring deck maintenance is all about the cleaning. I mean, sure, a great deal involves that, however what they don't realize is that maintenance is all about systems, structures and appliances. Checking to make sure that your deck, patio, porch and stairs are cleaned is also something one should be aware of, when it comes to spring deck cleaning.
Here are some spring deck maintenance and cleaning tips to make this transition a smooth one:
Hose off your patio-removing the debris from your furniture is very important. This will help in the spring preparation process.
Scrape leaves-check in-between your deck boards with a putty knife.
Pressure wash-pressure washing your deck makes spring cleaning a whole lot easier. Take your time when it comes to this because if done incorrectly, it can cause damage to your decking material.
Repair your deck-if you notice something out of place, in regards to your deck, be sure to get it fixed asap.
Wood Decks vs Trex Decks
Deciding between wood decks and trex decks has its pros and cons. First and foremost, wood decking requires a lot of cleaning, sanding and staining. It's easy to get worn out and can create splinters. Trex decks, however, does not require much maintenance. These types of decks are made from 95% of recycled materials and resist warping, weathering and even, insects. Low maintenance decks, such as Trex decks, will be a better investment in the long run.
If you are looking for a decking contractor to help design your dream deck or if you are looking for more information regarding spring deck maintenance and cleaning, contact Miles Bradley today. We even give out free quotes! We look forward to hearing from you soon.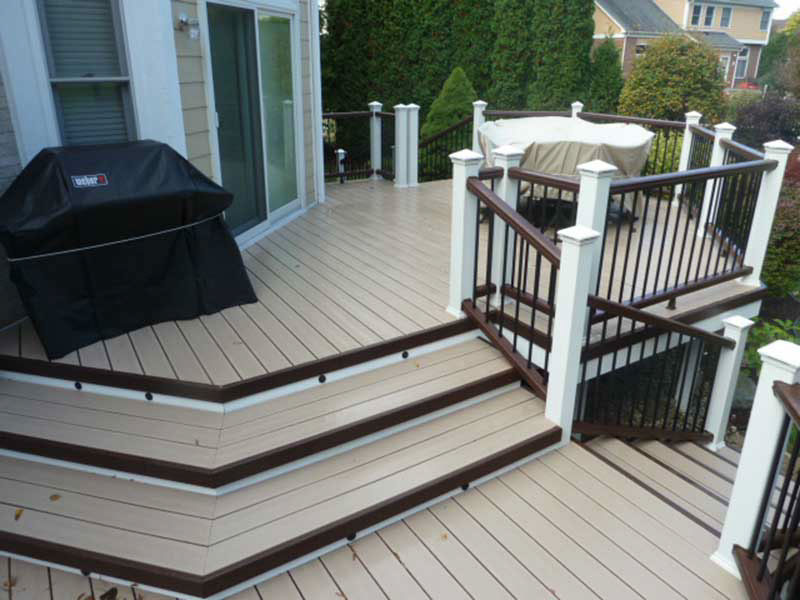 When looking for low cost decks Michigan, look no further than Miles Bradley Building and Remodeling. We have built decks all over Michigan. Also, we are experts at building low cost decks on time and done right.
Miles Bradly specializes in low maintenance decks that will be a beautiful addition to your home for years to come. In addition to low cost decks, we also install Gazebos, Pergolas, and Enclosures. In Michigan, there is only one clear choice when it comes to installing decks and that is MIles Bradley.
Low Cost Decks Installed
If you are looking to have a deck installed this spring or summer, then you should act now. Beat the rush and request a quote today to guarantee to get your deck installed this year. Act now and get a free 6 Light Rail Kit Installed with Deck Purchase! Deck lighting gives your deck a unique look and ambiance that cannot be beaten.
Furthermore, when choosing Miles Bradley to install your low cost deck, rest assured you are getting experienced deck builders that can handle all your needs. Our clients are from all over Michigan, from Canton to Novi, our clients highly recommend us! Also, at Miles Bradley, we are certified Trex Deck Builders. A Trex deck is a low maintenance composite deck, that maintains the look of a wood deck with little to no maintenance.
Trex decking comes in a variety of colors to choose from. Our talented representatives can help you decide which is best for you. Miles Bradley has won the Super Service award from Houzz and Angie's List. Need financing? Here at Miles Bradley, we have financing partners that can help you secure financing for your new deck. Finally, give us a call today at 248-478-8660 or use our easy contact form and see what Miles Bradly Building can do for you!
October is here, which means Halloween is coming up! Many homeowners get into the Halloween spirit by decorating their home with spooky decorations. Whether you are hosting a Halloween party, or just want to show off your spirit, incorporating your deck into your ideas can add a great touch! Check out some of our great "deck-o-rating" ideas:
Mums and pumpkins up your stairs to your deck. Create a unique design by rotating their pattern! If you have deck lighting, this will even look great at night
Utilize the steps– Using the steps to your deck; add rubber spiders and webbing, but make sure they are safely on the back or sides.
Carved or Painted Pumpkins-  There are many creative ways to use pumpkins as decoration. You can drill holes in special patterns and add a candle to shine through, or if you have a squirrel problem, painting may be your best option! This is also a great way to get the kids involved in the decorating process!
Spooky Skeletons- If you are looking to add a little fear factor to your deck during the Halloween season, you can purchase plastic skeletons that can be maneuvered however you like. Bend the joints of the skeleton to make them look as if they are climbing up your deck or onto your home. You can add fog, lights, or gravestones to enhance the look even more!
These are just a few of our ideas on how to decorate your deck for Halloween. We have shared much more DIY inspired ideas for patios, porches, or decks on our Pinterest page. Be sure to check them out and share some of your favorites!
We would love to see what you have come up with this year! Be sure to share your Halloween inspired decorations on our Facebook page!
Fall Deck Building in Michigan
Fall is a great time to have a deck built in Michigan. Because temperatures are dropping and building conditions aren't so "perfect," you can save tons of money on your build! With the demand lower in the fall or winter months, you can save nearly 20% with an offseason build, talk to our professional deck builders today for more information!