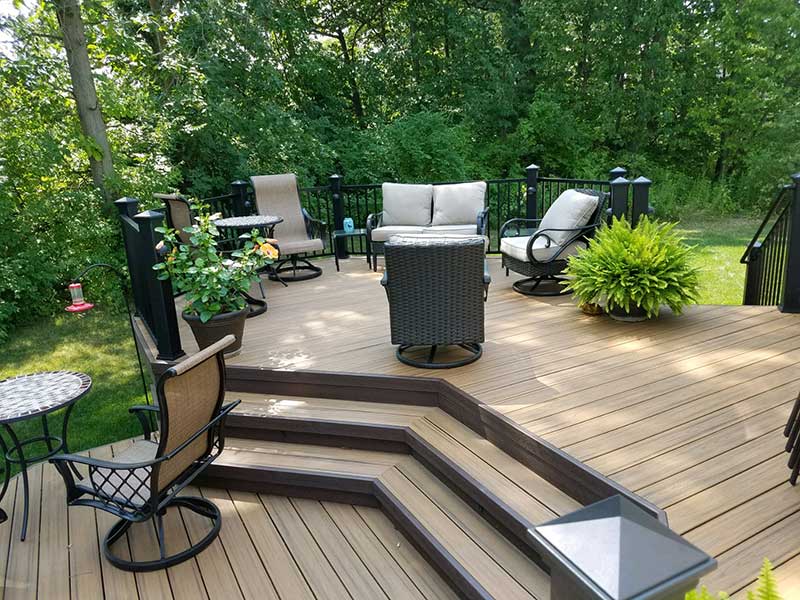 Getting a deck built is a big decision to make. Consider these 2 things before getting your deck built.
Things to Consider – How do you want to use your deck?
Comfort
Did you just want to create a snug spot in the backyard for you and your family? Design your deck to accommodate lounge chairs and a patio set based on how many people are in your family. Also, try to plan ahead for sunny spots by building a shade with greenery or build a shade.
Parties
Most decks are designed to support up to 60 pounds per square foot including the weight of the deck.  Overloading it could be very dangerous.  If you plan to have huge parties or heavy furniture, you may want to have a stronger supporting structure built. You also want to make sure that your deck is large enough to fit a lot of people, furniture, and appliances.
How do you want your deck to look?
There is a wide variety of materials that you can choose to have your deck built from as well as many benefits that go along with each type of material.
Pressure- Treated Wood: This type of wood takes stains and waterproofing easily. It is also cheaper than many of the other options for deck building in Michigan or Chicago
Composite Decking: This wood-look alternative is known for its long-lasting nature and durability. You can get composite decking in a variety of colors or textures. Composite decking doesn't splinter, crack, warp, or rot significantly reduced the need for maintenance.
PVC Cellular Decking: PVC is easy to clean and not prone to rot or termites which makes it stand out over wood. Having a cellular PVC deck built can be beneficial as it is moisture resistant and will not swell or shrink with temperature changes.
Cedar: Used for decks has a natural insect resistance which can help eliminate termite problems that often arise in regular wood decks. Cedar decking is very easy to work with during installation and can be easily stained.
After selecting the material that you wish to have your deck built you then need to decide where do you want your deck or patio to be built? Can you accommodate the lifestyle that you want to live on your deck or patio?  Based on this, plan how you want to build your deck in Michigan or Chicago.
Finally, contact Miles Bradley to get started on building your dream deck today!
The recent Michigan snowfall has stirred up concerns for new deck owners on how to properly maintain their deck during the winter months. We often get questions about removing the snow on your deck in the winter. As your trusted deck building company, we are happy to address any concerns that you may have about maintaining your deck in the winter.
Should I remove the snow from my winter deck? 
You do not have to remove the snow from the deck. Also, we only recommend that you clear a path if the deck is connected to your house to avoid accidents.
Will my deck collapse if I don't remove the snow from it?
Your deck will not collapse from the added weight from the snow. Miles Bradley builds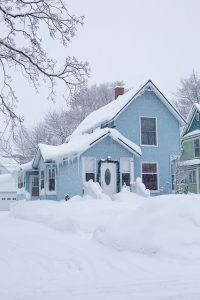 high-quality low maintenance decks that are built to withstand the Michigan winter. When you mix Trex decking with our great workmanship, you get a strong deck that can handle the weight of people, furniture, or snow.
Will I mess up the deck by shoveling it?
If you plan to shovel the snow off of your deck, we recommend that you use a rubber shovel. Metal shovels can possibly scratch up your deck. When shoveling, we also recommend that you use one big stroke and run the shovel down the length of the boards.
What products are recommended to remove snow and ice?
To remove snow and ice, we recommend that you use rock salt or calcium chloride.
Finally, thanks for being a valued customer of Miles Bradley. We look forward to another great year with you. If you are in need of deck repairs or a new deck this fall or winter call 248-478-8660. In addition, you can request a quote right now!

Have you ever wondered what the difference was between a deck or a patio? They are very similar but one might fit or look better than the other in your backyard. It is important to understand the differences between a patio and a deck in order to make an informed buying decision.
Decks are platforms made of wood or composite materials. Also, decks work best if you have a sloped yard and you want to create a flat area. Homes that sit high above the ground are also good for decks. In addition, decks can be built as high as you need them, unlike patios.
Patio Options
Patios are normally built on flat ground. They are made of wood, concrete, or flagstone. It is also possible for them to be built on a sloped lot but building it can be more costly. If your door is ground level, then many people choose to have them built instead of a deck.
When deciding to get a patio or a deck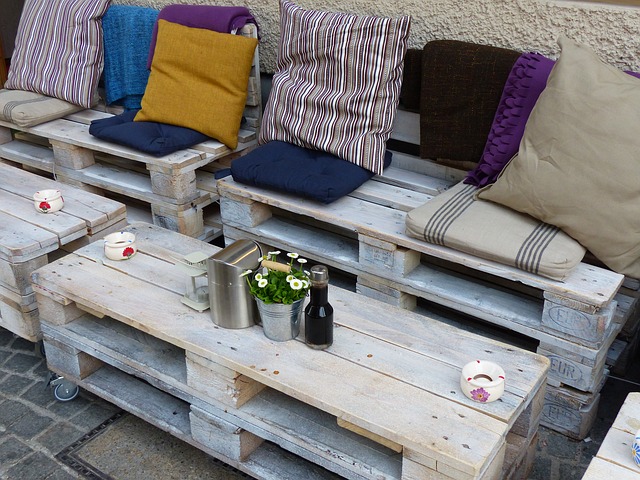 built, you should consider how many people you want it to accommodate and what activities you want to do outside. This will help Miles Bradley figure out traffic flow, safety measures, and size estimates. A growing trend in the deck industry is to build a multi-level deck with steps leading down to a patio. This is a great way to enjoy the benefits of both if you still can't decide which one to get.
Let Miles Bradley in Michigan build your next deck or patio. We have over 20 years of experience constructing decks on a variety of landscapes. We do great work and have excellent testimonials to prove it. A Miles Bradley deck comes with exceptional workmanship and is built with high-quality materials. Finally, contact Miles Bradley today to start your deck or patio project!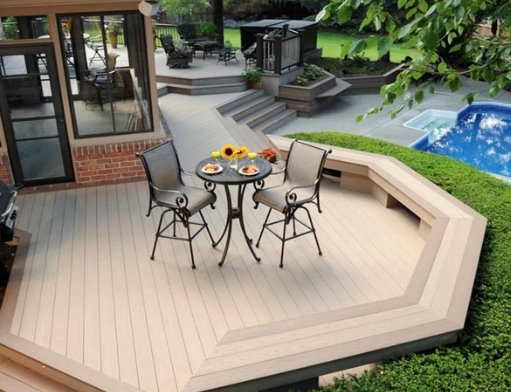 Azek Building Products offers a large variety of products such as decking, railings, molding, lighting, and much more.  In addition, they offer TimberTech brand products as well. TimberTech offers composite decking in a wide arrange of colors to choose from. Similar to Trex, TimberTech is a composite decking that is easy to maintain and requires less maintenance than a traditional wood deck. Miles Bradley is an experienced installer of TimberTech composite decking.
Azek Decking Professionally Installed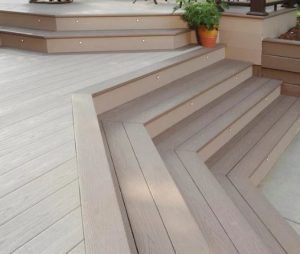 Backed by a 50-year warranty, Azek decking is a great choice for your new deck.  In addition, they have three unique collections to choose from. Those collections are the Vintage Collection, the Arbor Collection, and Harvest Collection. Each collection has its own unique look and feels with different widths and colors available. At Miles Bradley we offer Azek and TimberTech, also we offer Fiberon deck options as well.
Fiberon composite decking is a good choice for your decking as well. Their product is an eco-friendly wood alternative. Also, their product looks and feels like hardwood but without maintenance. Like Azek, Fiberon is available in a wide variety of colors to choose from. At Miles Bradley Building and Remodeling, we offer a large option of brands of decking to choose from. Also, we offer wood decks as well as composite decks.
As you can see, we have a multitude of composite decking to choose from.  Here at Miles Bradley Building and Remodeling, we recommend Trex decking. Trex decking is a durable and reliable decking that we have installed for years. Also, Trex decking will maintain its beauty for decades to come.
No matter what brand of decking you choose, make sure to hire expert installers like Miles Bradley.  We can install the deck you have always wanted. Finally, give us a call today at 248-478-8660 and see what Miles Bradley can do for you.
Do you have a composite deck but don't know how to properly take care of it? Because composite decks are made from wood byproducts (i.e. wood chips, sawdust) and plastics, they require less maintenance work than other wood decks. These types of decks come in a variety of styles, colors, and grains to choose from.
Taking care of your deck isn't a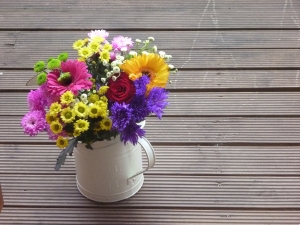 hard process at all. The first thing you should do is to grab a broom and dustpan and begin sweeping your deck. Sweeping frequently will help keep your deck clean. As you're sweeping, make sure to sweep all of the debris off of your low-maintenance deck. Pick up any leaves or sticks that might be stuck within the cracks of your deck board. Composite decking material cannot be sanded nor refinished so if you see any stains on the deck, be sure to address them quickly so that they can be removed.
Composite Deck Cleaning
Next, scrub your deck with soap and hot water or composite deck cleaner. Use a deck brush while scrubbing the surface of your composite deck. The deck brush that you use should have soft bristles to make your deck even smoother.
Finally, rinse off your low-maintenance deck using the water hose. Make sure all of the soap's residue is removed. If your composite deck has any marks on it, use nail polish remover, rubbing it in a circular motion, on a wet cotton ball to get it off. Once finished, allow your deck to dry.
Miles Bradley Building and Remodeling, INC specializes in building composite decks. If you're interested or have any questions, contact us at any one of our locations.