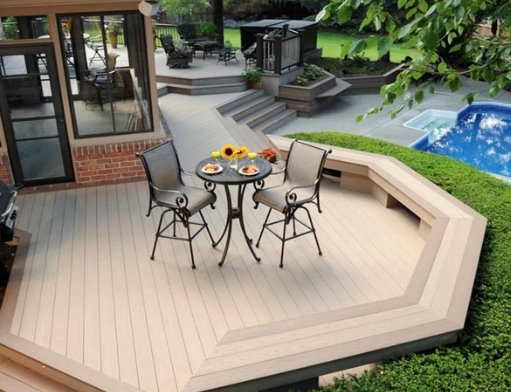 Azek Building Products offers a large variety of products such as decking, railings, moulding, lighting and much more.  In addition, they offer TimberTech brand products as well. TimberTech offers composite decking in a wide arrange of colors to choose from. Similar to Trex, TimberTech is a composite decking that is easy to maintain and requires less maintenance than a traditional wood deck. Miles Bradley is an experienced installer of TimberTech composite decking.
Azek Decking Professionally Installed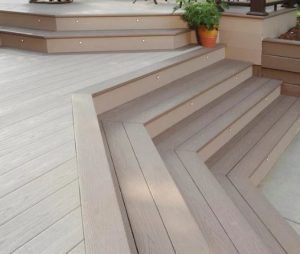 Backed by a 50-year warranty, Azek decking is a great choice for your new deck.  In addition, they have three unique collections to choose from. Those collections are the Vintage Collection, the Arbor Collection, and Harvest Collection. Each collection has its own unique look and feel with different widths and colors available. At Miles Bradley we offer Azek and TimberTech, also we offer Fiberon deck options as well.
Fiberon composite decking is a good choice for your decking as well. Their product is an eco-friendly wood alternative. Also, their product looks and feels like hardwood but without the maintenance. Like Azek, Fiberon is available in a wide variety of colors to choose from. At Miles Bradley Building and Remodeling, we offer a large option of brands of decking to choose from. Also, we offer wood decks as well as composite decks.
As you can see, we have a multitude of composite decking to choose from.  Here at Miles Bradley Building and Remodeling, we recommend Trex decking. Trex decking is a durable and reliable decking that we have installed for years. Also, Trex decking will maintain its beauty for decades to come.
No matter what brand of decking you choose, make sure to hire expert installers like Miles Bradley.  We can install the deck you have always wanted. Finally, give us a call today at 248-478-8660 and see what Miles Bradley can do for you.
Do you have a composite deck but don't know how to properly take care of it? Because composite decks are made from wood byproducts (i.e. wood chips, sawdust) and plastics, they require less maintenance work than other wood decks. These types of decks come in a variety of styles, colors, and grains to choose from.
Taking care of your deck isn't a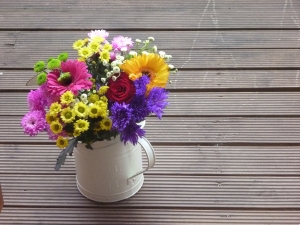 hard process at all. The first thing you should do is to grab a broom and dustpan and begin sweeping your deck. Sweeping frequently will help keep your deck clean. As you're sweeping, make sure to sweep all of the debris off of your low maintenance deck. Pick up any leaves or sticks that might be stuck within the cracks of your deck board. Composite decking material cannot be sanded nor refinished so if you see any stains on the deck, be sure to address them quickly so that they can be removed.
Composite Deck Cleaning
Next, scrub your deck with soap and hot water or composite deck cleaner. Use a deck brush while scrubbing the surface of your composite deck. The deck brush that you use should have soft bristles to make your deck even smoother.
Finally, rinse off your low maintenance deck using the water hose. Make sure all of the soap's residue is removed. If your composite deck has any marks on it, use nail polish remover, rubbing it in a circular motion, on a wet cotton ball to get it off. Once finished, allow your deck to dry.
Miles Bradley Building and Remodeling, INC specializes in building composite decks. If you're interested or have any questions, contact us at any one of our locations.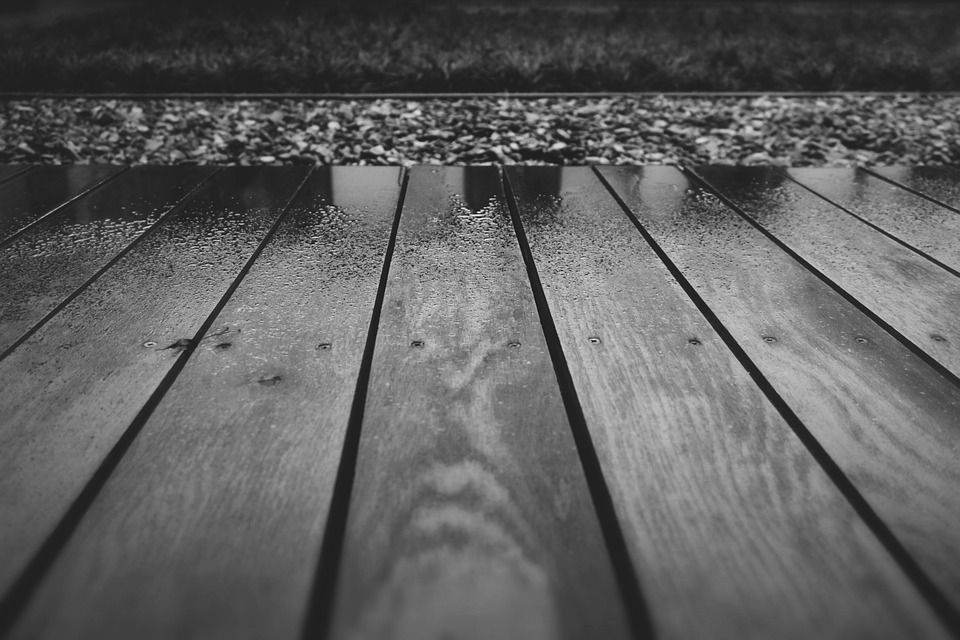 The months of January and February can be rough, weather wise. When deciding on a new deck for your home, there are a number of things to keep in mind. Whether if you are looking to have a small, large, single or multi-level deck…the possibilities are endless. As the weather begins to change, preparing and ensuring that your home and new deck will be ready for the snow and ice should be your number one priority, in regards to winter maintenance. If you are looking to invest in a new deck in Michigan, what better time to start saving than a time such as this?
How to Save For Your Dream Deck In The New Year
Depending on your deck's size and style will determine the cost that it takes to build your deck. Planning out your deck's cost in advance will not only keep the total price under control, but it will also help you build the deck of your dreams without destroying your budget. Here are some ways to help reduce the cost of your new deck:
Time it right: it's pretty common for people to get their deck installed in the warmer months. If you schedule your installation between the months of November and March, there's a greater chance that the rates will be a lot cheaper.
Carefully choose your wood: wood decks typically require annual maintenance, however, if you invest in a composite deck or pressure-treated wood, you will be saving time and money in the long run.
Keep it simple: by simply eliminating fancy designs, curves and other features will help to reduce cost. Using things like footings and pre-made concrete piers can help, too.
Certified Deck Contractor in Michigan
If you are looking for a certified decking contractor in Michigan to install your new deck this season, contact Miles Bradley. As our customer, we promise to provide you with exceptional workmanship and product. Finally, fill out our quote today to start planning the deck of your dreams!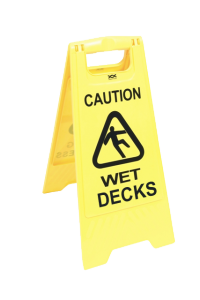 Are you worried about cleaning your composite deck before winter? Don't, it's easy! Although composite decking is very low maintenance, cleaning is important.  An exterior deck does require  a basic deck cleaning for composite decks. Ideal times to clean your composite deck are after installation and in the fall or spring.  You may purchase a composite deck cleaner at your local hardware shop.  If you prefer, you may use a combination of hot water and a soft bristle brush.
Cleaning Dirt and Debris From Composite Decking
For Dirt and Debris your deck should be sprayed with a hose to remove dirt from the surface. After you remove the loose dirt and debris from your composite deck use warm, soapy water and scrub with a soft bristle brush. This will allow you to remove the dirt and debris from the crevices of the embossing pattern.
It's important to be careful when using Chalk Lines on your deck. You must make sure you are using the right type of chalk. High performance chalk lines are likely to discolor a composite or PVC deck, we recommend using a dust off marking chalk like Irwin brand in purple you can find this at www.Irwin.com. If you accidentally snap a chalk line with permanent or bright chalk immediately scrub the line with soap and hot water to remove it.
Remove Grease, Oil, Mold or Mildew from Composite Decking
You definitely want to try to remove any Oil, Grease or Food stains on your composite deck before the winter comes. To remove these stains spray them off with a hose and use warm soapy water with a soft bristle brush.
Mold and Mildew is always possible. Due to it feeding on biofilm you want to remove as soon as you see it forming.
Last but not least when the time comes to remove Ice and Snow from your composite deck a plastic shovel may be used. It's safe to use rock salt or calcium chloride to melt the snow and ice from the deck surface.
If you need help or have any questions about cleaning your deck call us at 248-478-8660.
Fall, also known as "bonfire and hoodie season" is quickly approaching as we close out our first week of September. Family and friends will gather around fire pits sharing stories, laughter, and making unforgettable memories. It is important to remember throughout all of the fun, that safety still has to be top priority.
Safely Using a Fire Pit on Your Deck
It is recommended that fire pits be used in areas that are open and away from decks or homes. With portable fire pits becoming more and more popular, it is becoming more frequent for homeowners to being using a fire pit on your deck space. It is important to remember that both wood decking and composite decking are flammable and can be damaged from the heat if your decking space is not properly protected.
Here are some steps to take to properly protect your deck from fire or damage.
Find a safe location away from deck railings, decorations and your home. You
want to be sure that if the wind blows the flames of your fire will not come in contact with anything that may increase the risk of starting a fire.
Never place your fire pit directly on your deck. The heat from underneath the fire pit can cause damage to wood decking or composite decking. Damage such as warping, discoloration, or burn spots may occur. To avoid this, you can use fire pit pads, or create your own barrier with patio stones. When creating a barrier, you will want to extend it about two feet in all directions from the edge of your fire pit. This will help with embers or in the event the fire pit tips over, your deck will still be protected.
Start your fire and cover with a fire pit screen. This will reduce flying embers and debris, while still allowing you to enjoy a full bonfire.
Due to the fact that you are starting a fire on a wood surface, it is important to take extra precautions. Something as small as an ember can cause your deck to catch fire. Be sure to have a fire extinguisher and hose readily available in the unfortunate event does occur.
Don't have a deck? Are you looking to improve the value of your home by having a new deck built? Contact us today!