The recent Michigan snow fall has stirred up concerns for new deck owners on how to properly maintain their deck during the winter months. We often get questions about removing the snow on your deck in the winter. As your trusted deck building company, we are happy to address any concerns that you may have about maintaining your deck in the winter.
Should I remove the snow from my deck? 
You do not have to remove the snow from the deck. We only recommend that you clear a path if the deck is connected to your house to avoid accidents.
Will my deck collapse if I don't remove the snow from it ?
Your deck will not collapse from the added weight from the snow. Miles Bradley builds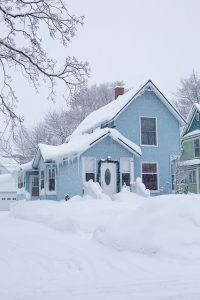 high quality low maintenance decks that are built to withstand the Michigan winter. When you mix Trex decking with our great workmanship, you get a strong deck that can handle the weight from people , furniture, or snow.
Will I mess up the deck by shoveling it ?
If you plan to shovel the snow off of your deck, we recommend that you use a rubber shovel. Metal shovels can possibly scratch up your deck. When shoveling, we also recommend that you use one big stroke and run the shovel down the length of the boards.
What products are recommended to remove snow and ice?
To remove snow and ice, we recommend that you use rock salt or calcium chloride.
Thanks for being a valued customer of Miles Bradley. We look forward to another great year with you.
We are proud to offer such a great product from the largest manufacturer of composite decking (wood-alternative). Today Trex was awarded the 2013 Green Award from Washingtonian Magazine. This award recognizes people, companies and organizations in the DC area that work to improve the environment and encourage eco-friendly living.
Trex was awarded this because of their efforts in salvaging more than 400 million pounds of plastic and wood scrap out of landfills each year. They kept more than 2.5 billion pounds total from 2007 through 2012 alone. Their Trex decking products are manufactured from more than 95 percent of recycled content including; wood and sawdust, along with plastic and newspapers from household items.
Their green efforts do not stop there, Trex manufacturing final process is also green with a proprietary method that recycles factory refuse back onto the manufacturing line. By  continuously improving their process with green methods, Trex supports their community through recycling and education.
We are delighted to see Trex earn this award and are proud to support this company by  using these great products in our customers decks. Contact us today to see how we can build your deck with Trex composite decking material.