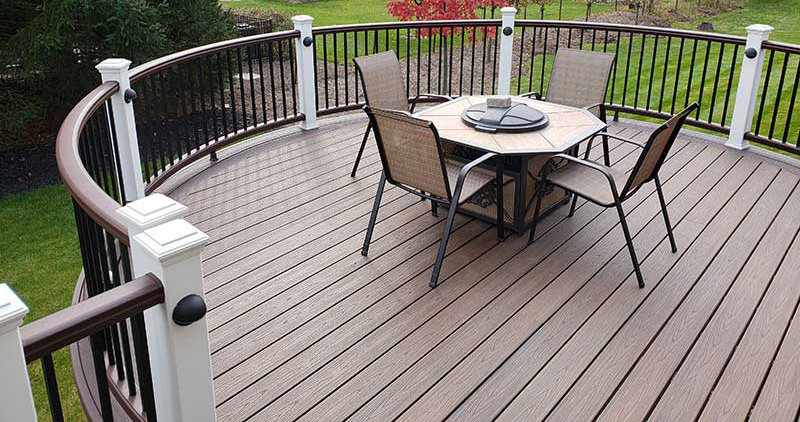 While enjoying the outdoors on your new Trex Composite Deck, you may think you would like a fire pit on the deck.  So the question becomes, can you put a fire pit on your composite deck? Well, the answer is a little muddy. First, you should never put a fire pit directly on your deck with no protection. The heat alone can warp the decking materials as well as embers can burn the deck as well.
Trex decking can soften at about 176 degrees Fahrenheit so you have to very cautious on the size of your fire. In addition, never install the firepit directly on top of the deck.  A gas type fire pit is a much better option than a wood-burning one
Composite Deck Fire Pit On Trex Safety Steps
If you are determined to add a fire pit to your deck try to keep some of this advice in mind.  Make sure under the firepit you install fire-resistant material for the pit to rest on. Insulated walls of stone or other types of materials are used to prevent heat from escaping. Deck Protect is another product that is used to prevent fire damage to your deck. Also, you can have a new custom-built deck that encompasses the fire pit and does not have the fire pit directly on the deck.
At Miles Bradley, we custom build low maintenance composite decks all the time and we can accommodate your needs. While it is not highly recommendable to put a large fire pit on your composite deck. With careful planning and the right type of materials and fire pit, it can be done. Call us today at 248-478-8660 in the Detroit area or 847-920-7601 in the Chicago area. Finally, we can answer any questions you have about Trex composite decks and your options.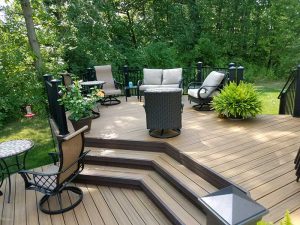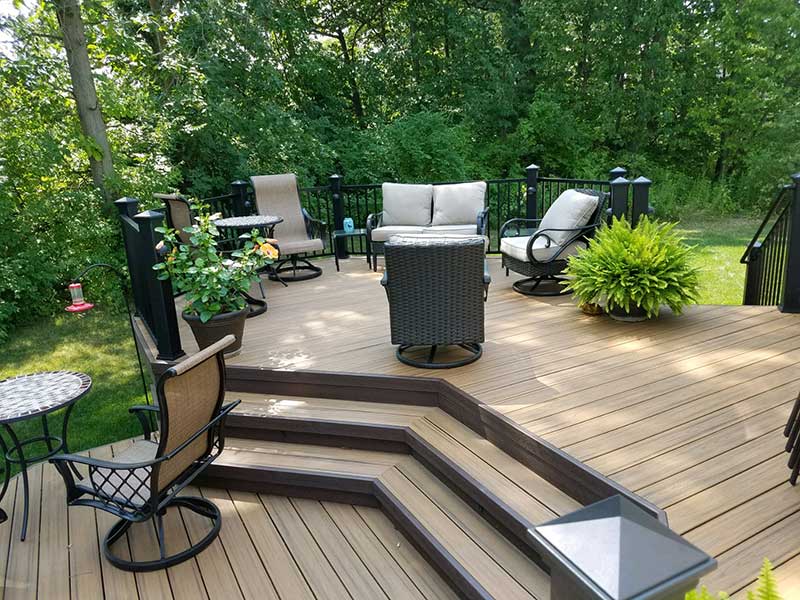 Farmington Hills is a beautiful and lavish Michigan city with a general population of 80,971. It is also a very family-oriented city. In addition, the schools are top-of-the-line and the area is shrouded in wealth. Also, the average home value is $207,200. The houses are big and beautiful and should be accompanied by gorgeous decks! A nice deck can make or break your home, so why not aim for the best?
Here at Miles Bradley, we build custom composite decks in Farmington Hills. We use Timbertech and Trex composite decking materials for the best quality decks. While our decks are of the highest quality, they are also beautiful. 
Timbertech vs Trex
Both Timbertech and Trex are popular composite decking companies. This means that both companies have similar advantages. Unlike wood, composite decks have desirable factors of durability, longevity, and maintainability. But there are some differences between Timbertech and Trex as well. 
Timbertech
Timbertech decks are generally more expensive than Trex decks. This is because of the slight difference in the board design. Although Timbertech boards are also made of recycled material, they contain a protective polymer shell that protects all four sides of the board. Because of this extra coverage, Timbertech materials are more resistant to harsh weather, an important quality to have in Michigan.
Trex
All of the Trex decking materials are made up of a protective shell and a composite core. The protective shell provides coverage to three sides of the board; the top and both sides. The bottom of the board is left unsealed, allowing the material to respire while also being protected. Furthermore, Trex decking materials tend to have more scratch resistance than Timbertech.
Composite Deck Building In Farmington Hills
Here at Miles Bradley, we construct Timbertech and Trex low-maintenance composite decks. We have served the people in Farmington Hills for over 25 years. With decades of experience and customer satisfaction, we are there to help you make the custom deck of your dreams. For more information, request a free quote! Finally, contact us today to make your deck building appointment.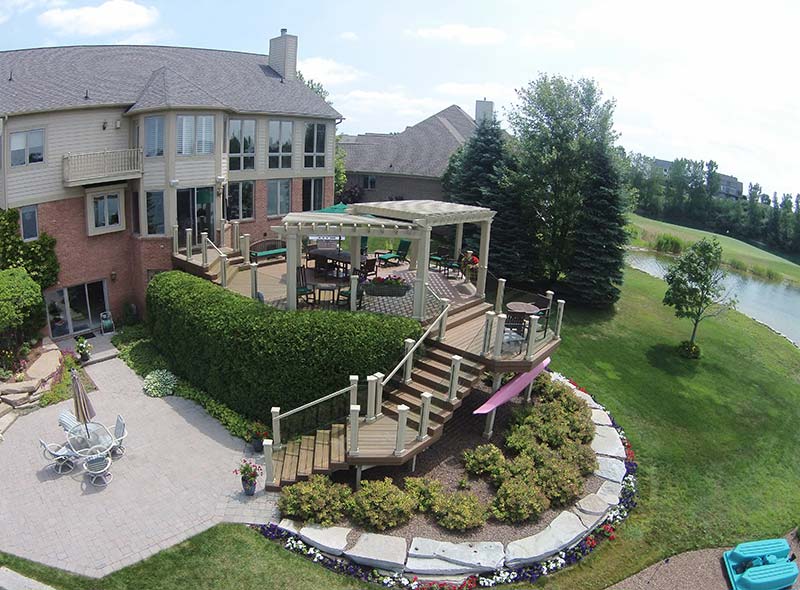 Are you looking for a deck builder near you in Farmington Hills? Here at Miles Bradley, we build composite decks in Farmington Hills. While they are stable and dependable, they are also unmatched in beauty. With decades of experience and customer satisfaction, we are there to help you make the custom deck of your dreams.

Farmington Hills is a beautiful and prosperous Michigan city. The schools are top-of-the-line and the area is shrouded in wealth. The beautiful houses should be accompanied by beautiful custom decks! A nice deck can make or break your home, so why not aim for the best?
Why a Composite Deck?

Unlike a wood deck which shows its age over the years, low-maintenance composite decks are built to last. Composite decks are made from Trex materials that can withstand harsh Michigan weather patterns. That is why more and more homeowners are seeing benefits of low-maintenance composite decks. They maintain their beauty for a longer amount of time and by requiring little-to-no maintenance, they are practical for anyone. Furthermore, there are several advantages to having a composite deck.
The deck boards are made from recycled materials so you will not have to worry about killing trees in order to get new wood.
Composite decking is designed to resist scratching, fading, staining and mold. Also, unlike wood, composite decks are insect proof so you have no threat of infestation or material damage.
At first, a composite deck will be higher of a cost but in the long run with way less maintenance and a longer durability, you will save money.
Contact
If you are interested in building a new composite deck, contact Miles Bradley right away! We treat your home like it is our own, the care only expected of family. The best place to go to for a new deck is here with our decades of experience and customer satisfaction. Finally, request a quote from us today!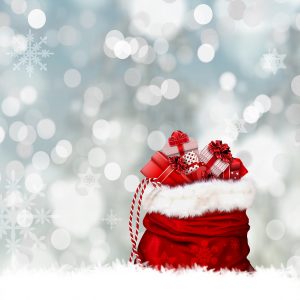 With the holidays quickly approaching, you may be wanting to get your home ready for company. When the family comes home for the holidays, many want to get their home in tip-top shape. This can be very overwhelming as "there's just so much to do!" We want to make sure you don't leave a few things off of your checklist, as well as give you a good place to start.
Getting Your Basement Finished
Having a finished basement gives you a great place to keep everybody in one place. When gathering for the holiday's spending time with each other is at the top of the list. (For some, it may be the delicious food.) But, regardless, having a finished basement is a great place to feed the family as well as keep them all entertained.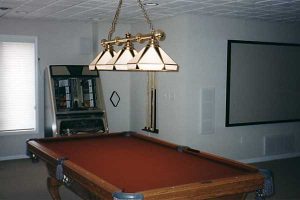 For some Oakland County residents, finishing the basement may just mean doing the rest of the laundry, cleaning the carpet, and dusting off the bar. For others, a little more work may be needed. You may actually need our help to finish the basement! It may not be too late for you to contact us and get your basement remodeled or finished and ready for holiday company!
Clean Your Deck for guests
Yes, we know the holidays season is pretty cold. But your guests may want to step outside for some fresh air. While they are standing out on your deck looking around at your beautiful home, don't you want to show off your beautiful wood or composite deck? If it is caked up with wet leaves, ice, or snow, all you are doing is hiding its beauty! We have some great tips on cleaning your deck off for the family that is home for the holidays! Whether composite decking or wood decking, know the proper ways to clean a deck during winter.
Save on Home Improvements Before & After the Holidays!
If you do need to have your basement finished, or want to have a deck built this winter, contact us now. Offseason deck building can save you a lot of money! We work in the cold and if you act soon we can get before the New Year. If not, we still work during the coldest months and it will save you on costs. Now is the perfect time to call and schedule a consultation with the Decksperts at Miles Bradley!
Want to outfit your game room or basement with a pool table, shuffleboard, tables or stools? Visit our friends at Sunny's Pools & More at their Waterford or Macomb stores. They have some great stuff and low prices in the winter as well!
Fall, also known as "bonfire and hoodie season" is quickly approaching as we close out our first week of September. Family and friends will gather around fire pits sharing stories, laughter, and making unforgettable memories. It is important to remember throughout all of the fun, that safety still has to be top priority.
Safely Using a Fire Pit on Your Deck
It is recommended that fire pits be used in areas that are open and away from decks or homes. With portable fire pits becoming more and more popular, it is becoming more frequent for homeowners to being using a fire pit on your deck space. It is important to remember that both wood decking and composite decking are flammable and can be damaged from the heat if your decking space is not properly protected.
Here are some steps to take to properly protect your deck from fire or damage.
Find a safe location away from deck railings, decorations and your home. You
want to be sure that if the wind blows the flames of your fire will not come in contact with anything that may increase the risk of starting a fire.
Never place your fire pit directly on your deck. The heat from underneath the fire pit can cause damage to wood decking or composite decking. Damage such as warping, discoloration, or burn spots may occur. To avoid this, you can use fire pit pads, or create your own barrier with patio stones. When creating a barrier, you will want to extend it about two feet in all directions from the edge of your fire pit. This will help with embers or in the event the fire pit tips over, your deck will still be protected.
Start your fire and cover with a fire pit screen. This will reduce flying embers and debris, while still allowing you to enjoy a full bonfire.
Due to the fact that you are starting a fire on a wood surface, it is important to take extra precautions. Something as small as an ember can cause your deck to catch fire. Be sure to have a fire extinguisher and hose readily available in the unfortunate event does occur.
Don't have a deck? Are you looking to improve the value of your home by having a new deck built? Contact us today!