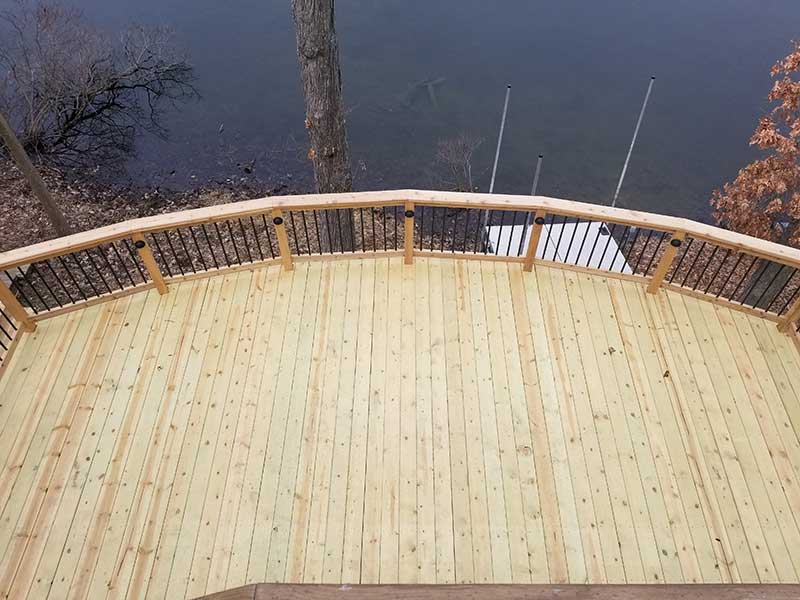 Lumber prices are too high. Although COVID restrictions have ended, the supply chain is still suffering. As a result, the current cost of lumber is sky-high. For people looking for lumber decks, you should be expecting to pay a large sum of cash and expect a long project timeline. However, there are other options besides lumber decks. In fact, you should be looking at composite decks.
Lumber Decking
Without a doubt, lumber is the default material for decking. After all, it has been used for decking for centuries. Although wooden decks have to be constantly maintained and stained, it is still in high demand. There is a natural look, feel, and smell that comes from wooden decks. When pressure treated, wooden decks can be very affordable.
However, the current supply chain shortage has made wood decks more expensive than before. As a result, the price of materials has escalated. Furthermore, the large demand for lumber has made it harder to get shipments in.
Composite Decking
While wood decking is traditional, composite decking is an excellent choice that is becoming more popular! Composite decking is crafted through organic and synthetic compounds. As a result, it is resistant to rot and decay. In addition, it is crack resistant and scratch resistant. Composite decks are also low maintenance and do not require staining. Instead, you can choose from a large variety of colors and types of composite decking like Trex.
Are Lumber Prices Too High? Get a Composite Deck
The price of lumber is not going down anytime soon. However, composite decks are a great alternative. At Miles Bradley, we install wood and composite decks! All of your decks are installed by professionals who have decades of experience. In addition to decks, Miles Bradley has other services and products for your customers. Contact Miles Bradley today to get a quote on our services!
Spring and Summer are the main seasons for deck building in Michigan and Illinois. During this season, we get many questions asking about the cost of a new deck. There are many deck-building companies out there but few can compete with the high-quality workmanship, materials, and knowledge that Miles Bradley provides. We will tell you all you need to know about the procedures and costs of getting a new deck built for your home. Our offices are located near Detroit and Chicago, serving both metro areas. It should be noted that cost can vary for different types of materials. The ranges below reflect the current year's prices, but will undoubtedly change year to year.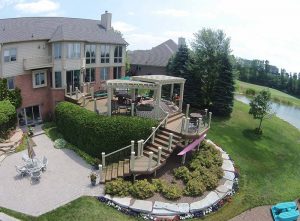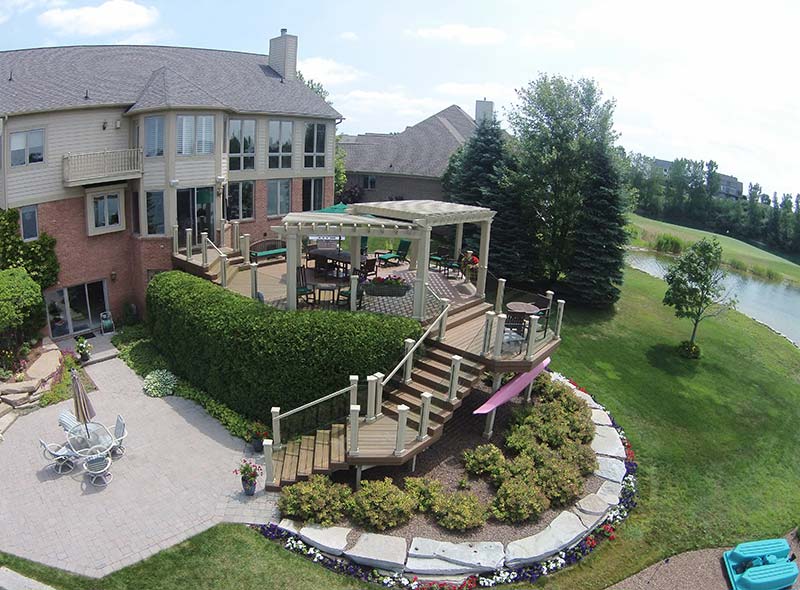 Miles Bradley cost guideline for a typical new custom deck construction.
The average deck is around 300-400 square feet.
A pressure-treated wood deck can cost around $15,000-$18,000 depending on how it is constructed.
Cedar decks can cost between $20,000 and $25,000 depending on the specs of the deck.
Composite decks can cost between $20,000 and $25,000. Despite the price, these decks are the best value. They are built to brave the elements so forget warping, weathering, and damage by insects. Check out our Trex Low Maintenance Composite Decks, there is no need to paint, seal, or stain.
Deck cost pricing includes; permits from the city, clean up, labor, material, warranty, and some beautiful rail lighting. (We add in to thank you for your business!)
The prices above are for complete deck construction. Your custom deck will vary within the pricing. Contact us for pricing on building a new deck for your home.
Custom Deck features can increase deck building cost;
Your options are endless! Keep in mind custom features such as curved rails, steel frames, spiral staircases, radius decks, and custom decking patterns can increase costs. Right now is the perfect time to have Miles Bradley help design and build your custom deck. Call our Detroit Michigan office: 248-478-8660 or our Chicago Illinois office: 847-920-7601 for new deck-building costs in your area.
Updated March 2021
Miles Bradley has been busy this summer! Offering a variety of composite deck materials that comes in different grain patterns and colors, along with full deck planning and all the extras you can add to your deck. In addition, as a certified Trex Pro Platinum builder, we build low-maintenance decks using composite deck materials.
Check out this new deck build In Novi, Michigan with our favorite products from Trex.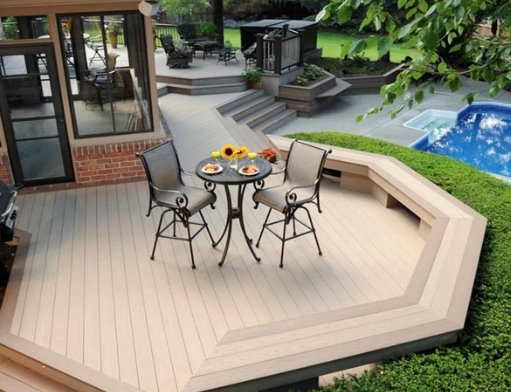 Azek Building Products offers a large variety of products such as decking, railings, molding, lighting, and much more.  In addition, they offer TimberTech brand products as well. TimberTech offers composite decking in a wide arrange of colors to choose from. Similar to Trex, TimberTech is a composite decking that is easy to maintain and requires less maintenance than a traditional wood deck. Miles Bradley is an experienced installer of TimberTech composite decking.
Azek Decking Professionally Installed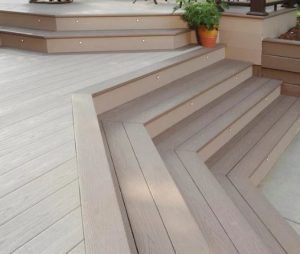 Backed by a 50-year warranty, Azek decking is a great choice for your new deck.  In addition, they have three unique collections to choose from. Those collections are the Vintage Collection, the Arbor Collection, and Harvest Collection. Each collection has its own unique look and feels with different widths and colors available. At Miles Bradley we offer Azek and TimberTech, also we offer Fiberon deck options as well.
Fiberon composite decking is a good choice for your decking as well. Their product is an eco-friendly wood alternative. Also, their product looks and feels like hardwood but without maintenance. Like Azek, Fiberon is available in a wide variety of colors to choose from. At Miles Bradley Building and Remodeling, we offer a large option of brands of decking to choose from. Also, we offer wood decks as well as composite decks.
As you can see, we have a multitude of composite decking to choose from.  Here at Miles Bradley Building and Remodeling, we recommend Trex decking. Trex decking is a durable and reliable decking that we have installed for years. Also, Trex decking will maintain its beauty for decades to come.
No matter what brand of decking you choose, make sure to hire expert installers like Miles Bradley.  We can install the deck you have always wanted. Finally, give us a call today at 248-478-8660 and see what Miles Bradley can do for you.
Do you have a composite deck but don't know how to properly take care of it? Because composite decks are made from wood byproducts (i.e. wood chips, sawdust) and plastics, they require less maintenance work than other wood decks. These types of decks come in a variety of styles, colors, and grains to choose from.
Taking care of your deck isn't a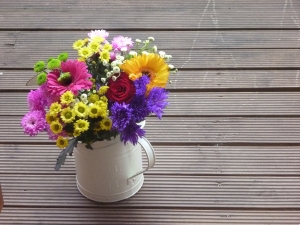 hard process at all. The first thing you should do is to grab a broom and dustpan and begin sweeping your deck. Sweeping frequently will help keep your deck clean. As you're sweeping, make sure to sweep all of the debris off of your low-maintenance deck. Pick up any leaves or sticks that might be stuck within the cracks of your deck board. Composite decking material cannot be sanded nor refinished so if you see any stains on the deck, be sure to address them quickly so that they can be removed.
Composite Deck Cleaning
Next, scrub your deck with soap and hot water or composite deck cleaner. Use a deck brush while scrubbing the surface of your composite deck. The deck brush that you use should have soft bristles to make your deck even smoother.
Finally, rinse off your low-maintenance deck using the water hose. Make sure all of the soap's residue is removed. If your composite deck has any marks on it, use nail polish remover, rubbing it in a circular motion, on a wet cotton ball to get it off. Once finished, allow your deck to dry.
Miles Bradley Building and Remodeling, INC specializes in building composite decks. If you're interested or have any questions, contact us at any one of our locations.