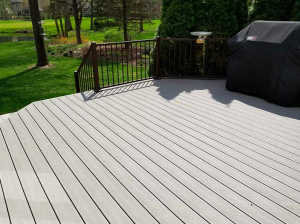 Are you interested in adding a composite Trex deck to your home? Trex decking is a hassle-free and eco-friendly composite decking material. Furthermore, Trex decking planks contain special three-sided shell protection with the color ingrained within the material. This allows the planks to keep its beautiful appearance for many years in the color of your choice without having to repaint, stain, or seal them. 
Trex offers many different color options. The decking is available in 23 colors in hues of grey, brown, and red. There are 7 grey color options, 12 brown color options, and 4 red color options available.
How Do You Choose Your Trex Deck Color?
You should choose your deck color in correspondence with the furniture you already own and also the color of your home. If the color of your home is beige, tan, or cream, you may want to consider the brown or red hues. If your home has undertones of blue, bright white, or silver, you may want to consider the grey hues. Additionally, the color of the deck will bring out these undertones and make your house look nicer.
Also, think about the architectural style of your home and the style you want to portray through the new deck. Certain styles are brought out through certain colors. For example, rustic themes tend to be brought out with dark brown colors, red colors tends to be associated with nautical and naval themes, while blue or green tones hint towards a more contemporary or beach-y theme.
Low-Maintenance Composite Decking by Miles Bradley
Here at Miles Bradley, our distinguished installers are experienced and certified Trex Platinum Contractors. We know how to install Trex and make it look its best. Finally, to get your new deck installed, contact us or request a free quote today. We can't wait to hear from you!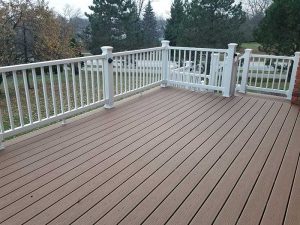 It's that time of year again where the weather is getting colder and we have to start thinking about winterizing our composite or wood decks. Especially in the harsh Michigan Winters, deck owners have to make sure to take all the necessary precautions to ensure the longest life for composite and wood decking. But what is the best way to winterize your deck?
How To Winterize Your Deck
Clean your deck before Winter arrives.
By cleaning your deck before snow starts accumulating, you can avoid the hassle of removing long-standing dirt and grime from your deck when the snow melts in the Spring. If you leave dirt on your deck, especially wood, for long periods of time then you risk discoloration and stains on the decking.
Inspect your deck for any weaknesses.
Make sure that you check your deck for any weaknesses before the first snowfall. If you have loose screws, lifting boards, or any cracks, heavy snows and extra pressure could make the problem much worse. Call Miles Bradley to get a free estimate before the deck sustains real damage.
Trim tree branches that hang over your deck. 
It's always better to be safe than sorry. If you trim your overhanging tree branches before a bad storm hits, you have no chance of sustaining damage to your deck from a heavy branch cracking and falling on it. This is a simple precaution that could save you lots of money.
Consider removing furniture from the deck.
You may want to relocate your furniture to the attic or a shed during the Winter. This will protect the furniture's quality and keep it at its best condition for the Spring. Also, it will prevent rust spots and mildew from forming on the decking surrounding the furniture.
For any questions or concerns, please feel free to contact us! As your trusted local deck builder, we are happy to address any concerns that you may have about winterizing your composite or wood deck.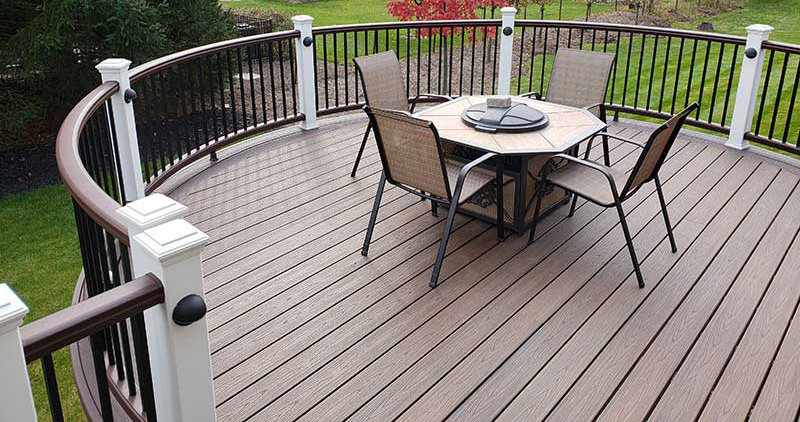 While enjoying the outdoors on your new Trex Composite Deck, you may think you would like a fire pit on the deck.  So the question becomes, can you put a fire pit on your composite deck? Well, the answer is a little muddy. First, you should never put a fire pit directly on your deck with no protection. The heat alone can warp the decking materials as well as embers can burn the deck as well.
Trex decking can soften at about 176 degrees Fahrenheit so you have to very cautious on the size of your fire. In addition, never install the firepit directly on top of the deck.  A gas type fire pit is a much better option than a wood-burning one
Composite Deck Fire Pit On Trex Safety Steps
If you are determined to add a fire pit to your deck try to keep some of this advice in mind.  Make sure under the firepit you install fire-resistant material for the pit to rest on. Insulated walls of stone or other types of materials are used to prevent heat from escaping. Deck Protect is another product that is used to prevent fire damage to your deck. Also, you can have a new custom-built deck that encompasses the fire pit and does not have the fire pit directly on the deck.
At Miles Bradley, we custom build low maintenance composite decks all the time and we can accommodate your needs. While it is not highly recommendable to put a large fire pit on your composite deck. With careful planning and the right type of materials and fire pit, it can be done. Call us today at 248-478-8660 in the Detroit area or 847-920-7601 in the Chicago area. Finally, we can answer any questions you have about Trex composite decks and your options.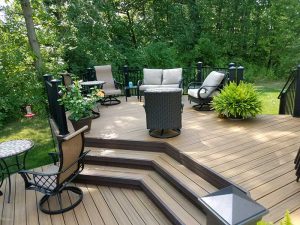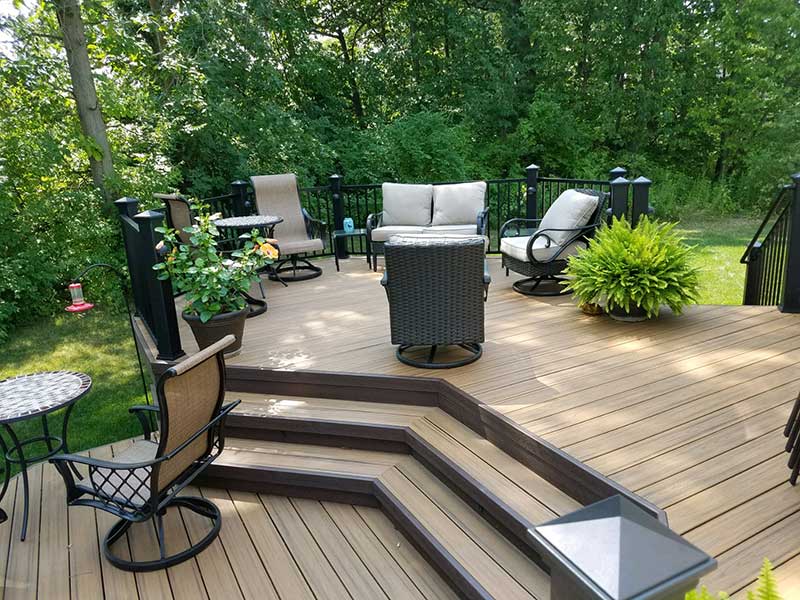 Farmington Hills is a beautiful and lavish Michigan city with a general population of 80,971. It is also a very family-oriented city. In addition, the schools are top-of-the-line and the area is shrouded in wealth. Also, the average home value is $207,200. The houses are big and beautiful and should be accompanied by gorgeous decks! A nice deck can make or break your home, so why not aim for the best?
Here at Miles Bradley, we build custom composite decks in Farmington Hills. We use Timbertech and Trex composite decking materials for the best quality decks. While our decks are of the highest quality, they are also beautiful. 
Timbertech vs Trex
Both Timbertech and Trex are popular composite decking companies. This means that both companies have similar advantages. Unlike wood, composite decks have desirable factors of durability, longevity, and maintainability. But there are some differences between Timbertech and Trex as well. 
Timbertech
Timbertech decks are generally more expensive than Trex decks. This is because of the slight difference in the board design. Although Timbertech boards are also made of recycled material, they contain a protective polymer shell that protects all four sides of the board. Because of this extra coverage, Timbertech materials are more resistant to harsh weather, an important quality to have in Michigan.
Trex
All of the Trex decking materials are made up of a protective shell and a composite core. The protective shell provides coverage to three sides of the board; the top and both sides. The bottom of the board is left unsealed, allowing the material to respire while also being protected. Furthermore, Trex decking materials tend to have more scratch resistance than Timbertech.
Composite Deck Building In Farmington Hills
Here at Miles Bradley, we construct Timbertech and Trex low-maintenance composite decks. We have served the people in Farmington Hills for over 25 years. With decades of experience and customer satisfaction, we are there to help you make the custom deck of your dreams. For more information, request a free quote! Finally, contact us today to make your deck building appointment.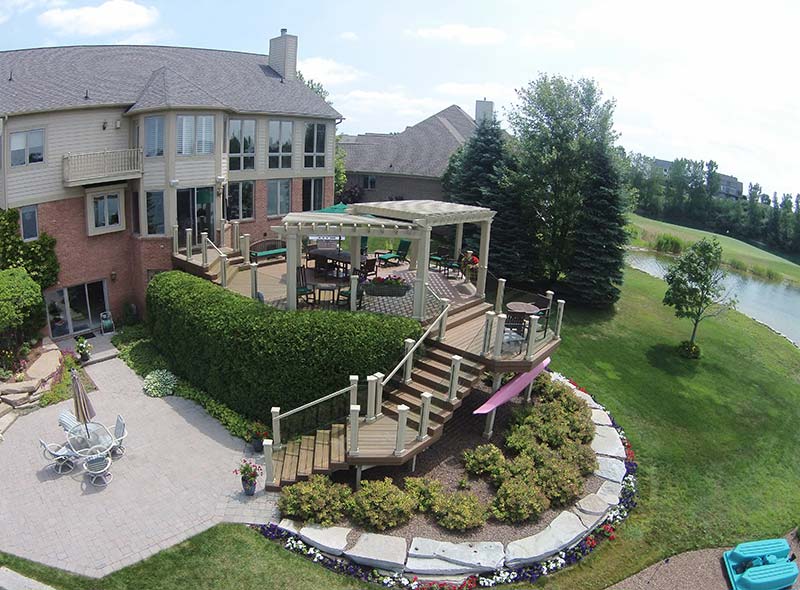 Are you looking for a deck builder near you in Farmington Hills? Here at Miles Bradley, we build composite decks in Farmington Hills. While they are stable and dependable, they are also unmatched in beauty. With decades of experience and customer satisfaction, we are there to help you make the custom deck of your dreams.

Farmington Hills is a beautiful and prosperous Michigan city. The schools are top-of-the-line and the area is shrouded in wealth. The beautiful houses should be accompanied by beautiful custom decks! A nice deck can make or break your home, so why not aim for the best?
Why a Composite Deck?

Unlike a wood deck which shows its age over the years, low-maintenance composite decks are built to last. Composite decks are made from Trex materials that can withstand harsh Michigan weather patterns. That is why more and more homeowners are seeing benefits of low-maintenance composite decks. They maintain their beauty for a longer amount of time and by requiring little-to-no maintenance, they are practical for anyone. Furthermore, there are several advantages to having a composite deck.
The deck boards are made from recycled materials so you will not have to worry about killing trees in order to get new wood.
Composite decking is designed to resist scratching, fading, staining and mold. Also, unlike wood, composite decks are insect proof so you have no threat of infestation or material damage.
At first, a composite deck will be higher of a cost but in the long run with way less maintenance and a longer durability, you will save money.
Contact
If you are interested in building a new composite deck, contact Miles Bradley right away! We treat your home like it is our own, the care only expected of family. The best place to go to for a new deck is here with our decades of experience and customer satisfaction. Finally, request a quote from us today!