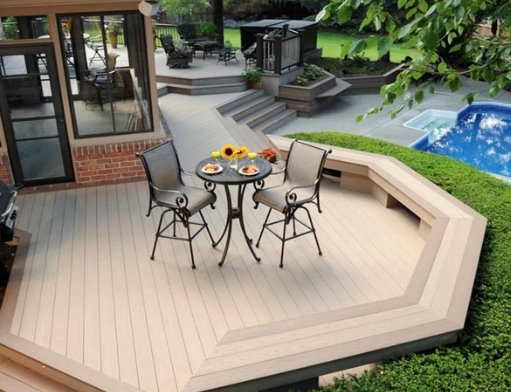 Azek Building Products offers a large variety of products such as decking, railings, moulding, lighting and much more.  In addition, they offer TimberTech brand products as well. TimberTech offers composite decking in a wide arrange of colors to choose from. Similar to Trex, TimberTech is a composite decking that is easy to maintain and requires less maintenance than a traditional wood deck. Miles Bradley is an experienced installer of TimberTech composite decking.
Azek Decking Professionally Installed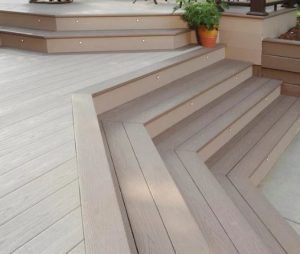 Backed by a 50-year warranty, Azek decking is a great choice for your new deck.  In addition, they have three unique collections to choose from. Those collections are the Vintage Collection, the Arbor Collection, and Harvest Collection. Each collection has its own unique look and feel with different widths and colors available. At Miles Bradley we offer Azek and TimberTech, also we offer Fiberon deck options as well.
Fiberon composite decking is a good choice for your decking as well. Their product is an eco-friendly wood alternative. Also, their product looks and feels like hardwood but without the maintenance. Like Azek, Fiberon is available in a wide variety of colors to choose from. At Miles Bradley Building and Remodeling, we offer a large option of brands of decking to choose from. Also, we offer wood decks as well as composite decks.
As you can see, we have a multitude of composite decking to choose from.  Here at Miles Bradley Building and Remodeling, we recommend Trex decking. Trex decking is a durable and reliable decking that we have installed for years. Also, Trex decking will maintain its beauty for decades to come.
No matter what brand of decking you choose, make sure to hire expert installers like Miles Bradley.  We can install the deck you have always wanted. Finally, give us a call today at 248-478-8660 and see what Miles Bradley can do for you.
Do you have a composite deck but don't know how to properly take care of it? Because composite decks are made from wood byproducts (i.e. wood chips, sawdust) and plastics, they require less maintenance work than other wood decks. These types of decks come in a variety of styles, colors, and grains to choose from.
Taking care of your deck isn't a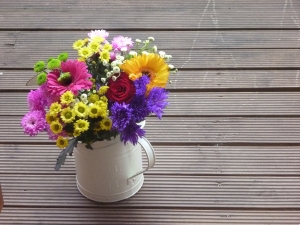 hard process at all. The first thing you should do is to grab a broom and dustpan and begin sweeping your deck. Sweeping frequently will help keep your deck clean. As you're sweeping, make sure to sweep all of the debris off of your low maintenance deck. Pick up any leaves or sticks that might be stuck within the cracks of your deck board. Composite decking material cannot be sanded nor refinished so if you see any stains on the deck, be sure to address them quickly so that they can be removed.
Composite Deck Cleaning
Next, scrub your deck with soap and hot water or composite deck cleaner. Use a deck brush while scrubbing the surface of your composite deck. The deck brush that you use should have soft bristles to make your deck even smoother.
Finally, rinse off your low maintenance deck using the water hose. Make sure all of the soap's residue is removed. If your composite deck has any marks on it, use nail polish remover, rubbing it in a circular motion, on a wet cotton ball to get it off. Once finished, allow your deck to dry.
Miles Bradley Building and Remodeling, INC specializes in building composite decks. If you're interested or have any questions, contact us at any one of our locations.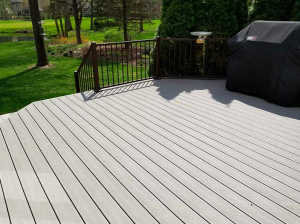 Are you interested in adding a composite Trex deck to your home? Trex decking is a hassle-free and eco-friendly composite decking material. Furthermore, Trex decking planks contain special three-sided shell protection with the color ingrained within the material. This allows the planks to keep its beautiful appearance for many years in the color of your choice without having to repaint, stain, or seal them. 
Trex offers many different color options. The decking is available in 23 colors in hues of grey, brown, and red. There are 7 grey color options, 12 brown color options, and 4 red color options available.
How Do You Choose Your Trex Deck Color?
You should choose your deck color in correspondence with the furniture you already own and also the color of your home. If the color of your home is beige, tan, or cream, you may want to consider the brown or red hues. If your home has undertones of blue, bright white, or silver, you may want to consider the grey hues. Additionally, the color of the deck will bring out these undertones and make your house look nicer.
Also, think about the architectural style of your home and the style you want to portray through the new deck. Certain styles are brought out through certain colors. For example, rustic themes tend to be brought out with dark brown colors, red colors tends to be associated with nautical and naval themes, while blue or green tones hint towards a more contemporary or beach-y theme.
Low-Maintenance Composite Decking by Miles Bradley
Here at Miles Bradley, our distinguished installers are experienced and certified Trex Platinum Contractors. We know how to install Trex and make it look its best. Finally, to get your new deck installed, contact us or request a free quote today. We can't wait to hear from you!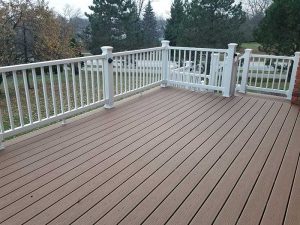 It's that time of year again where the weather is getting colder and we have to start thinking about winterizing our composite or wood decks. Especially in the harsh Michigan Winters, deck owners have to make sure to take all the necessary precautions to ensure the longest life for composite and wood decking. But what is the best way to winterize your deck?
How To Winterize Your Deck
Clean your deck before Winter arrives.
By cleaning your deck before snow starts accumulating, you can avoid the hassle of removing long-standing dirt and grime from your deck when the snow melts in the Spring. If you leave dirt on your deck, especially wood, for long periods of time then you risk discoloration and stains on the decking.
Inspect your deck for any weaknesses.
Make sure that you check your deck for any weaknesses before the first snowfall. If you have loose screws, lifting boards, or any cracks, heavy snows and extra pressure could make the problem much worse. Call Miles Bradley to get a free estimate before the deck sustains real damage.
Trim tree branches that hang over your deck. 
It's always better to be safe than sorry. If you trim your overhanging tree branches before a bad storm hits, you have no chance of sustaining damage to your deck from a heavy branch cracking and falling on it. This is a simple precaution that could save you lots of money.
Consider removing furniture from the deck.
You may want to relocate your furniture to the attic or a shed during the Winter. This will protect the furniture's quality and keep it at its best condition for the Spring. Also, it will prevent rust spots and mildew from forming on the decking surrounding the furniture.
For any questions or concerns, please feel free to contact us! As your trusted local deck builder, we are happy to address any concerns that you may have about winterizing your composite or wood deck.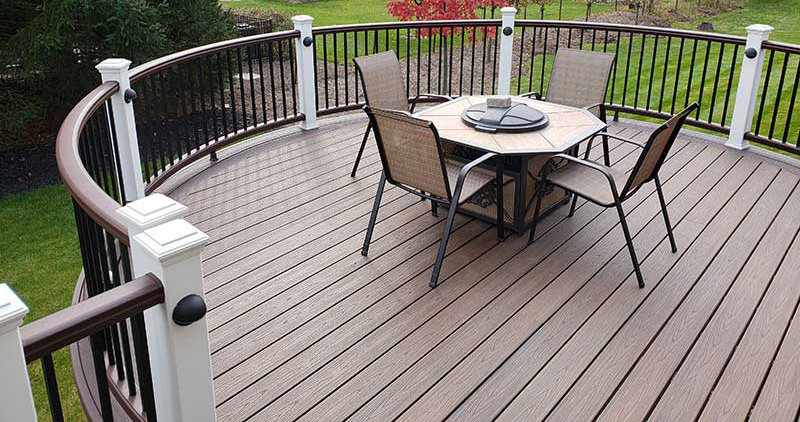 While enjoying the outdoors on your new Trex Composite Deck, you may think you would like a fire pit on the deck.  So the question becomes, can you put a fire pit on your composite deck? Well, the answer is a little muddy. First, you should never put a fire pit directly on your deck with no protection. The heat alone can warp the decking materials as well as embers can burn the deck as well.
Trex decking can soften at about 176 degrees Fahrenheit so you have to very cautious on the size of your fire. In addition, never install the firepit directly on top of the deck.  A gas type fire pit is a much better option than a wood-burning one
Composite Deck Fire Pit On Trex Safety Steps
If you are determined to add a fire pit to your deck try to keep some of this advice in mind.  Make sure under the firepit you install fire-resistant material for the pit to rest on. Insulated walls of stone or other types of materials are used to prevent heat from escaping. Deck Protect is another product that is used to prevent fire damage to your deck. Also, you can have a new custom-built deck that encompasses the fire pit and does not have the fire pit directly on the deck.
At Miles Bradley, we custom build low maintenance composite decks all the time and we can accommodate your needs. While it is not highly recommendable to put a large fire pit on your composite deck. With careful planning and the right type of materials and fire pit, it can be done. Call us today at 248-478-8660 in the Detroit area or 847-920-7601 in the Chicago area. Finally, we can answer any questions you have about Trex composite decks and your options.