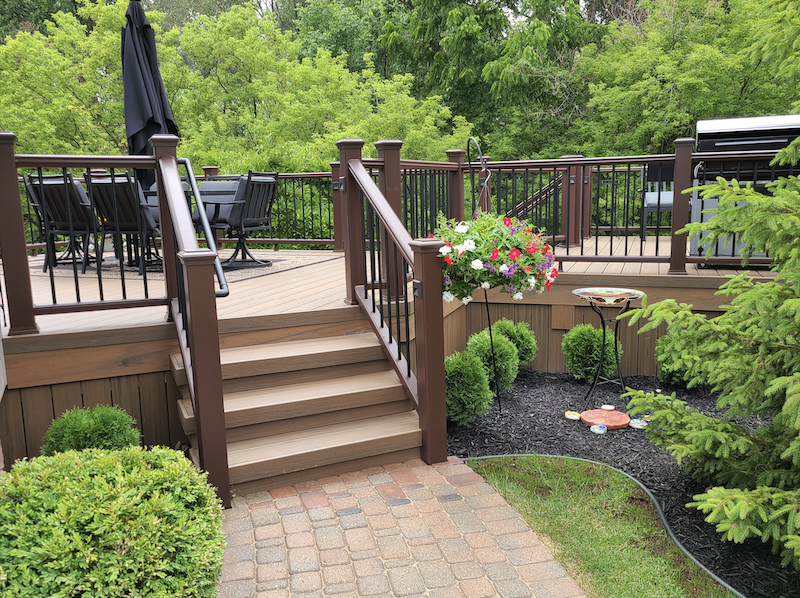 Are you worried about cleaning your composite deck before winter? Don't, it's easy! Although composite decking is very low maintenance, cleaning is important.  An exterior deck does require a basic deck cleaning for composite decks. Ideal times to clean your composite deck are after installation and in the fall or spring.  You may purchase a composite deck cleaner at your local hardware shop.  If you prefer, you may use a combination of hot water and a soft-bristle brush.
Cleaning Dirt and Debris From Composite Decking
Dirt and grime can build up over the spring and summer months. As a result, it is important to clean your deck before heavy rain and snow set in. This will prevent your deck from deteriorating over the winter. If you leave dirt and grime on your deck, it can accumulate and allow moisture to get locked in. As a result, your deck can suffer from structural and integral damages.
For Dirt and Debris, your deck should be sprayed with a hose to remove dirt from the surface. After you remove the loose dirt and debris from your composite deck use warm, soapy water and scrub with a soft bristle brush. This will allow you to remove the dirt and debris from the crevices of the embossing pattern. A thorough cleaning will allow your deck to be able to drain and ventilate moisture, preventing buildup.
It's important to be careful when using Chalk Lines on your deck. You must make sure you are using the right type of chalk. High-performance chalk lines are likely to discolor a composite or PVC deck, we recommend using a dust-off marking chalk-like Irwin brand in purple you can find this at www.Irwin.com. If you accidentally snap a chalk line with permanent or bright chalk immediately scrub the line with soap and hot water to remove it.
Remove Grease, Oil, Mold, or Mildew from Composite Decking
Just like with dirt and debris, it is important to remove oil, grease, mold, or mildew from your deck. Treating your deck will prevent the accumulation of these residues, protecting your deck from permanent staining and damage.
You definitely want to try to remove any Oil, Grease, or Food stains on your composite deck before the winter comes. To remove these stains spray them off with a hose and use warm soapy water with a soft bristle brush.
Mold and Mildew are always possible. Due to it feeding on biofilm you want to remove it as soon as you see it forming. Leaving mold and mildew untreated will lead to additional deck damage by the end of winter. Owners can use simple solutions on their deck to remove mildew from your deck. Just allow the solutions to set before rinsing it off. If you happen to find mildew stains, you can use a soft bristle brush to remove them.
It is not unusual to experience snow before winter even starts, especially in Michigan. So, when you need to remove Ice and Snow from your composite deck early, you should take some extra care. If you are shoveling your deck, use a plastic snow shovel. Plastic shovels reduce the risk of damaging the surface of the deck when removing hardened snow and ice. It's safe to use rock salt or calcium chloride to melt the snow and ice from the deck surface.
Check for Signs of Rot and Decay
While cleaning your deck, it is the perfect time to check for rot and decay. Regardless of how much you winterized and sealed, decks age with time. Even if you have low-maintenance composite decking, looking for potential problems will save you in the long run. Some things that you should be looking for are:
Raising Nails
Cracked and Split Wood
Weathered and Warped Wood
Loose Planks
Rotting Boards
Shaky Railings
Outside of visually inspecting your deck, you can run a few simple tests that expose if your deck needs maintenance. For example, if you walk the entire length deck, you will be able to feel if any boards are bouncy or creaky. In addition, you should check underneath the deck. Looking under the deck can expose any mold, mildew, wood rot, and other damage.
Cleaning your deck should be a high priority this fall!
---
If you need help or have any questions about cleaning your deck call us at 248-478-8660.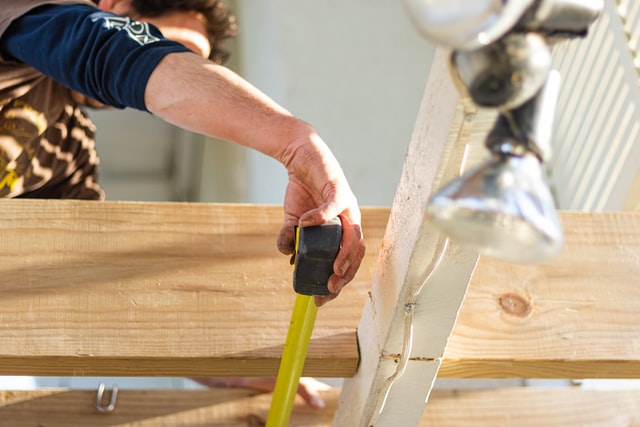 What to look for in a professional deck builder? It is an important question to ask. After all, you need someone to be prepared and capable of getting the job done. There are a variety of different deck-building companies out there. However, some of these companies could be complete duds. So, how can you distinguish which one is a true professional deck builder? Here are a few qualities that you should be looking for.
---
Proof of License and Insurance
License and insurance are required and vital to start building. A Contractor's license proves that your contractor holds liability for the project being up to code and the safety of workers. Hiring an unlicensed is just asking for trouble. If your contract is not licensed, you can not legally enforce a contractor without a license. If something happens during the project, such as damage to your house and or a worker gets hurt, you hold all liability. Furthermore, if they do not build it code, you will be responsible for bringing it to code at additional cost. If a contractor is unable to show their license, do not hire them.
This includes if they refuse to show their insurance. There is multiple types of insurance that contractors should have. First of all, they should have worker compensation insurance. This type of insurance covers workers who get an injury on the job. While homeowners might not think it's their problem, they will be if there is no worker comp. Also, they should have general liability insurance. General liability covers damage that may occur during the project. Without it, any possible damages to other property will become your financial responsibility. In addition, general liability protects you from lawsuits for damages. It also gives you the policy to collect on if you are injured.
---
A Good Track Record
While you are sorting through builders, you should look at their track record. If you go on their website, do they complete projects on there? While looking through reviews, are they scathing or glowing? These are important things to consider. After all, you don't want to hire a company that has more negative reviews than positive ones. Furthermore, you should see if the company has testimonials. People who have a positive experience with a company typically will agree to tell their story. No testimonials might be a clear indication that most people were not satisfied.
---
Experience
Without a doubt, this is one of the important qualities you should be looking for. Experience matters. If you have to choose between an experienced or an inexperienced contractor, always choose the one with experience. When someone has been working in a field for an extended period of time, they gain skill and knowledge. An experienced contractor, they would be able to foresee potential issues with the project and make adjustments to avoid them. They will know the best ways to put your deck together that could make your project even better. Professionals with experience also are upfront about estimates and try to make them as accurate as possible.
---
Communication Skills
Communication is key. After all, it is the foundation where all relationships start. This is why this is a fundamental quality to look for. Does your contractor not return calls to answer questions? Are they avoid giving you cost and payment conditions? Is the contractor not being transparent about the end date? If you said yes to any of these then you should look for a new contractor. When looking for a contractor, you want someone who will return your calls, be clear with the cost and payment conditions, and be transparent about when the project will end. Do not settle for anything less. If the starting communication is bad then it will only get worse during the project. And you don't want them messing up on your deck.
---
Knowledge of Your Project
When it comes to your project, knowledge is everything. Your contractor/builder needs to understand what you want. Although you could have a clear idea of what you want, a professional can always give feedback and suggestions that can improve your project. They could even recommend add-ons that can improve the quality of life of your new deck.
---
Hire A Professional Deck Builder at Miles Bradley
All these qualities are what to look for in a professional deck builder. Question is, where can you find a professional that embodies all these traits? Well, look no further because Miles Bradley has all these qualities and more! For 20 years, Miles Bradley has been providing high-quality in deck building, enclosures/gazebos,trellises, and custom deck designs. Miles Bradley has an amazing track record with testimonials to prove it. We have a nationwide reputation for being experts in low-maintenance decks and building materials.
Have you recently attended a BBQ, graduation party, or get-together that on your way home had you telling yourself; "I wish I had my own beautiful deck."? Well, it's not too late to have your deck built this summer and then start planning a summer party of your own!
Great Are For A Summer Party
With top-of-the-line decking materials, accessories, and service, Miles Bradley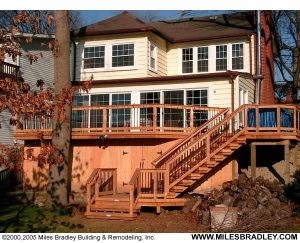 will work with you to have the deck of your dreams built before summer is over. Whether you are looking to have a second-story balcony built, or a beautiful deck off the back of your home, Miles Bradley has the resources to build your deck in time and within your budget. Small deck? Large deck? Single or multilevel deck? whether you live in Michigan or in Chicagoland it will be No Problem! The deck you have always wanted is a phone call away.
At Miles Bradley, we can build you a wood deck from cedar or we recommend a composite deck. Composite decks will require way less maintenance than a wood deck. In addition, composite decks built with Trex decking will maintain their beauty for years to come. Of course, we also can build a screen enclosure, gazebos, and many more outdoor options.
Are you tired of wet kids running through the house after swimming? Have them dry off on a new deck. With plenty of areas to relax the dry off while enjoying fun times on the deck.
Looking to expand your storage in the backyard? Visit our friends at Lakeside Cabins. Lakeside Cabins has great sheds to choose from.
Having all the extra outdoor room is ideal for any summer party! Act now, Miles Bradley is offering a free set of six rail lights with a photo/cell timer when you have your new deck built. This is a deal you won't want to miss! Finally, contact Miles Bradley today to find out how soon you can be enjoying the sun on your new deck!
If you are looking to save time and money when cleaning and setting up your deck next spring, now is the perfect time to get a head start on preparing your deck for the winter. There are a few precautionary steps that you can take which will eliminate the surprise and/or expense come spring
Thoroughly clean your deck. Before doing anything else to prep your deck or patio for the winter, cleaning the entire deck is a must. Using a formulated deck cleaner, wash away dirt, dust, mold, or mildew from corner to corner.
Smooth your decks finish. Walk around your deck and search for cracked or chipped areas of your deck's finish. You will want to fix these problems as they will worsen and possibly damage your wood come spring. Depending on the type of finish you have on your deck will determine the proper products for removing areas of finish that need to be restored.
Restore your deck's finish. After you have removed the unwanted finish from your deck, you will want to restore it before winter comes. If you leave them unfinished deterioration of the deck's wood will occur, causing the need for wood replacement.
Seal your deck. Using a water repellant wood sealer, cover your entire deck. The water-repellant will prevent sitting water from damaging the wood. Moisture spikes during the winter, as snow and ice tend to sit on decks. Not sealing your deck can cause wood to crack or warp from moisture.
Following the above steps can significantly save you from costly repairs. If your deck is already in need of replacement contact Miles Bradley Building and Remodeling in Michigan or Chicago, IL today, and ask about our low maintenance decks, eliminating the need for winter preparation!