Have you recently attended a BBQ, graduation party, or get-together that on your way home had you telling yourself; "I wish I had my own beautiful deck."? Well, it's not too late to have your deck built this summer and then start planning a summer party of your own!
Great Are For A Summer Party
With top-of-the-line decking materials, accessories, and service, Miles Bradley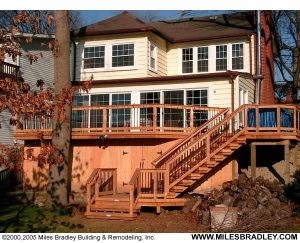 will work with you to have the deck of your dreams built before summer is over. Whether you are looking to have a second-story balcony built, or a beautiful deck off the back of your home, Miles Bradley has the resources to build your deck in time and within your budget. Small deck? Large deck? Single or multilevel deck? whether you live in Michigan or in Chicagoland it will be No Problem! The deck you have always wanted is a phone call away.
At Miles Bradley, we can build you a wood deck from cedar or we recommend a composite deck. Composite decks will require way less maintenance than a wood deck. In addition, composite decks built with Trex decking will maintain their beauty for years to come. Of course, we also can build a screen enclosure, gazebos, and many more outdoor options.
Are you tired of wet kids running through the house after swimming? Have them dry off on a new deck. With plenty of areas to relax the dry off while enjoying fun times on the deck.
Looking to expand your storage in the backyard? Visit our friends at Lakeside Cabins. Lakeside Cabins has great sheds to choose from.
Having all the extra outdoor room is ideal for any summer party! Act now, Miles Bradley is offering a free set of six rail lights with a photo/cell timer when you have your new deck built. This is a deal you won't want to miss! Finally, contact Miles Bradley today to find out how soon you can be enjoying the sun on your new deck!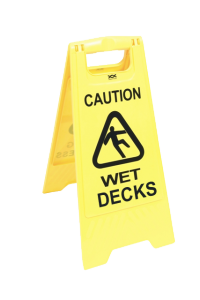 Are you worried about cleaning your composite deck before winter? Don't, it's easy! Although composite decking is very low maintenance, cleaning is important.  An exterior deck does require a basic deck cleaning for composite decks. Ideal times to clean your composite deck are after installation and in the fall or spring.  You may purchase a composite deck cleaner at your local hardware shop.  If you prefer, you may use a combination of hot water and a soft-bristle brush.
Cleaning Dirt and Debris From Composite Decking
For Dirt and Debris, your deck should be sprayed with a hose to remove dirt from the surface. After you remove the loose dirt and debris from your composite deck use warm, soapy water and scrub with a soft bristle brush. This will allow you to remove the dirt and debris from the crevices of the embossing pattern.
It's important to be careful when using Chalk Lines on your deck. You must make sure you are using the right type of chalk. High-performance chalk lines are likely to discolor a composite or PVC deck, we recommend using a dust-off marking chalk-like Irwin brand in purple you can find this at www.Irwin.com. If you accidentally snap a chalk line with permanent or bright chalk immediately scrub the line with soap and hot water to remove it.
Remove Grease, Oil, Mold, or Mildew from Composite Decking
You definitely want to try to remove any Oil, Grease, or Food stains on your composite deck before the winter comes. To remove these stains spray them off with a hose and use warm soapy water with a soft bristle brush.
Mold and Mildew are always possible. Due to it feeding on biofilm you want to remove it as soon as you see it forming.
Last but not least when the time comes to Remove Ice and Snow from your composite deck a plastic shovel may be used. It's safe to use rock salt or calcium chloride to melt the snow and ice from the deck surface.
If you need help or have any questions about cleaning your deck call us at 248-478-8660.
If you are looking to save time and money when cleaning and setting up your deck next spring, now is the perfect time to get a head start on preparing your deck for the winter. There are a few precautionary steps that you can take which will eliminate the surprise and/or expense come spring
Thoroughly clean your deck. Before doing anything else to prep your deck or patio for the winter, cleaning the entire deck is a must. Using a formulated deck cleaner, wash away dirt, dust, mold, or mildew from corner to corner.
Smooth your decks finish. Walk around your deck and search for cracked or chipped areas of your deck's finish. You will want to fix these problems as they will worsen and possibly damage your wood come spring. Depending on the type of finish you have on your deck will determine the proper products for removing areas of finish that need to be restored.
Restore your deck's finish. After you have removed the unwanted finish from your deck, you will want to restore it before winter comes. If you leave them unfinished deterioration of the deck's wood will occur, causing the need for wood replacement.
Seal your deck. Using a water repellant wood sealer, cover your entire deck. The water-repellant will prevent sitting water from damaging the wood. Moisture spikes during the winter, as snow and ice tend to sit on decks. Not sealing your deck can cause wood to crack or warp from moisture.
Following the above steps can significantly save you from costly repairs. If your deck is already in need of replacement contact Miles Bradley Building and Remodeling in Michigan or Chicago, IL today, and ask about our low maintenance decks, eliminating the need for winter preparation!