Here at Miles Bradley, we strive to provide the best and highest quality service to our clients. We have been committed to giving our clients competitive pricing and the highest quality experience in the industry. For over 25 years we have proven time and time again that we are the best deck builder in Michigan and Illinois, and we have the awards to prove it.
It started back in 1991 when our owner Paige Bradley Wedgle wanted to create a custom deck designing and building company. Over 25 years and countless awards later Miles Bradley has two locations and many happy clients. We made sure that from concept to completion that your deck is perfect. You can see our portfolio or work that we've done over the years, from decks to gazebos, and three seasons room, we've done it all.
Custom Structures and Patios We Excel At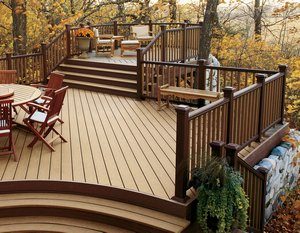 Custom Deck Designs
Whether it's a multi-level deck, wrap-around deck, or a hot tub addition, we can build it. There are several examples of how we were able to custom fit and design each deck to suit our client's needs. Our expert team of designers will create a mock-up and give you the deck of your dreams.
Composite Decks
If you want a deck that is low maintenance, easy to clean, and will stand the test of time composite decking is for you. We wanted to provide a lasting solution to deck longevity, which is why we became Trex platinum-certified. Trex decking not only has longevity and is easy to clean but it's also made from recycled materials and is eco-friendly. Check out more information about Trex decking here.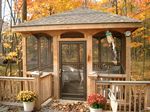 Pergolas, Trellises, and Privacy Walls
If you have a deck, but it's missing a certain.. something we recommend adding a Pergola, Trellis, or privacy wall for added comfort. Not only will you create an ambiance and increase your home's value in the process!
Want to see what else we can do? Check out our online portfolio 
IF you want to be able to enjoy the Michigan summer on your new deck, book your deck installation soon! Our books are wide open during this time of year, so get your date booked today!
Custom Deck Building Designs 
Summer is on its way, and with summer comes the time to reconnect with the great outdoors. Why not reconnect from the comfort of your own home with a new custom-built deck? Get the deck of your dreams this year with help from Miles Bradley Building and Remodeling. We've designed custom decks all over the greater Detroit area. We've picked a few custom deck projects from the White Lake area that are highlighted below from last year.
Custom Decks White Lake, Michigan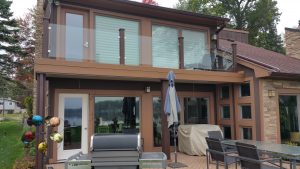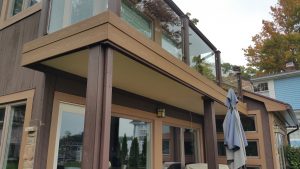 Here you can see a custom-built two-story Trex Transcend Deck. This particular client wanted to have a good view of the second story while allowing for space on their lower-level deck for a place to entertain guests.
The Trex system is great for them because they wanted a low-maintenance deck that won't fade after years of use. The best part of this design? The beautiful custom Tempered Glass Railings And Under Deck Water Diversion System. Located In White Lake, MI Price $14,000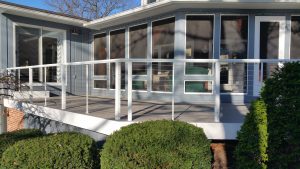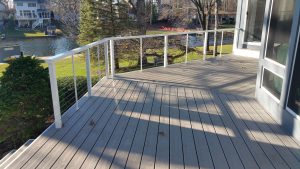 Here is another wonderful custom deck that we put together in White Lake. It's right on the water so we designed this deck to highlight the beautiful view of the water.
We used the  Trex Transcend Deck so they don't have to worry about the upkeep and hassle of a traditional wood deck. Another great feature on this deck is the stainless steel cable rail. Sleek, clean, and allows for great views of the lake.
Final Price $18,000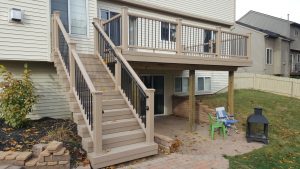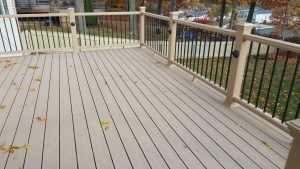 Here is another custom-built deck that was built with the Trex Transcend System. These decks make for great low-maintenance backyard living.
We added lights in the staircase for safe and easy travel up and down the stairs. As you can see from the bottom image, they added lighting on the deck as well. These clients wanted to be able to extend their evenings on their deck.
Located In White Lake, MI.
Price $16,000
If this is the year you want to get the deck of your dreams, let us help! Contact us today, and let us help build your deck today!