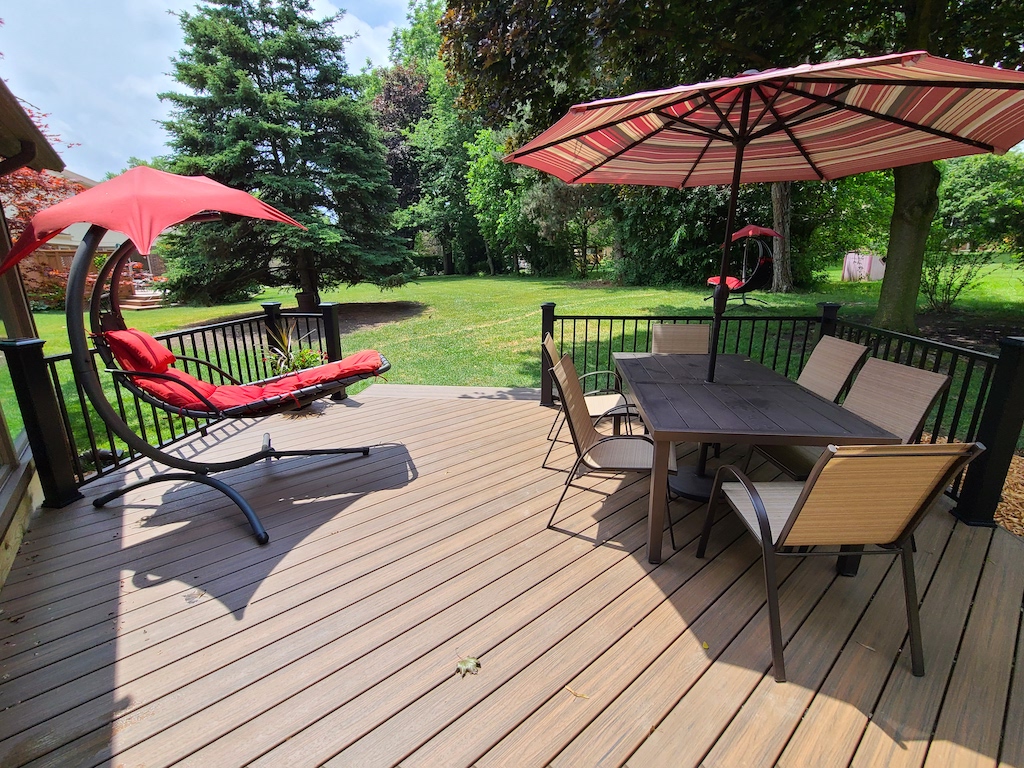 Ready to see our latest deck installation?
Miles Bradley recently just did a new installation in Farmington Hills, Michigan. Our decking professional did a complete overhaul, creating a new outdoor space for the clients to enjoy! So, what went into this new deck installation?
Tore Out Old Wooden Deck
Wooden decks were the standard for outdoor spaces for years. After all, it's a classic material that has a natural smell and texture to it that is appealing. However, constant maintenance can be a hassle and it is vulnerable to infestations compared to other materials. Furthermore, it can warp and bend over time and change colors, requiring staining to return it to its original color. When our clients asked for low-maintenance decking, our professionals tore out the original, old wooden deck to prepare for the new materials!
Low-Maintenace Materials
The low-maintenance composite deck material is ideal for the perfect outdoor space. Wood-plastic composite decking (PVC decking) is created to endure the outdoor elements, allowing the deck to stand strong for years to come! Unlike wooden decks, you do not need to stain, paint, or seal composite decking! Furthermore, it is also resistant to warping, weathering, and insects. As a result, you will don't have to worry about replacing uneven, rotting, and infested boards.
One of the most popular composite deck materials is Trex! Trex comes with a wide selection of colors to choose from! For this latest installation, our decking professionals used Trex's enhanced coastal bluff for the deck and fascia! While the main project was done, it was not the end of the project. After all, there were certain additions needed to complete this deck!
Additions to New Deck
Although the current project was low to the ground, it absolutely needed a railing. In addition to preventing a tripping hazard, it adds another function component to the deck area. In this case, Miles Bradley used Trex's black signature aluminum rail and black post sleeves. These post sleeves provide a barrier between aspects of your desk from the elements (sun, rain, wind, ect.). This prevents any deterioration over time and lowers maintenance needs!
Deck Installations with Miles Bradley
Our latest deck installation is just one of the many installations that Miles Bradley has done over two decades! Miles Bradley is a full-service designer and builds custom decks and sunroom firms serving all of Michigan and Illinois. This includes the entire Chicago Lands area! Our firm provides a variety of services and products for your deck projects! We have built a nationwide reputation as expert maintenance decking and building product. Contact our firm today for your next deck project! You can also submit a quote form!
---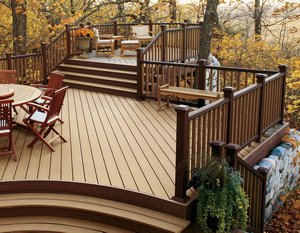 Over time, the decking industry has made drastic improvements to materials used to create your dream deck. Trex or Timbertech is a very popular composite deck company. Also, manufacturing composite decking materials that give homeowners the wood look they want, yet easy maintenance and longevity. As time continues to pass, composite decking continues to transform and other composite decking manufacturers are being introduced.
If you are planning on having your dream deck constructed out of low-maintenance composite decking materials, Trex or Timbertech both supply high-quality decking materials and have very similar collections for you to choose from. So what is the difference between the two? Which should you choose? Looking for tips on maintaining your Trex deck? Click here.
Timbertech or Trex
The decision on when to choose Trex composite decking or Timbertech composite decking is completely up to you. As far as the product goes, they are very similar and both offer the same low maintenance aspect that everyone is searching for. You may realize that your decision on which company to select may come down to texture, color, or customization you wish for your deck or landscaping project to have.
When searching for a Timbertech installer, look no further than Miles Bradley!
Miles Bradley Building has been installing composite decks for decades. Our experienced staff can help find exactly what you are looking for. At Miles Bradley, we construct your low-maintenance dream deck with the highest quality Trex or Timbertech composite decking materials. Our decking professionals will review your deck plans and help you determine whether Timbertech or Trex composite decking is right for you. Finally, contact our professional deck builders today so we can get started.
View Trex Composite Decking Collections
View Timbertech Composite Decking Collections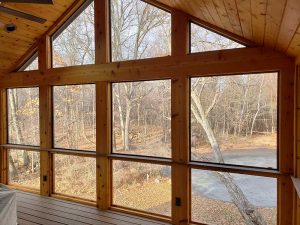 A screened enclosure is a great thing to construct before the Summer arrives. At the beginning of Summer, bugs start to spawn, trees start to pollinate and mess with your allergies, and hot temperatures force you to blast your air conditioning system. In addition, a screened enclosure from Miles Bradley allows for you and your family to be outside with all of the benefits of being indoors! Furthermore, you can avoid the numerous bug species, pesky tree pollen, and even the hot temperatures (by installing a fan in the enclosure)!
Advantages of having a screened enclosure
Summer weather can be unpredictable. When it rains, usually it ruins your plans for outdoor festivities. With an enclosure, you can still enjoy the outdoor activities and festivities with your family while still being protected against the rain or other harsh elements.
Enclosures use up that extra space that you don't really use. Do you have a deck or porch that sits empty for half of the year? With a screened enclosure, you can use the space year-round. You can use the full value of your property all the time!
The enclosures we build are a great fit with your composite deck made from Trex decking. You can have a matching enclosure and deck that would make your house look great!
Enclosures and Decks are all the rage nowadays. Homebuyers look for houses with a screened enclosure and well-made deck so they will not have to add to the cost of buying the house when they add one.
Contact
If you are interested in having a screened enclosure constructed at your home, contact Miles Bradley today! Request a quote for your home and check out our website gallery to see some of our previous projects. So, what are you waiting for? Contact us today!

A wood deck can really show its age over the years. Also, the maintenance to maintain your wood deck can be more than a little annoying. That is why more and more homeowners are seeing the benefits of composite decks. Composite decks made from Trex materials can maintain the beauty of the deck for years to come with little to no maintenance. There are several advantages to a composite deck over a wood deck and we will cover a few.
Benefits Of Composite Decks – Low Maintenance
Wood decks need constant upkeep each season. From sanding to staining there is almost always maintenance that is needed. Where a composite deck would just need some soap and water to clean it up once a year. In addition to being durable and low maintenance, a composite deck made with Trex materials has a 25-year fade and stain warranty.  Another benefit of a composite deck is its durability.
Composite decking is designed to resist scratching, fading, staining, and mold. Also, a composite deck is insect-proof. Another factor is the aesthetics of a composite deck. With a multitude of color choices, and a natural look homeowners can really choose the exact look they are going for. Environmentally friendly is another aspect of these decks. The deck boards themselves are made from recycled materials.
Finally, the value is another added benefit. Initially, a composite deck may be higher but in the long run with way less maintenance and longer durability, you will save money. If you in search of an experienced composite deck builder then look no further than Miles Bradley. We have built hundreds of composite decks throughout the years all over Michigan and Illinois. You can visit our portfolio of decks here.
Give us a call today in the Detroit area at 248-478-8660 or for the Chicago area at 847-920-7601 and see what Miles Bradley can do for you!
Has the weather and use taken their toll on your Trex Composite Deck? You can clean your deck and give it that new look again with little to no effort at all. We recommend Olympic Deck Cleaner, with Olympic Deck Cleaner a hose, sprayer, and an optional scrub brush you can clean your whole Trex Composite Deck in one afternoon.
Trex composite decks are strong reliable decks that will maintain it's beauty for years. But even the most reliable deck, will need cleaning from time to time, weather, people, animals, and overall wear and tear takes its toll on any deck. With good cleaning and maintenance, you can keep your Trex Composite Deck looking great for years to come.
If you are looking to have a Trex Composite Deck built or need some maintenance on your current deck, give Miles Bradley a call today at 248-478-8660 in the Detroit Area or 847-920-7601 in the Chicago Area. We are one of the premier deck builders and you will be totally satisfied with your new composite or wood deck from Miles Bradley!