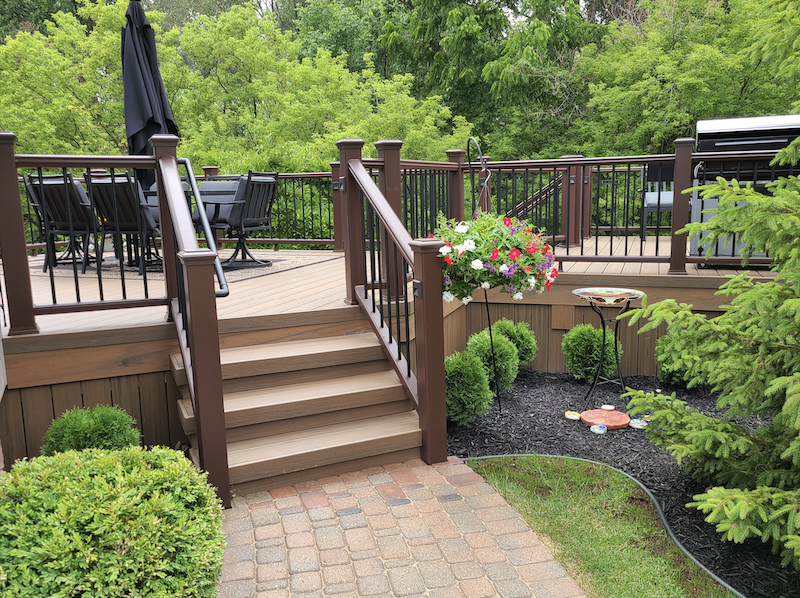 Are you worried about cleaning your composite deck before winter? Don't, it's easy! Although composite decking is very low maintenance, cleaning is important.  An exterior deck does require a basic deck cleaning for composite decks. Ideal times to clean your composite deck are after installation and in the fall or spring.  You may purchase a composite deck cleaner at your local hardware shop.  If you prefer, you may use a combination of hot water and a soft-bristle brush.
Cleaning Dirt and Debris From Composite Decking
Dirt and grime can build up over the spring and summer months. As a result, it is important to clean your deck before heavy rain and snow set in. This will prevent your deck from deteriorating over the winter. If you leave dirt and grime on your deck, it can accumulate and allow moisture to get locked in. As a result, your deck can suffer from structural and integral damages.
For Dirt and Debris, your deck should be sprayed with a hose to remove dirt from the surface. After you remove the loose dirt and debris from your composite deck use warm, soapy water and scrub with a soft bristle brush. This will allow you to remove the dirt and debris from the crevices of the embossing pattern. A thorough cleaning will allow your deck to be able to drain and ventilate moisture, preventing buildup.
It's important to be careful when using Chalk Lines on your deck. You must make sure you are using the right type of chalk. High-performance chalk lines are likely to discolor a composite or PVC deck, we recommend using a dust-off marking chalk-like Irwin brand in purple you can find this at www.Irwin.com. If you accidentally snap a chalk line with permanent or bright chalk immediately scrub the line with soap and hot water to remove it.
Remove Grease, Oil, Mold, or Mildew from Composite Decking
Just like with dirt and debris, it is important to remove oil, grease, mold, or mildew from your deck. Treating your deck will prevent the accumulation of these residues, protecting your deck from permanent staining and damage.
You definitely want to try to remove any Oil, Grease, or Food stains on your composite deck before the winter comes. To remove these stains spray them off with a hose and use warm soapy water with a soft bristle brush.
Mold and Mildew are always possible. Due to it feeding on biofilm you want to remove it as soon as you see it forming. Leaving mold and mildew untreated will lead to additional deck damage by the end of winter. Owners can use simple solutions on their deck to remove mildew from your deck. Just allow the solutions to set before rinsing it off. If you happen to find mildew stains, you can use a soft bristle brush to remove them.
It is not unusual to experience snow before winter even starts, especially in Michigan. So, when you need to remove Ice and Snow from your composite deck early, you should take some extra care. If you are shoveling your deck, use a plastic snow shovel. Plastic shovels reduce the risk of damaging the surface of the deck when removing hardened snow and ice. It's safe to use rock salt or calcium chloride to melt the snow and ice from the deck surface.
Check for Signs of Rot and Decay
While cleaning your deck, it is the perfect time to check for rot and decay. Regardless of how much you winterized and sealed, decks age with time. Even if you have low-maintenance composite decking, looking for potential problems will save you in the long run. Some things that you should be looking for are:
Raising Nails
Cracked and Split Wood
Weathered and Warped Wood
Loose Planks
Rotting Boards
Shaky Railings
Outside of visually inspecting your deck, you can run a few simple tests that expose if your deck needs maintenance. For example, if you walk the entire length deck, you will be able to feel if any boards are bouncy or creaky. In addition, you should check underneath the deck. Looking under the deck can expose any mold, mildew, wood rot, and other damage.
Cleaning your deck should be a high priority this fall!
---
If you need help or have any questions about cleaning your deck call us at 248-478-8660.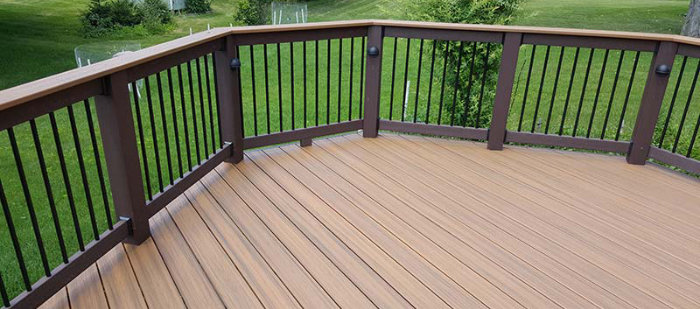 The best composite deck builder in Michigan or Illinois is Miles Bradley Building and Remodeling.  In addition, Mile Bradley has been installing composite decks for over three decades. As a certified Trex contractor, Miles Bradley can build your new deck to look exactly how you wanted it. Adding a deck to your home is always a great idea. It will add to the curb appeal and overall value of your home.
Trex Composite Deck Building
We always highly recommend Trex or another composite decking.  Of course, we do also install wood decks as well, but composite decks have some distinct over wood. One great advantage Trex decking has is its durability.  Trex decking can resist fading, scratching, staining, and mold that wood decks experience. Another advantage is the low maintenance to maintain a Trex deck. Wood decks require sanding or painting, while a Trex deck does not.
Sustainability is a big part of a composite deck. Composite decks have less of an environmental impact than a more traditional wood deck. Composite decking is made from recycled materials to create the decking. Aesthetics is also another advantage. Composite decks will give you a large choice of colors to choose from. With rich colors and nice accessories, composite decking is always a great choice. Finally, value is an advantage.
With next to no ongoing maintenance and easy to maintain, the price of the composite deck pays for itself in ten years. As you can see there are quite a few advantages for low-maintenance composite decks. Hire an experienced and highly recommended deck builder in Miles Bradley Building and Remodeling. Miles Bradley services all of Michigan and Illinois and can have your deck up and installed before you know it.
Contact us today for more information about your new composite deck or give us a call at 248-478-8660.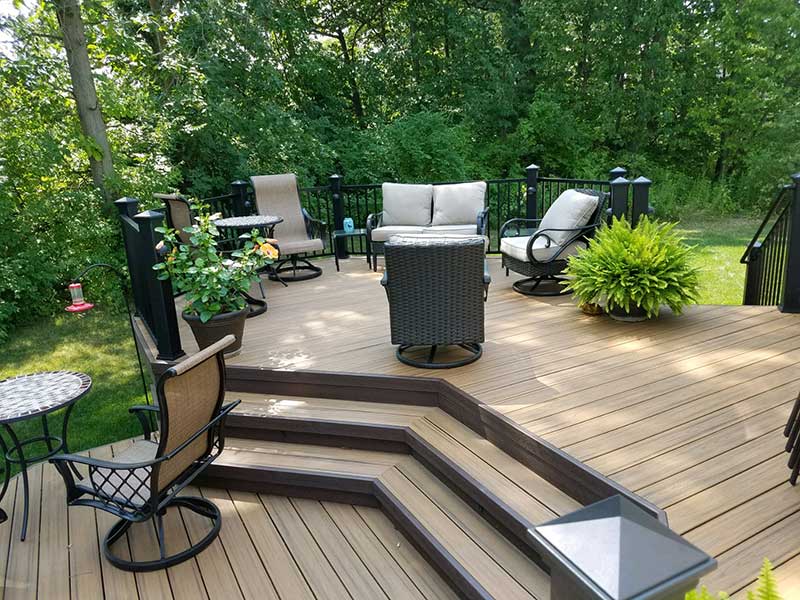 Getting a deck built is a big decision to make. Consider these 2 things before getting your deck built.
Things to Consider – How do you want to use your deck?
Comfort
Did you just want to create a snug spot in the backyard for you and your family? Design your deck to accommodate lounge chairs and a patio set based on how many people are in your family. Also, try to plan ahead for sunny spots by building a shade with greenery or build a shade.
Parties
Most decks are designed to support up to 60 pounds per square foot including the weight of the deck.  Overloading it could be very dangerous.  If you plan to have huge parties or heavy furniture, you may want to have a stronger supporting structure built. You also want to make sure that your deck is large enough to fit a lot of people, furniture, and appliances.
How do you want your deck to look?
There is a wide variety of materials that you can choose to have your deck built from as well as many benefits that go along with each type of material.
Pressure- Treated Wood: This type of wood takes stains and waterproofing easily. It is also cheaper than many of the other options for deck building in Michigan or Chicago
Composite Decking: This wood-look alternative is known for its long-lasting nature and durability. You can get composite decking in a variety of colors or textures. Composite decking doesn't splinter, crack, warp, or rot significantly reduced the need for maintenance.
PVC Cellular Decking: PVC is easy to clean and not prone to rot or termites which makes it stand out over wood. Having a cellular PVC deck built can be beneficial as it is moisture resistant and will not swell or shrink with temperature changes.
Cedar: Used for decks has a natural insect resistance which can help eliminate termite problems that often arise in regular wood decks. Cedar decking is very easy to work with during installation and can be easily stained.
After selecting the material that you wish to have your deck built you then need to decide where do you want your deck or patio to be built? Can you accommodate the lifestyle that you want to live on your deck or patio?  Based on this, plan how you want to build your deck in Michigan or Chicago.
Finally, contact Miles Bradley to get started on building your dream deck today!
When it comes to having a deck addition built onto your home, there are many factors to take into consideration as you prepare for your new deck. Aspects such as cost or decking materials used will play an important role in your decision to hire Miles Bradley for your Michigan deck building company. If you are looking to save money on a new deck built of high-quality materials, scheduling your deck build for the fall or winter season is your best option.
The words we all hate to hear, "summer is almost over" have become a part of conversations across Michigan and Chicago. Pretty soon your deck will be covered with snow and ice, and you will not be able to enjoy it as you did during the beautiful summer we had this year.
In case you didn't notice, we did say pretty soon, meaning it's not over yet! Why not invite your friends over for an "End of Summer Deck Party!" Get the final use out of your new deck this year! But, if for some reason you are still lagging on getting your deck built, it's not too late!
Miles Bradley is offering great deals on deck builds as summer dwindles off. We will get your build scheduled and built-in enough time for you to be able to host your very first deck party! Decks bring family and friends together, whether it is for a barbeque, a card game, or just to socialize. You will be glad you had your deck build by Miles Bradley this year!
Because the deals are so hot right now, we want to make sure that your deck is on our list of builds before summer is over. Contact Miles Bradley of Michigan or Chicago today and start planning your End of Summer Deck Party!