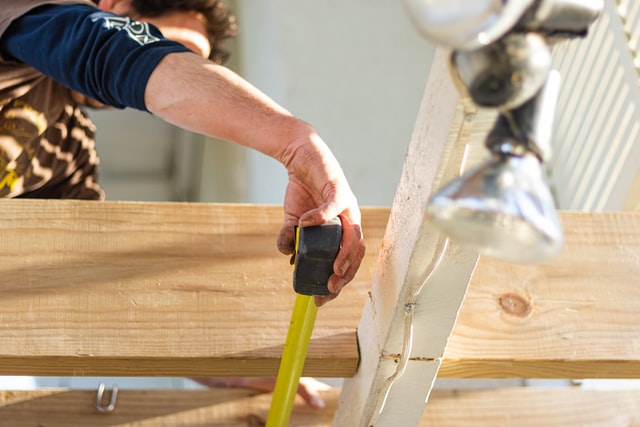 What to look for in a professional deck builder? It is an important question to ask. After all, you need someone to be prepared and capable of getting the job done. There are a variety of different deck-building companies out there. However, some of these companies could be complete duds. So, how can you distinguish which one is a true professional deck builder? Here are a few qualities that you should be looking for.
---
Proof of License and Insurance
License and insurance are required and vital to start building. A Contractor's license proves that your contractor holds liability for the project being up to code and the safety of workers. Hiring an unlicensed is just asking for trouble. If your contract is not licensed, you can not legally enforce a contractor without a license. If something happens during the project, such as damage to your house and or a worker gets hurt, you hold all liability. Furthermore, if they do not build it code, you will be responsible for bringing it to code at additional cost. If a contractor is unable to show their license, do not hire them.
This includes if they refuse to show their insurance. There is multiple types of insurance that contractors should have. First of all, they should have worker compensation insurance. This type of insurance covers workers who get an injury on the job. While homeowners might not think it's their problem, they will be if there is no worker comp. Also, they should have general liability insurance. General liability covers damage that may occur during the project. Without it, any possible damages to other property will become your financial responsibility. In addition, general liability protects you from lawsuits for damages. It also gives you the policy to collect on if you are injured.
---
A Good Track Record
While you are sorting through builders, you should look at their track record. If you go on their website, do they complete projects on there? While looking through reviews, are they scathing or glowing? These are important things to consider. After all, you don't want to hire a company that has more negative reviews than positive ones. Furthermore, you should see if the company has testimonials. People who have a positive experience with a company typically will agree to tell their story. No testimonials might be a clear indication that most people were not satisfied.
---
Experience
Without a doubt, this is one of the important qualities you should be looking for. Experience matters. If you have to choose between an experienced or an inexperienced contractor, always choose the one with experience. When someone has been working in a field for an extended period of time, they gain skill and knowledge. An experienced contractor, they would be able to foresee potential issues with the project and make adjustments to avoid them. They will know the best ways to put your deck together that could make your project even better. Professionals with experience also are upfront about estimates and try to make them as accurate as possible.
---
Communication Skills
Communication is key. After all, it is the foundation where all relationships start. This is why this is a fundamental quality to look for. Does your contractor not return calls to answer questions? Are they avoid giving you cost and payment conditions? Is the contractor not being transparent about the end date? If you said yes to any of these then you should look for a new contractor. When looking for a contractor, you want someone who will return your calls, be clear with the cost and payment conditions, and be transparent about when the project will end. Do not settle for anything less. If the starting communication is bad then it will only get worse during the project. And you don't want them messing up on your deck.
---
Knowledge of Your Project
When it comes to your project, knowledge is everything. Your contractor/builder needs to understand what you want. Although you could have a clear idea of what you want, a professional can always give feedback and suggestions that can improve your project. They could even recommend add-ons that can improve the quality of life of your new deck.
---
Hire A Professional Deck Builder at Miles Bradley
All these qualities are what to look for in a professional deck builder. Question is, where can you find a professional that embodies all these traits? Well, look no further because Miles Bradley has all these qualities and more! For 20 years, Miles Bradley has been providing high-quality in deck building, enclosures/gazebos,trellises, and custom deck designs. Miles Bradley has an amazing track record with testimonials to prove it. We have a nationwide reputation for being experts in low-maintenance decks and building materials.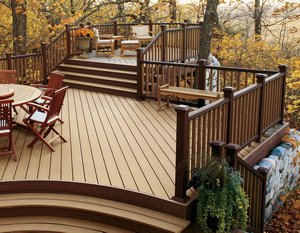 Over time, the decking industry has made drastic improvements to materials used to create your dream deck. Trex or Timbertech is a very popular composite deck company. Also, manufacturing composite decking materials that give homeowners the wood look they want, yet easy maintenance and longevity. As time continues to pass, composite decking continues to transform and other composite decking manufacturers are being introduced.
If you are planning on having your dream deck constructed out of low-maintenance composite decking materials, Trex or Timbertech both supply high-quality decking materials and have very similar collections for you to choose from. So what is the difference between the two? Which should you choose? Looking for tips on maintaining your Trex deck? Click here.
Timbertech or Trex
The decision on when to choose Trex composite decking or Timbertech composite decking is completely up to you. As far as the product goes, they are very similar and both offer the same low maintenance aspect that everyone is searching for. You may realize that your decision on which company to select may come down to texture, color, or customization you wish for your deck or landscaping project to have.
When searching for a Timbertech installer, look no further than Miles Bradley!
Miles Bradley Building has been installing composite decks for decades. Our experienced staff can help find exactly what you are looking for. At Miles Bradley, we construct your low-maintenance dream deck with the highest quality Trex or Timbertech composite decking materials. Our decking professionals will review your deck plans and help you determine whether Timbertech or Trex composite decking is right for you. Finally, contact our professional deck builders today so we can get started.
View Trex Composite Decking Collections
View Timbertech Composite Decking Collections
October is here, which means Halloween is coming up! Many homeowners get into the Halloween spirit by decorating their homes with spooky decorations. Whether you are hosting a Halloween party, or just want to show off your spirit, incorporating your deck into your ideas can add a great touch! Check out some of our great "deck-o-rating" ideas:
Mums and pumpkins up your stairs to your deck. Create a unique design by rotating their pattern! If you have deck lighting, this will even look great at night
Utilize the steps– Using the steps to your deck; add rubber spiders and webbing, but make sure they are safely on the back or sides.
Carved or Painted Pumpkins-  There are many creative ways to use pumpkins as decoration. You can drill holes in special patterns and add a candle to shine through, or if you have a squirrel problem, painting maybe your best option! This is also a great way to get the kids involved in the decorating process!
Spooky Skeletons- If you are looking to add a little fear factor to your deck during the Halloween season, you can purchase plastic skeletons that can be maneuvered however you like. Bend the joints of the skeleton to make them look as if they are climbing up your deck or onto your home. You can add fog, lights, or gravestones to enhance the look even more!
These are just a few of our ideas on how to decorate your deck for Halloween. We have shared much more DIY-inspired ideas for patios, porches, or decks on our Pinterest page. Be sure to check them out and share some of your favorites!
We would love to see what you have come up with this year! Be sure to share your Halloween-inspired decorations on our Facebook page!
Fall Deck Building in Michigan
Fall is a great time to have a deck built in Michigan. Because temperatures are dropping and building conditions aren't so "perfect," you can save tons of money on your build! With the demand lower in the fall or winter months, you can save nearly 20% with an offseason build, talk to our professional deck builders today for more information!