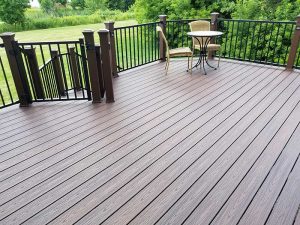 As the weather gets colder, you may be looking to make some home improvements around the house. Thankfully, we do fall and winter deck installations! The fall and winter seasons are a great time to get a new wooden or composite deck built! Not only can you miss the spring and summer rush but you will get more time to enjoy the deck once the warm weather comes around!
Deck Inspections in Southeast Michigan
For people that already have decks, we offer deck inspections! Whether you have a wooden or low-maintenance composite deck, we can tell you exactly what you need to make your deck its best. Also, there are several benefits that come from a deck inspection. 
Damage- Our expert contractors can tell you if there are signs of damage or rotting materials that need to be replaced. Catching these issues soon can prevent further damage and can save you money in the long run.
Stability- As decks get older, the framework and materials get weaker. With a deck inspection, we can tell you what needs to be fixed or reinforced. This will keep your deck strong and secure!
Safety- Weak railings, missing screws or bolts, and wood damage have the potential to cause injury to you and your family. We look for these signs during a deck inspection and alert you to them being there.
Winter Deck Installations
Here at Miles Bradley, we have decades of experience building and maintaining decks in West Bloomfield, Farmington Hills, Northville, and other cities around Southeast Michigan. If you want your deck built in the colder seasons, get a quote on our fall and winter deck installations! We also offer fall and winter deck inspections! For a free quote on deck inspections, contact us today. We will make sure your deck is safe and up to code! 
Miles Bradley Building is participating in deck safety awareness all throughout the month of May in Michigan. With all the storms that have been rolling through, you never know if your deck has sustained any damage from falling debris or regular wear and tear. Letting your old wooden unsealed deck rot doesn't make your time outside enjoyable or safe.
This point especially rings true for all the DIYers out there who may have missed a step or safety code when building their deck. Getting a professional deck inspection will not only give you peace of mind but will ensure that your investment will pay off in the long run. We encourage everyone to get their old deck regularly inspected by a licensed professional to ensure that they are safe and up to code.
Over the years, code requirements for decks have changed. Older decks may not be built to adhere to today's code requirements and can cause a safety hazard. One example of an overlooked Some older decks were not built using the correct deck tension hardware which can cause ledger failures.
Code requirements were established to protect the consumer and any future buyers of the consumer. Repairing an old wooden deck can be costly, and in some cases replacing a deck may be the only option. That's why getting an inspection can help you catch any problems before they start.
Schedule Your Michigan Deck Inspection
As a supporter of NADRA or the North America Deck and Railing Association, we are highly qualified deck builders that can provide a deck inspection for you.  Miles Bradley has the training, expertise, and special knowledge to provide deck inspections and repair your damaged deck. We can help repair and replace your old deck with new composite deck materials that can stand the test of time.  All decks that we construct are up to code and will pass any inspection with flying colors.
Contact us now or get a free quote on your next professional deck inspection!