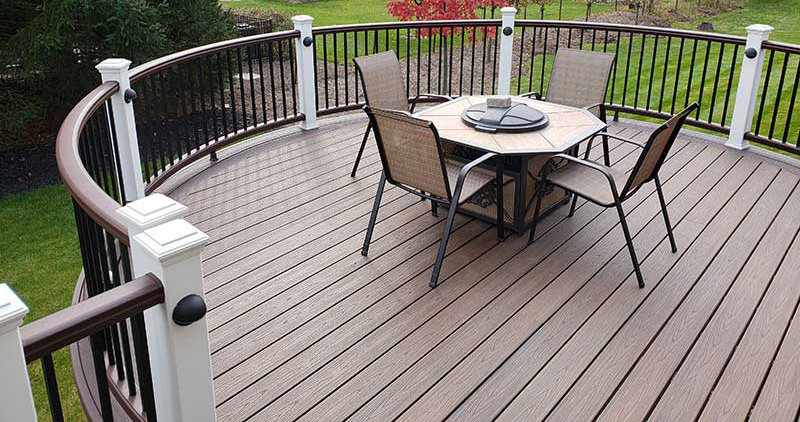 While enjoying the outdoors on your new Trex Composite Deck, you may think you would like a fire pit on the deck.  So the question becomes, can you put a fire pit on your composite deck? Well, the answer is a little muddy. First, you should never put a fire pit directly on your deck with no protection. The heat alone can warp the decking materials as well as embers can burn the deck as well.
Trex decking can soften at about 176 degrees Fahrenheit so you have to very cautious on the size of your fire. In addition, never install the firepit directly on top of the deck.  A gas type fire pit is a much better option than a wood-burning one
Composite Deck Fire Pit On Trex Safety Steps
If you are determined to add a fire pit to your deck try to keep some of this advice in mind.  Make sure under the firepit you install fire-resistant material for the pit to rest on. Insulated walls of stone or other types of materials are used to prevent heat from escaping. Deck Protect is another product that is used to prevent fire damage to your deck. Also, you can have a new custom-built deck that encompasses the fire pit and does not have the fire pit directly on the deck.
At Miles Bradley, we custom build low maintenance composite decks all the time and we can accommodate your needs. While it is not highly recommendable to put a large fire pit on your composite deck. With careful planning and the right type of materials and fire pit, it can be done. Call us today at 248-478-8660 in the Detroit area or 847-920-7601 in the Chicago area. Finally, we can answer any questions you have about Trex composite decks and your options.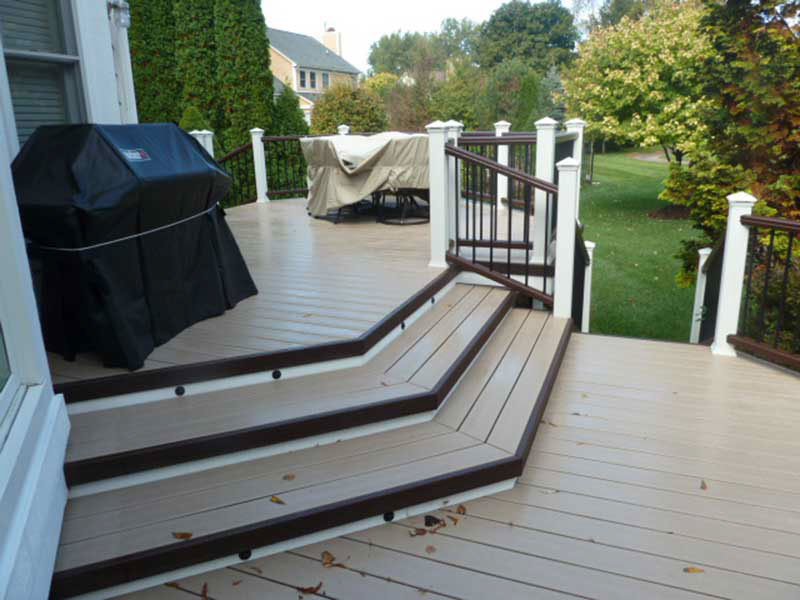 Maintenance free deck builders are always available at Miles Bradley Building and Remodeling.  What does it mean to have a maintenance free deck? When it came to older more traditional wood decks, there was a certain level of maintenance you needed to do. Maintenance for the wood deck can include, cleaning, sanding, repairs, stain and much more.  Now a wood deck is a fine choice but just be aware there is more work in owning one.
A low maintenance composite deck is the most popular choice when it comes to new decks. In addition, the maintenance on these type of decks is at a bare minimum. You do not have to worry about splinters or chipping paint, just sweep off the deck and you are good to go. One of the big choices people ask is Trex vs Timbertech when choosing materials for their deck.
Trex Decking For Maintenance Free Deck Builders
Here at Miles Bradley Building and Remodeling, we work almost exclusively with Trex Decking. Also, we have certified Trex Decking installers with years of experience in the product. Timbertech is also a nice choice and quality material as well. Either way, you are getting some of the best materials for your new deck. The beauty of Trex decks is you will not experience rot, splitting, swelling, or cracking. Making it a great choice.
In addition, Trex will never require repainting, staining, or sealing. When it comes to a maintenance free deck builder, you need a licensed and certified builder you can trust. Miles Bradley Building and Remodeling has been building composite decks in the Detroit area since 1991. In addition, we also have a branch in the Chicago area as well. You can request a quote today or give us a call for Michigan residents at 248-478-8660 or in Chicago at 847-920-7601. Finally, beat the spring and summer rush and request your deck today!
Spring is the season for deck building in Michigan and Illinois. During this season, we get many questions asking about the cost of a new deck. There are many deck building companies out there but few can compete with the high quality workmanship, materials and knowledge that Miles Bradley provides. We will tell you all you need to know about the procedures and costs of getting a new deck built for you home.
Miles Bradley cost guideline for a typical new custom deck construction.
The average deck is around 300-400 square feet.
Pressure treated wood deck can cost around $8,500-$12,000 depending on how it is constructed.
Cedar decks can cost between $10,000 and $13,000 depending on the specs of the deck.
Composite decks can cost between $13,000 and $19,000. Check out our Trex Low Maintenance Composite Decks, don't let the price discourage you, these decks are built to stand up to the outdoor weather. There is no need to paint, seal or stain they last up to warping, weathering and insects.
Deck cost pricing includes; permits from the city, clean up, labor, material , warranty, and some beautiful rail lighting.(We add in to thank you for your business!)
The prices above are for a complete deck construction. Your custom deck will vary within the pricing. Contact us for pricing on building a new deck for your home.
Custom Deck features can increase deck building cost;
Your options are endless! Keep in mind custom features such as curved rails, steel frames, spiral staircases, radius decks, and custom decking patterns can increase costs.
The first day of spring has started, right now is the perfect time to have Miles Bradley help design and build your custom deck. Call our Detroit Michigan office: 248-478-8660 or our Chicago Illinois office: 847-920-7601 for new deck building costs in your area.
>