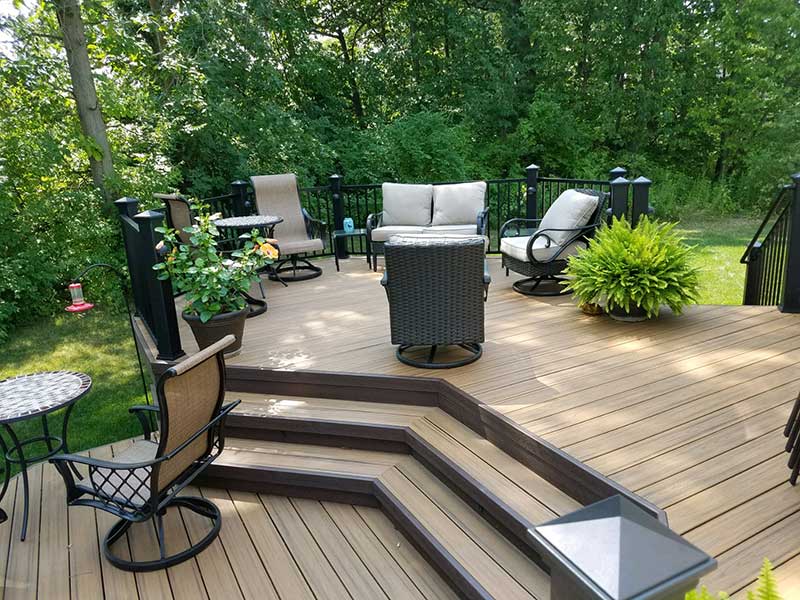 Getting a deck built is a big decision to make. Consider these 2 things before getting your deck built.
Things to Consider – How do you want to use your deck?
Comfort
Did you just want to create a snug spot in the backyard for you and your family? Design your deck to accommodate lounge chairs and a patio set based on how many people are in your family. Also, try to plan ahead for sunny spots by building a shade with greenery or build a shade.
Parties
Most decks are designed to support up to 60 pounds per square foot including the weight of the deck.  Overloading it could be very dangerous.  If you plan to have huge parties or heavy furniture, you may want to have a stronger supporting structure built. You also want to make sure that your deck is large enough to fit a lot of people, furniture, and appliances.
How do you want your deck to look?
There is a wide variety of materials that you can choose to have your deck built from as well as many benefits that go along with each type of material.
Pressure- Treated Wood: This type of wood takes stains and waterproofing easily. It is also cheaper than many of the other options for deck building in Michigan or Chicago
Composite Decking: This wood-look alternative is known for its long-lasting nature and durability. You can get composite decking in a variety of colors or textures. Composite decking doesn't splinter, crack, warp, or rot significantly reduced the need for maintenance.
PVC Cellular Decking: PVC is easy to clean and not prone to rot or termites which makes it stand out over wood. Having a cellular PVC deck built can be beneficial as it is moisture resistant and will not swell or shrink with temperature changes.
Cedar: Cedar decking has a natural insect resistance which can help eliminate termite problems that often arise in regular wood decks. Cedar is very easy to work with during installation and can be easily stained.
After selecting the material that you wish to have your deck built you then need to decide where do you want your deck or patio to be built? Can you accommodate the lifestyle that you want to live on your deck or patio?  Based on this, plan how you want to build your deck in Michigan or Chicago.
Finally, contact Miles Bradley to get started on building your dream deck today!
Fall, also known as "bonfire and hoodie season" is quickly approaching as we close out our first week of September. Family and friends will gather around fire pits sharing stories, laughter, and making unforgettable memories. It is important to remember throughout all of the fun, that safety still has to be top priority.
Safely Using a Fire Pit on Your Deck
It is recommended that fire pits be used in areas that are open and away from decks or homes. With portable fire pits becoming more and more popular, it is becoming more frequent for homeowners to being using a fire pit on your deck space. It is important to remember that both wood decking and composite decking are flammable and can be damaged from the heat if your decking space is not properly protected.
Here are some steps to take to properly protect your deck from fire or damage.
Find a safe location away from deck railings, decorations and your home. You
want to be sure that if the wind blows the flames of your fire will not come in contact with anything that may increase the risk of starting a fire.
Never place your fire pit directly on your deck. The heat from underneath the fire pit can cause damage to wood decking or composite decking. Damage such as warping, discoloration, or burn spots may occur. To avoid this, you can use fire pit pads, or create your own barrier with patio stones. When creating a barrier, you will want to extend it about two feet in all directions from the edge of your fire pit. This will help with embers or in the event the fire pit tips over, your deck will still be protected.
Start your fire and cover with a fire pit screen. This will reduce flying embers and debris, while still allowing you to enjoy a full bonfire.
Due to the fact that you are starting a fire on a wood surface, it is important to take extra precautions. Something as small as an ember can cause your deck to catch fire. Be sure to have a fire extinguisher and hose readily available in the unfortunate event does occur.
Don't have a deck? Are you looking to improve the value of your home by having a new deck built? Contact us today!
Spring is in the air in the Metro Detroit area. When spring cleaning your house, don't forget about  your Michigan deck. Leaving stains or improperly cleaning your deck can lead to the warranty on your deck being voided out. Miles Bradley recommends that you watch the video below to learn the proper steps to clean your composite custom deck in Novi, Northville or all over southeastern Michigan.
How to Properly Clean Your Trex Deck Without Voiding Your Warranty
Modern solid composite decking cuts, nails, screws and installs similar to regular wood decking. Also, composite deck materials offer the fine looks of natural wood. Most composite deck materials even offer wood grain to enhance its appearance. One of the best options in the industry today is Trex decking.
Composite Deck Material Trex
Composite deck materials are building materials manufactured using a mixture of plastic and wood fiber. Trex decking materials are very popular because they require less maintenance than wood and often use recycled materials. Also, when you choose Trex decking there are a lot of color options to choose from. We offer many different brands of deck materials that allow for a full line of colors and different grain patterns. As a certified Trex Platinum Contractor, Miles Bradley Building promises to provide both quality materials and exceptional workmanship from our highly experienced master carpenters.
The major advantage a Trex deck has is the required maintenance. With a wood deck, there is a lot of yearly maintenance such as sanding, nail repair, and replacing boards. A Trex deck requires no sanding and very little maintenance. If you currently have a deck, ask us for deck inspection to let you know what type of work your current deck needs or to replace it. When it comes to a new deck, make sure to hire the professionals at Miles Bradley. Get a quote today for your new deck.