Are you looking to add features to your deck? Whether you are looking to spruce up your old deck or add to your new one, there are many features that can make your outdoor space shine. At Miles Bradley, we have many deck accessories that can only improve your deck. However, what are the best features to add to your outdoor living area?
Deck Lighting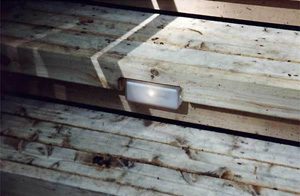 Deck lighting should always be the first feature to add to your deck. First of all, lighting adds some extra safety for your household and guests during the night. However, it can also add a special touch to your backyard. Depending on the lighting to install, you can set the ambiance of your deck at night. You can even add special bulbs to change the color of the light that is emitted. There is a variety of lights that you can add to your deck including:
Railing Lights 
Step Lights
Ceiling Lights
Screened Enclosures
When winter hits, many people have to forgo hanging out on their decks. After all, there is a limit to what you can do when your outdoor space is covered in snow. However, if you own a screened enclosure, you don't have to wait! Adding one of these enclosures allows you to expand your living area with a deck space shielded from the elements. You can drink hot chocolate inside your screened enclosure without feeling the bitter cold of winter. You can also take advantage of this space during the summer, protecting yourself from the shade. Miles Bradley specializes in constructing three and four-season enclosures.
Gazebos
Without a doubt, gazebos are always a charming addition to any outdoor area. In addition to adding another structure to provide shelter from sunlight, it is a natural place for people to interact in. You could have a small gathering under the shade or have a romantic moment with someone special. Our company builds custom decks with gazebo additions. Gazebos can be built with screen and storm windows, adding an extra layer of protection. These structures add value to your yard, so they are always a feature you should consider.
Under Deck and Dry Space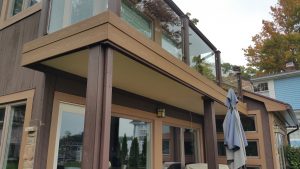 One of the disadvantages of certain decks is the lack of storage space. The majority of the time, people have to buy additional furnishing to help with storage problems or relegate items to the garage or basement. However, investing in your under deck or a dry space is a perfect solution! Walk-out basements provide the perfect opportunity to transform your under-deck area. Your under-deck can be a natural gathering place for outdoor activities. Adding some proper lighting and other items can make your under-deck a welcome addition to your outdoor space.
However, you can easily repurpose this space for dry storage. For those with a walk-out basement, adding a dry space can be the perfect solution to any storage problems. This additional storage can be the perfect place to relocate your outdoor furniture for the winter months. Furthermore, it can free up storage in other areas in your garage by placing your yard gear under your deck.
Other Deck Additions
There are plenty of additions that you can use to enhance your outdoor space, including:
Privacy Walls
Pergolas
Trellises
Columns
However, finding a company that you can trust is a different story. After all, you want professionals handling your deck. Fortunately, Miles Bradley is capable of building all of these structures. Since 1991, our company has been trusted to construct custom-built decks and other structures throughout Michigan and Illinois. With our experts, your yard will be in capable hands. Talk to one of our staff members today to see about adding features to your deck.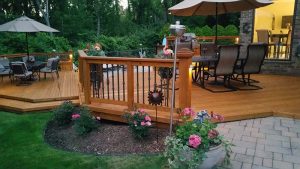 Are you thinking about decorating your deck, but aren't sure where to start? There are so many ideas to choose from, but which one is right? When it comes to transforming your deck into an outdoor living space, there is no right answer. Each deck has its own style and brings its own personality to the table. Below are a few ways to decorate your deck with the style just right for you.
Decorating your Deck
Add furniture: it's always nice to start off with a focal point and move from there. Placing your main piece of furniture in a focal area will make it stand out more. There are an endless amount of furniture items you could play around with to see which one works best for you. Also, when it comes to deciding what colors you want to use, your options are limitless.
Make it comfy: not only should your outdoor living space look comfortable, but it should feel comfortable as well. Adding a bunch of comfy pillows always seems to do the trick.
Create privacy: creating privacy is key, especially if your home is fairly close to your neighbors. Planting a row of evergreens or planter boxes with flowers forms a privacy wall for your deck. It also adds a pop of scenery to your backyard.
Lattice wall: putting up a wooden square lattice wall on one side of the deck is in right now. Planting certain plants such as climbing roses and clematis will eventually grow up the lattice and form a fragrant wall filled with blooms.
Add water: adding a water feature to your decks, such as a water garden or fountain, creates a smooth, tranquil environment. Nothing is better than coming home after a long day of work to a peaceful atmosphere right in your backyard. Adding water is a great addition when it comes to decorating your deck.
Deck Installation
As you can see, there are many options to choose from when it comes to decorating your deck. However, choose what will make you happy. If you are currently looking for a company to do your deck installation, please call Miles Bradley or feel free to fill out our quote form. We are a full-service custom decking firm that strives to see our customers satisfied.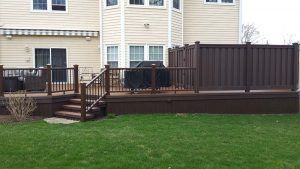 Everyone needs a little privacy. If you live close to your neighbors or next to a busy road, you can understand the value of privacy while you're outside on your deck. Those prying eyes of neighbors and passersby can be too much and can take away from enjoying time with your family. But what can you do? We here at Miles Bradley can think of a suggestion!
It's amazing what a privacy wall can do to help you feel a little relief. It's a simple thing that can give you the retreat that you and your family need to enjoy the outdoors. Also, it's especially nice if you have an outdoor pool or hot tub on your deck and don't want your neighbors' eyes on you and your family
Getting a Privacy Wall Built on Your Deck or Patio
Building deck walls for privacy can do more than just give you a feeling of sanctuary in your own neighborhood but also act as a way to stay safe from the elements. A privacy wall on your deck or patio can block wind, rain, and snow that Michigan produces all year round. With a privacy wall, you can get out in your hot tub in the winter without the wind and snowmaking it unbearable.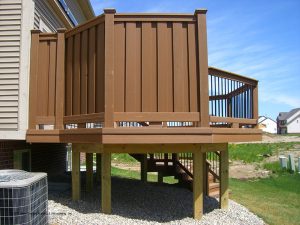 Not only do privacy walls on your deck give you these benefits, but they also add a visual element to your deck. We can help you design the privacy wall of your dreams. We can give you options for your wall that can take your deck from drab to fab.
If you've been wanting to build a privacy wall for you and your family, we here at Miles Bradley can help! We build all year round and can get your privacy wall or fence up in time for hot tub season so you and your family can have a little privacy while enjoying your deck. Finally, click here for a free quote on a privacy deck wall.
Make Your Deck Look Amazing!
We've got some ideas from Pinterest, magazines, and even some clients we've had in the past to put together a list of cool ways you can spruce your deck up!
Accessorize!
Of course, the best way to get your deck to look and feel great is to add places to lounge and host guests on. Chairs, tables, patio furniture, a grill, and other places to hang out are key to enjoying your deck. Once you have these items in place, you can fully enjoy your deck and the summer weather. Make sure when purchasing outdoor furniture that you are getting items that can withstand the elements and are specifically made to be outdoors.
Plants do the trick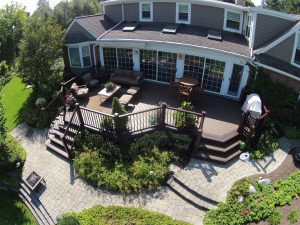 Adding potted plants to your deck will help create a real sense of awe. Plants will do well out on your outdoor space, and give your deck some of the life that it needs. You'd be surprised what a few potted plants and flowers can do for the feel of a space. Trust us you can't go wrong.
Fire Place, Fire Pit, or Chiminea
One of the things that no deck or outdoor space should be without is a place to have a fire. There isn't much more relaxing than enjoying company outside with a good fire going. Little fire pits or chimineas will help keep your fire contained and manageable. Always make sure to check local ordinances for fire burning policies or make sure to alert your local fire department any time you want to have a fire. Safety first!
Space for upgrades
When planning your deck, what is your ideal situation? We've had clients in the past who wanted to make sure they could add additional features to their deck in the future if need be. Hot tubs, pergolas, and gazebos could be in your future if you want it, so make sure you think in the long term when building your ideal deck. (If you need a hot tub or other waters add ons we recommend checking out Viscount pool and Spa)
Lighting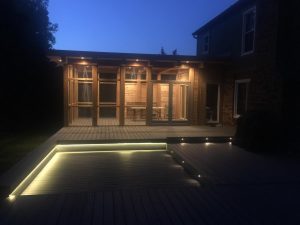 This one is great for when you want to extend your time out on your deck until late hours of the night. Don't leave your guests sitting in the dark, especially if you have a multi-level deck or stairs. Adding some lighting will not only help set the mood but also give added safety features that you'll need to enjoy your deck into the evening
If you've always wanted a deck, or your current deck needs an upgrade, we can help! We know how to create a custom unique outdoor space that you've always wanted. We'll even sweeten the deal! We are currently running a special on deck lighting for your new deck. We install a new deck, and you get a free set of six rail lights that include a photo/cell timer.
So why wait! Summer is almost here and you should be enjoying it! Click here for a  free quote on your next deck project from Miles Bradley!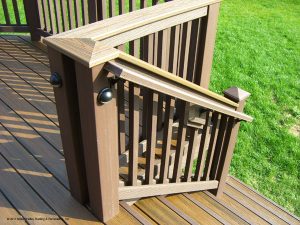 There are many decisions to be made when having a new deck built or even rebuilding or enhancing an old deck.
Adding lighting is a great way to improve your deck. We can put lighting on your steps, rails or posts on your deck. Adding this lighting provides an illuminating glow on your deck, decorative accents, and warm highlighting.
Step and rail lighting has many advantages not only is it a great enhancement for looks but is a safety advantage as well. Though the lighting is subtle the lights help people see where they are walking or the railing they are grabbing.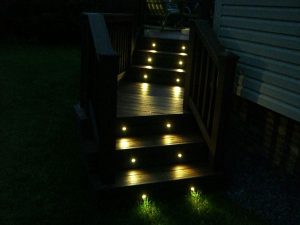 Our Experts in the Metro Detroit area or Chicago, Illinois area can help you decide on the many choices of deck lighting; function, combination, style, size, layout.
Right now we have a great special on our deck railings! Set of 6 free deck rail lights with photocell/timer with every deck purchased before the 4th of July!