Do you have a composite deck but don't know how to properly take care of it? Because composite decks are made from wood byproducts (i.e. wood chips, sawdust) and plastics, they require less maintenance work than other wood decks. These types of decks come in a variety of styles, colors, and grains to choose from.
Taking care of your deck isn't a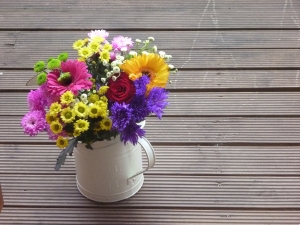 hard process at all. The first thing you should do is to grab a broom and dustpan and begin sweeping your deck. Sweeping frequently will help keep your deck clean. As you're sweeping, make sure to sweep all of the debris off of your low-maintenance deck. Pick up any leaves or sticks that might be stuck within the cracks of your deck board. Composite decking material cannot be sanded nor refinished so if you see any stains on the deck, be sure to address them quickly so that they can be removed.
Composite Deck Cleaning
Next, scrub your deck with soap and hot water or composite deck cleaner. Use a deck brush while scrubbing the surface of your composite deck. The deck brush that you use should have soft bristles to make your deck even smoother.
Finally, rinse off your low-maintenance deck using the water hose. Make sure all of the soap's residue is removed. If your composite deck has any marks on it, use nail polish remover, rubbing it in a circular motion, on a wet cotton ball to get it off. Once finished, allow your deck to dry.
Miles Bradley Building and Remodeling, INC specializes in building composite decks. If you're interested or have any questions, contact us at any one of our locations.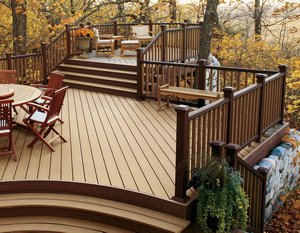 Over time, the decking industry has made drastic improvements to materials used to create your dream deck. Trex or Timbertech is a very popular composite deck company. Also, manufacturing composite decking materials that give homeowners the wood look they want, yet easy maintenance and longevity. As time continues to pass, composite decking continues to transform and other composite decking manufacturers are being introduced.
If you are planning on having your dream deck constructed out of low-maintenance composite decking materials, Trex or Timbertech both supply high-quality decking materials and have very similar collections for you to choose from. So what is the difference between the two? Which should you choose? Looking for tips on maintaining your Trex deck? Click here.
Timbertech or Trex
The decision on when to choose Trex composite decking or Timbertech composite decking is completely up to you. As far as the product goes, they are very similar and both offer the same low maintenance aspect that everyone is searching for. You may realize that your decision on which company to select may come down to texture, color, or customization you wish for your deck or landscaping project to have.
When searching for a Timbertech installer, look no further than Miles Bradley!
Miles Bradley Building has been installing composite decks for decades. Our experienced staff can help find exactly what you are looking for. At Miles Bradley, we construct your low-maintenance dream deck with the highest quality Trex or Timbertech composite decking materials. Our decking professionals will review your deck plans and help you determine whether Timbertech or Trex composite decking is right for you. Finally, contact our professional deck builders today so we can get started.
View Trex Composite Decking Collections
View Timbertech Composite Decking Collections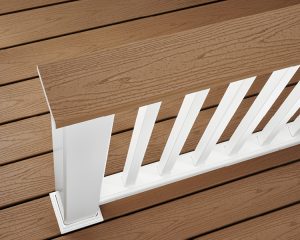 Are you looking for a brand-new composite deck for your dream backyard? You have a few choices on what to make your deck out of. Trex, the world's number one decking brand, TimberTech, America's number one in premium decking, or original wood, an easy material to use that is the go-to for many people.
Each material has its own advantages and disadvantages, so we cover the great Trex vs Timbertech debate.
Benefits of a Trex deck
Trex is an eco-friendly decking material. Unlike wood, Trex decks come will not rot, split, swell, or crack from insect infestation. And because the color is ingrained within the material, Trex does not require repainting, annual staining, or sealing.
Benefits of a TimberTech deck
TimberTech is number one in premium decking. These decks are durable enough to withstand almost anything your family, friends, and the elements throw at them. They do not require any staining or sealing in their long-lasting life in your backyard.
Wood decks are the original design that many flocks to in the spring and summer months. Even though wood is in need of replacement every couple of years, wooden decks are easy to construct at a reasonably affordable price. Unfortunately, this resource is scarce and can lead to deforestation. It also splits and splinters with age. So, perhaps wood is not the best option for today's standards.
Why Choose Trex vs Timbertech
Trex is by far the best and most reliable brand to use when constructing a deck. Your deck will last for years to come with Trex as its construction base. You can make the deck of your dreams in the color of your choice. So why wait?
Contact Miles Bradley Decks today to get a free quote! We can make your deck in any color you choose. Our main seller is Trex but we can do whatever you'd like most on your favorite deck. So, let's make your dreams a reality, call us today or contact us through our form!
If you are looking to save time and money when cleaning and setting up your deck next spring, now is the perfect time to get a head start on preparing your deck for the winter. There are a few precautionary steps that you can take which will eliminate the surprise and/or expense come spring
Thoroughly clean your deck. Before doing anything else to prep your deck or patio for the winter, cleaning the entire deck is a must. Using a formulated deck cleaner, wash away dirt, dust, mold, or mildew from corner to corner.
Smooth your decks finish. Walk around your deck and search for cracked or chipped areas of your deck's finish. You will want to fix these problems as they will worsen and possibly damage your wood come spring. Depending on the type of finish you have on your deck will determine the proper products for removing areas of finish that need to be restored.
Restore your deck's finish. After you have removed the unwanted finish from your deck, you will want to restore it before winter comes. If you leave them unfinished deterioration of the deck's wood will occur, causing the need for wood replacement.
Seal your deck. Using a water repellant wood sealer, cover your entire deck. The water-repellant will prevent sitting water from damaging the wood. Moisture spikes during the winter, as snow and ice tend to sit on decks. Not sealing your deck can cause wood to crack or warp from moisture.
Following the above steps can significantly save you from costly repairs. If your deck is already in need of replacement contact Miles Bradley Building and Remodeling in Michigan or Chicago, IL today, and ask about our low maintenance decks, eliminating the need for winter preparation!