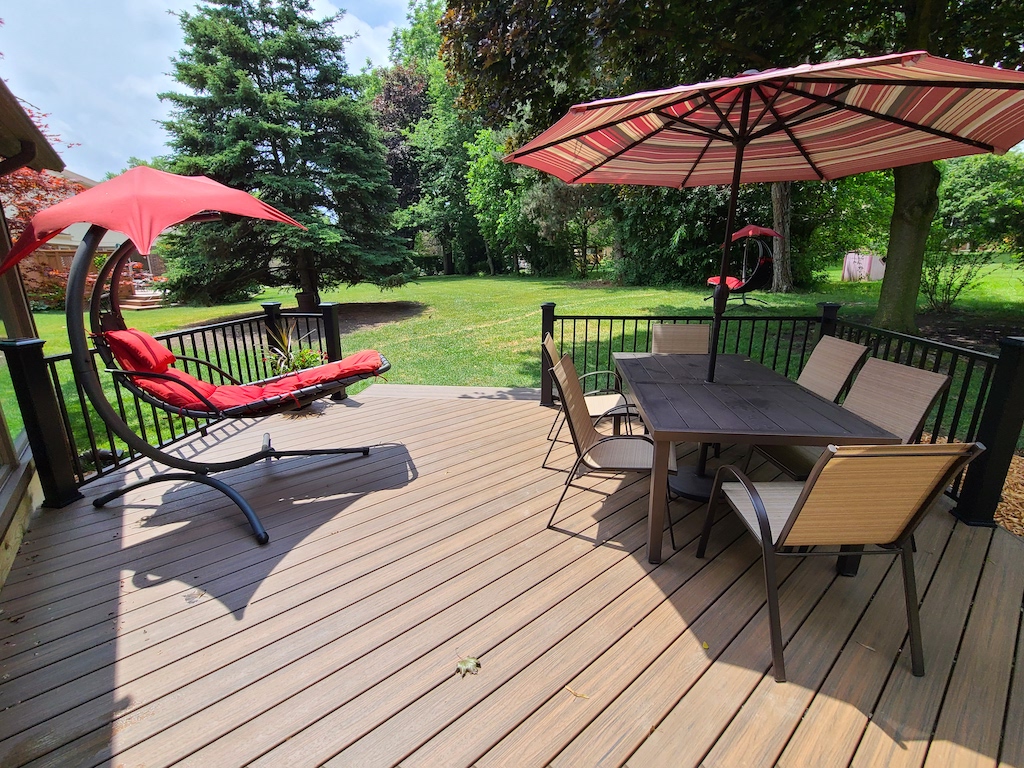 Ready to see our latest deck installation?
Miles Bradley recently just did a new installation in Farmington Hills, Michigan. Our decking professional did a complete overhaul, creating a new outdoor space for the clients to enjoy! So, what went into this new deck installation?
Tore Out Old Wooden Deck
Wooden decks were the standard for outdoor spaces for years. After all, it's a classic material that has a natural smell and texture to it that is appealing. However, constant maintenance can be a hassle and it is vulnerable to infestations compared to other materials. Furthermore, it can warp and bend over time and change colors, requiring staining to return it to its original color. When our clients asked for low-maintenance decking, our professionals tore out the original, old wooden deck to prepare for the new materials!
Low-Maintenace Materials
The low-maintenance composite deck material is ideal for the perfect outdoor space. Wood-plastic composite decking (PVC decking) is created to endure the outdoor elements, allowing the deck to stand strong for years to come! Unlike wooden decks, you do not need to stain, paint, or seal composite decking! Furthermore, it is also resistant to warping, weathering, and insects. As a result, you will don't have to worry about replacing uneven, rotting, and infested boards.
One of the most popular composite deck materials is Trex! Trex comes with a wide selection of colors to choose from! For this latest installation, our decking professionals used Trex's enhanced coastal bluff for the deck and fascia! While the main project was done, it was not the end of the project. After all, there were certain additions needed to complete this deck!
Additions to New Deck
Although the current project was low to the ground, it absolutely needed a railing. In addition to preventing a tripping hazard, it adds another function component to the deck area. In this case, Miles Bradley used Trex's black signature aluminum rail and black post sleeves. These post sleeves provide a barrier between aspects of your desk from the elements (sun, rain, wind, ect.). This prevents any deterioration over time and lowers maintenance needs!
Deck Installations with Miles Bradley
Our latest deck installation is just one of the many installations that Miles Bradley has done over two decades! Miles Bradley is a full-service designer and builds custom decks and sunroom firms serving all of Michigan and Illinois. This includes the entire Chicago Lands area! Our firm provides a variety of services and products for your deck projects! We have built a nationwide reputation as expert maintenance decking and building product. Contact our firm today for your next deck project! You can also submit a quote form!
---
Schedule your Spring or Summer deck installation now! Groundhogs day and came and went, and the prediction was bleak. Even though Punxsutawney Phil, the famous groundhog, saw his shadow we won't let that get us down. Being outside in the cool spring air or the summer sun on a new deck is the only way to enjoy your home. Winter may be in full swing for another 6 weeks but you should start planning for Summer. If you envision BBQs and family time out on a new deck, three seasons room, or pergola, now is the time to book your install date. You won't have to wish for a beautiful deck for your Summer party because you can have it ready before the hottest season starts! Hire Miles Bradley now to ensure your summer dreams of a new deck come true!
The great outdoors can be that much better with an outdoor patio, three-season room, or pergola addition! Being able to be outside while still being at your home is a luxury and increases your home's resale value. When you add a deck to your home, you're not only increasing the space that you can use in your home, but you're also investing in your home. Miles Bradley has the ability to your deck in time and within your budget! Large deck? Small Deck? Single or multi-level? No problem! The deck of your dreams is one call away.
Why Should I Schedule My Spring Or Summer Deck Installation Now?
The best time to book your deck installation is during the slow periods for deck installers. Since installing decks is seasonal, now is the best time while the ground is frozen. As they say "The early bird gets the worm" and the same is true with scheduling your patio, three seasons room, or pergola installation. If you want the best installation times, you should be booking your appointment now!
During the winter months, our schedules are wide open and ready for your spring deck installation. Since we book up quickly closer to the spring, now is the best time to get your ideal installation date. In some cases, people who wait too long to schedule their deck install have to wait and miss out on summertime spent outdoors.
So don't wait for Spring before you book your installation. Call or contact us today and get your date locked in! Don't say we didn't warn you.