Deck railing and stair railings are the finishing touches on a deck that gives it a look and feel while providing a natural safety barrier for guests. Your deck's style is meant to complement your home, increase curb appeal, and will help increase your home's overall value. The porch railing gives your deck a personality depending on what style and material you get. Metal railing vs. composite has a different look and feel to them that will change the style of your deck.
Get Your Deck Railing Installed By A Professional
You may be asking yourself "Where is there a local porch railing contractor near me?", well, we here at Miles Bradley have been your local deck railing contractor in the Metro Detroit area for over 20 years. We can install any style or type of railing on your deck. Vinyl railings, metal railing, aluminum railing, we've installed them all. Our specialty is installing Trex's signature aluminum rail and Transcend rail with aluminum balusters or spindles. Both of these Trex railings are made of a high-end composite that will last throughout the years.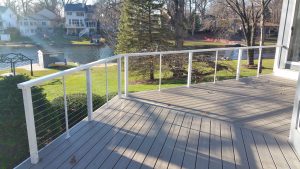 We know that there are a lot of DIY'ers out there who would want to install their own deck railing. Unless you are well versed in the building codes surrounding decks and railing installation we highly discourage you from attempting it. Avoid the headache of fines and city inspections, hire a professional contractor who will worry about this for you. Miles Bradley has been all over the metro Detroit area including cities like Brighton, Novi, and Canton.
If your Deck Railing Is Old, Rotting Out, Or Damaged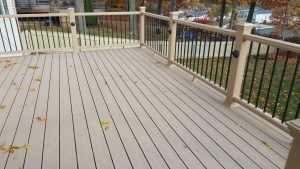 The damaged railing should be replaced. Not only are you damaging your deck, but you're also putting your guests and loved ones in harm's way. Replacing your old rotted wood railing with new materials like metal, vinyl, and Trex composite railings will ensure your deck's longevity and increase your home value.  
If you have yet to install the railing or need to replace your railing, now is the time! We are running a special from now until the end of April: 6 Free Light Rail Kit Installed with Your Next Deck Purchase!
Need a Local Stair Railing Installer?
Miles Bradley can install the stair railing on your existing deck. Stair railings add an extra layer of safety while you and your guests enjoy the summer months outside.
Finally, get your free quote on your deck railing today.
Posted In: deck accessories, Deck rail lighting, Miles Bradley
Tags: aluminum railing, balusters, metal railing, railing, spindles, Transcend rail, Trex composite railing, Vinyl railing