Are you looking to add features to your deck? Whether you are looking to spruce up your old deck or add to your new one, there are many features that can make your outdoor space shine. At Miles Bradley, we have many deck accessories that can only improve your deck. However, what are the best features to add to your outdoor living area?
Deck Lighting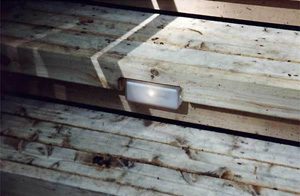 Deck lighting should always be the first feature to add to your deck. First of all, lighting adds some extra safety for your household and guests during the night. However, it can also add a special touch to your backyard. Depending on the lighting to install, you can set the ambiance of your deck at night. You can even add special bulbs to change the color of the light that is emitted. There is a variety of lights that you can add to your deck including:
Railing Lights 
Step Lights
Ceiling Lights
Screened Enclosures
When winter hits, many people have to forgo hanging out on their decks. After all, there is a limit to what you can do when your outdoor space is covered in snow. However, if you own a screened enclosure, you don't have to wait! Adding one of these enclosures allows you to expand your living area with a deck space shielded from the elements. You can drink hot chocolate inside your screened enclosure without feeling the bitter cold of winter. You can also take advantage of this space during the summer, protecting yourself from the shade. Miles Bradley specializes in constructing three and four-season enclosures.
Gazebos
Without a doubt, gazebos are always a charming addition to any outdoor area. In addition to adding another structure to provide shelter from sunlight, it is a natural place for people to interact in. You could have a small gathering under the shade or have a romantic moment with someone special. Our company builds custom decks with gazebo additions. Gazebos can be built with screen and storm windows, adding an extra layer of protection. These structures add value to your yard, so they are always a feature you should consider.
Under Deck and Dry Space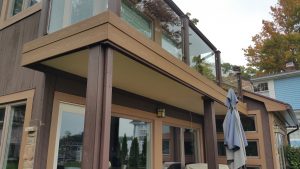 One of the disadvantages of certain decks is the lack of storage space. The majority of the time, people have to buy additional furnishing to help with storage problems or relegate items to the garage or basement. However, investing in your under deck or a dry space is a perfect solution! Walk-out basements provide the perfect opportunity to transform your under-deck area. Your under-deck can be a natural gathering place for outdoor activities. Adding some proper lighting and other items can make your under-deck a welcome addition to your outdoor space.
However, you can easily repurpose this space for dry storage. For those with a walk-out basement, adding a dry space can be the perfect solution to any storage problems. This additional storage can be the perfect place to relocate your outdoor furniture for the winter months. Furthermore, it can free up storage in other areas in your garage by placing your yard gear under your deck.
Other Deck Additions
There are plenty of additions that you can use to enhance your outdoor space, including:
Privacy Walls
Pergolas
Trellises
Columns
However, finding a company that you can trust is a different story. After all, you want professionals handling your deck. Fortunately, Miles Bradley is capable of building all of these structures. Since 1991, our company has been trusted to construct custom-built decks and other structures throughout Michigan and Illinois. With our experts, your yard will be in capable hands. Talk to one of our staff members today to see about adding features to your deck.
Have you recently attended a BBQ, graduation party, or get-together that on your way home had you telling yourself; "I wish I had my own beautiful deck."? Well, it's not too late to have your deck built this summer and then start planning a summer party of your own!
Great Are For A Summer Party
With top-of-the-line decking materials, accessories, and service, Miles Bradley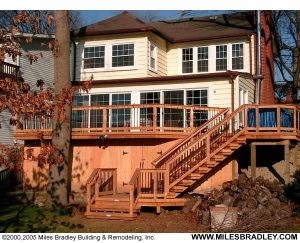 will work with you to have the deck of your dreams built before summer is over. Whether you are looking to have a second-story balcony built, or a beautiful deck off the back of your home, Miles Bradley has the resources to build your deck in time and within your budget. Small deck? Large deck? Single or multilevel deck? whether you live in Michigan or in Chicagoland it will be No Problem! The deck you have always wanted is a phone call away.
At Miles Bradley, we can build you a wood deck from cedar or we recommend a composite deck. Composite decks will require way less maintenance than a wood deck. In addition, composite decks built with Trex decking will maintain their beauty for years to come. Of course, we also can build a screen enclosure, gazebos, and many more outdoor options.
Are you tired of wet kids running through the house after swimming? Have them dry off on a new deck. With plenty of areas to relax the dry off while enjoying fun times on the deck.
Looking to expand your storage in the backyard? Visit our friends at Lakeside Cabins. Lakeside Cabins has great sheds to choose from.
Having all the extra outdoor room is ideal for any summer party! Act now, Miles Bradley is offering a free set of six rail lights with a photo/cell timer when you have your new deck built. This is a deal you won't want to miss! Finally, contact Miles Bradley today to find out how soon you can be enjoying the sun on your new deck!
Deck railing and stair railings are the finishing touches on a deck that gives it a look and feel while providing a natural safety barrier for guests. Your deck's style is meant to complement your home, increase curb appeal, and will help increase your home's overall value. The porch railing gives your deck a personality depending on what style and material you get. Metal railing vs. composite has a different look and feel to them that will change the style of your deck.
Get Your Deck Railing Installed By A Professional
You may be asking yourself "Where is there a local porch railing contractor near me?", well, we here at Miles Bradley have been your local deck railing contractor in the Metro Detroit area for over 20 years. We can install any style or type of railing on your deck. Vinyl railings, metal railing, aluminum railing, we've installed them all. Our specialty is installing Trex's signature aluminum rail and Transcend rail with aluminum balusters or spindles. Both of these Trex railings are made of a high-end composite that will last throughout the years.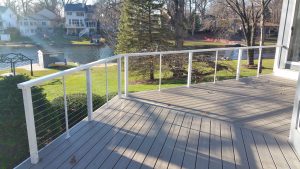 We know that there are a lot of DIY'ers out there who would want to install their own deck railing. Unless you are well versed in the building codes surrounding decks and railing installation we highly discourage you from attempting it. Avoid the headache of fines and city inspections, hire a professional contractor who will worry about this for you. Miles Bradley has been all over the metro Detroit area including cities like Brighton, Novi, and Canton.
If your Deck Railing Is Old, Rotting Out, Or Damaged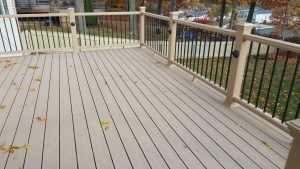 The damaged railing should be replaced. Not only are you damaging your deck, but you're also putting your guests and loved ones in harm's way. Replacing your old rotted wood railing with new materials like metal, vinyl, and Trex composite railings will ensure your deck's longevity and increase your home value.  
If you have yet to install the railing or need to replace your railing, now is the time! We are running a special from now until the end of April: 6 Free Light Rail Kit Installed with Your Next Deck Purchase!
Need a Local Stair Railing Installer?
Miles Bradley can install the stair railing on your existing deck. Stair railings add an extra layer of safety while you and your guests enjoy the summer months outside.
Finally, get your free quote on your deck railing today.
Make Your Deck Look Amazing!
We've got some ideas from Pinterest, magazines, and even some clients we've had in the past to put together a list of cool ways you can spruce your deck up!
Accessorize!
Of course, the best way to get your deck to look and feel great is to add places to lounge and host guests on. Chairs, tables, patio furniture, a grill, and other places to hang out are key to enjoying your deck. Once you have these items in place, you can fully enjoy your deck and the summer weather. Make sure when purchasing outdoor furniture that you are getting items that can withstand the elements and are specifically made to be outdoors.
Plants do the trick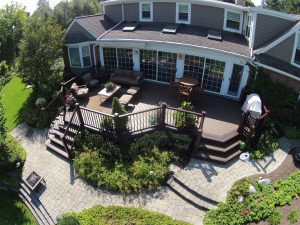 Adding potted plants to your deck will help create a real sense of awe. Plants will do well out on your outdoor space, and give your deck some of the life that it needs. You'd be surprised what a few potted plants and flowers can do for the feel of a space. Trust us you can't go wrong.
Fire Place, Fire Pit, or Chiminea
One of the things that no deck or outdoor space should be without is a place to have a fire. There isn't much more relaxing than enjoying company outside with a good fire going. Little fire pits or chimineas will help keep your fire contained and manageable. Always make sure to check local ordinances for fire burning policies or make sure to alert your local fire department any time you want to have a fire. Safety first!
Space for upgrades
When planning your deck, what is your ideal situation? We've had clients in the past who wanted to make sure they could add additional features to their deck in the future if need be. Hot tubs, pergolas, and gazebos could be in your future if you want it, so make sure you think in the long term when building your ideal deck. (If you need a hot tub or other waters add ons we recommend checking out Viscount pool and Spa)
Lighting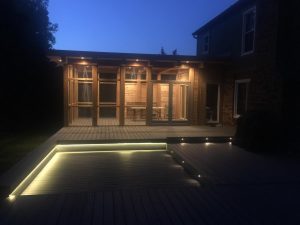 This one is great for when you want to extend your time out on your deck until late hours of the night. Don't leave your guests sitting in the dark, especially if you have a multi-level deck or stairs. Adding some lighting will not only help set the mood but also give added safety features that you'll need to enjoy your deck into the evening
If you've always wanted a deck, or your current deck needs an upgrade, we can help! We know how to create a custom unique outdoor space that you've always wanted. We'll even sweeten the deal! We are currently running a special on deck lighting for your new deck. We install a new deck, and you get a free set of six rail lights that include a photo/cell timer.
So why wait! Summer is almost here and you should be enjoying it! Click here for a  free quote on your next deck project from Miles Bradley!
Don't let Halloween pass without decorating your deck. Incorporate your Miles Bradley deck into your Halloween party by using the following ideas.
Turn your deck into a Pumpkin patch 
Deck your deck out with carved pumpkins. Scatter fake leaves and straws to give your mock pumpkin patch an authentic look.  Placing a stack of hay with a scarecrow will add the perfect touches. You can make your pumpkin patch look haunted by adding red lights, spiders, and fake body parts. You can add fake blood to the body parts and pumpkins to enhance the spookiness of the display.
Candy riddled graveyard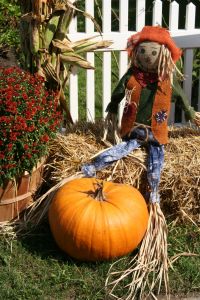 Turn your deck into a creepy candy land. First, get a few headstones and place them sparsely on the deck. Next, grab a few skeletons and place them around the headstones. Add large fake insects and cobwebs to the headstones and to some of the skeletons. Hide candy around the headstones and in other areas of the setup.  This is the perfect activity for your children before going trick or treating. It also is not as scary or gory as the haunted pumpkin patch.
Important: Write down the places that you placed the candy. This is so all the candy that was not found can be picked up.  Protect your deck from the chemicals from decorations that may be hard to remove by using a deck cover. 
Contact us today for a quote on having a new deck built. Be sure to check out our specials.