Have you recently attended a BBQ, graduation party, or get-together that on your way home had you telling yourself; "I wish I had my own beautiful deck."? Well, it's not too late to have your deck built this summer and then start planning a summer party of your own!
Great Are For A Summer Party
With top-of-the-line decking materials, accessories, and service, Miles Bradley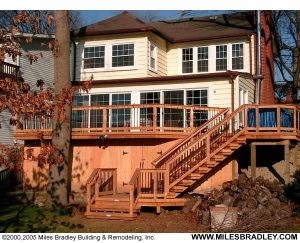 will work with you to have the deck of your dreams built before summer is over. Whether you are looking to have a second-story balcony built, or a beautiful deck off the back of your home, Miles Bradley has the resources to build your deck in time and within your budget. Small deck? Large deck? Single or multilevel deck? whether you live in Michigan or in Chicagoland it will be No Problem! The deck you have always wanted is a phone call away.
At Miles Bradley, we can build you a wood deck from cedar or we recommend a composite deck. Composite decks will require way less maintenance than a wood deck. In addition, composite decks built with Trex decking will maintain their beauty for years to come. Of course, we also can build a screen enclosure, gazebos, and many more outdoor options.
Are you tired of wet kids running through the house after swimming? Have them dry off on a new deck. With plenty of areas to relax the dry off while enjoying fun times on the deck.
Looking to expand your storage in the backyard? Visit our friends at Lakeside Cabins. Lakeside Cabins has great sheds to choose from.
Having all the extra outdoor room is ideal for any summer party! Act now, Miles Bradley is offering a free set of six rail lights with a photo/cell timer when you have your new deck built. This is a deal you won't want to miss! Finally, contact Miles Bradley today to find out how soon you can be enjoying the sun on your new deck!
Deck railing and stair railings are the finishing touches on a deck that gives it a look and feel while providing a natural safety barrier for guests. Your deck's style is meant to complement your home, increase curb appeal, and will help increase your home's overall value. The porch railing gives your deck a personality depending on what style and material you get. Metal railing vs. composite has a different look and feel to them that will change the style of your deck.
Get Your Deck Railing Installed By A Professional
You may be asking yourself "Where is there a local porch railing contractor near me?", well, we here at Miles Bradley have been your local deck railing contractor in the Metro Detroit area for over 20 years. We can install any style or type of railing on your deck. Vinyl railings, metal railing, aluminum railing, we've installed them all. Our specialty is installing Trex's signature aluminum rail and Transcend rail with aluminum balusters or spindles. Both of these Trex railings are made of a high-end composite that will last throughout the years.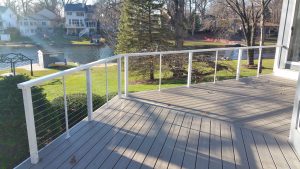 We know that there are a lot of DIY'ers out there who would want to install their own deck railing. Unless you are well versed in the building codes surrounding decks and railing installation we highly discourage you from attempting it. Avoid the headache of fines and city inspections, hire a professional contractor who will worry about this for you. Miles Bradley has been all over the metro Detroit area including cities like Brighton, Novi, and Canton.
If your Deck Railing Is Old, Rotting Out, Or Damaged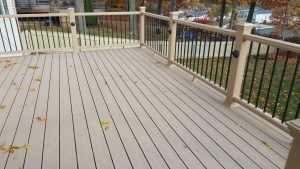 The damaged railing should be replaced. Not only are you damaging your deck, but you're also putting your guests and loved ones in harm's way. Replacing your old rotted wood railing with new materials like metal, vinyl, and Trex composite railings will ensure your deck's longevity and increase your home value.  
If you have yet to install the railing or need to replace your railing, now is the time! We are running a special from now until the end of April: 6 Free Light Rail Kit Installed with Your Next Deck Purchase!
Need a Local Stair Railing Installer?
Miles Bradley can install the stair railing on your existing deck. Stair railings add an extra layer of safety while you and your guests enjoy the summer months outside.
Finally, get your free quote on your deck railing today.
The words we all hate to hear, "summer is almost over" have become a part of conversations across Michigan and Chicago. Pretty soon your deck will be covered with snow and ice, and you will not be able to enjoy it as you did during the beautiful summer we had this year.
In case you didn't notice, we did say pretty soon, meaning it's not over yet! Why not invite your friends over for an "End of Summer Deck Party!" Get the final use out of your new deck this year! But, if for some reason you are still lagging on getting your deck built, it's not too late!
Miles Bradley is offering great deals on deck builds as summer dwindles off. We will get your build scheduled and built-in enough time for you to be able to host your very first deck party! Decks bring family and friends together, whether it is for a barbeque, a card game, or just to socialize. You will be glad you had your deck build by Miles Bradley this year!
Because the deals are so hot right now, we want to make sure that your deck is on our list of builds before summer is over. Contact Miles Bradley of Michigan or Chicago today and start planning your End of Summer Deck Party!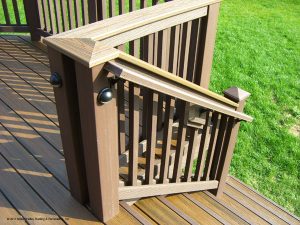 There are many decisions to be made when having a new deck built or even rebuilding or enhancing an old deck.
Adding lighting is a great way to improve your deck. We can put lighting on your steps, rails or posts on your deck. Adding this lighting provides an illuminating glow on your deck, decorative accents, and warm highlighting.
Step and rail lighting has many advantages not only is it a great enhancement for looks but is a safety advantage as well. Though the lighting is subtle the lights help people see where they are walking or the railing they are grabbing.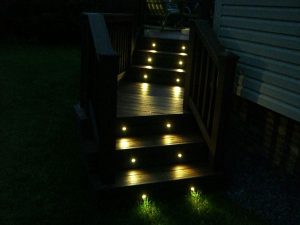 Our Experts in the Metro Detroit area or Chicago, Illinois area can help you decide on the many choices of deck lighting; function, combination, style, size, layout.
Right now we have a great special on our deck railings! Set of 6 free deck rail lights with photocell/timer with every deck purchased before the 4th of July!