As spring soon transitions to summer, bugs including mosquito's are beginning to come out more than ever. Now is the perfect time to enhance your deck by adding a screened enclosure! This is the season where everyone is outside either barbecuing, swimming, or spending time with their family and friends. Having a screened enclosure, adds a bit of uniqueness to your beautiful backyard in the daytime and at night.
Enclosures That Keep Mosquitoes Out
Owning a screened enclosure gives your home a new look altogether. It ensures the safety of your children and pets, allows you to change an area into a relaxation, party, or playroom, and adds a lot of usable space to your backyard.  Because screened enclosures act as a barrier, it also protects you and your loved ones from mosquitoes and other insects that seem to become a hassle when the weather warms up.
Screened enclosures provide you and your family a great way to enjoy the outdoors without the bugs. Also, it can provide shade and a great area to eat while enjoying the weather. At Miles Bradley, we specialize in decks and screened enclosures. Furthermore, we can build an outdoor area you have always wanted quickly and affordable. Rest assured we build all year long. So if you cannot have your addition built in the summer, we can do it in the fall and winter as well.
If you're interested in having a screened enclosure built right outside of your home, Miles Bradley is more than happy to be an aid for you. Finally, we specialize in building screened enclosures. So don't wait any longer; now is the time to have it installed. Let us help you keep mosquitoes out with a screened enclosure or composite deck, so you can enjoy the beauty of nature.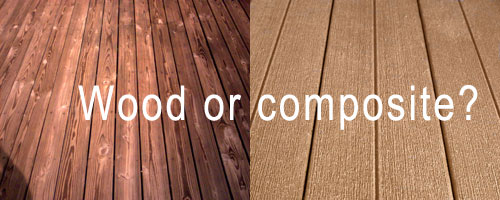 Are you in the market for a new deck? Does your home look like it's missing something? A deck is a great way to go! Whether you're replacing a new one or adding a deck to your home, your deck becomes part of your home and it is important to choose the right materials to use. Choosing what materials to have your deck built out of is one of the first things to decide. You have two main choices; composite wood or natural wood.
Composite Wood Difference
To decide which one suits better for you and your home you will need to consider four things;
How much maintenance and repair you will be willing to do in the future
The life span of the different materials
Your deck's appearance
The cost of the different types of deck material.
When choosing natural wood you will need to stain and seal your deck every year. Composite decking requires less maintenance than natural wood material. Composite wood will need to be cleaned but will not need to be stained like natural wood.
To consider the life span of the different materials you have to assess that wooden decks can crack and splinter from weather conditions and can also get more damaged from water and rot if they are not maintained properly. To repair wood decks can be stained and replaced if necessary. Composite decks do not crack or splinter but can fade and warp. They also have a tendency to scratch and stain. To repair composite decks can replace the scratched, warped, or faded pieces.
Composite Wood or Wood Deck Which To Choose
Choosing what type of appearance you want your deck and home to have is very important. Composite deck materials are made to look like wood and vary less in appearance than natural wood. It is not stainable and if it fades it will need to be replaced rather than stained. Natural wood decks are more attractive and can add a lot of value to your property. There are many stains and types to choose from than composite deck materials and can be re-stained when the color starts to fade not have to be replaced.
The final decision is cost; Natural wood tends to be less expensive than composite deck materials.
This decision will depend on preference and what works better for you and your home, there are pros and cons to both types. Whichever you decide you, your family, and guests will have a wonderful deck for years to come and we can build it for you!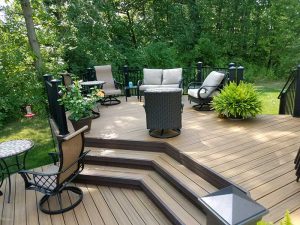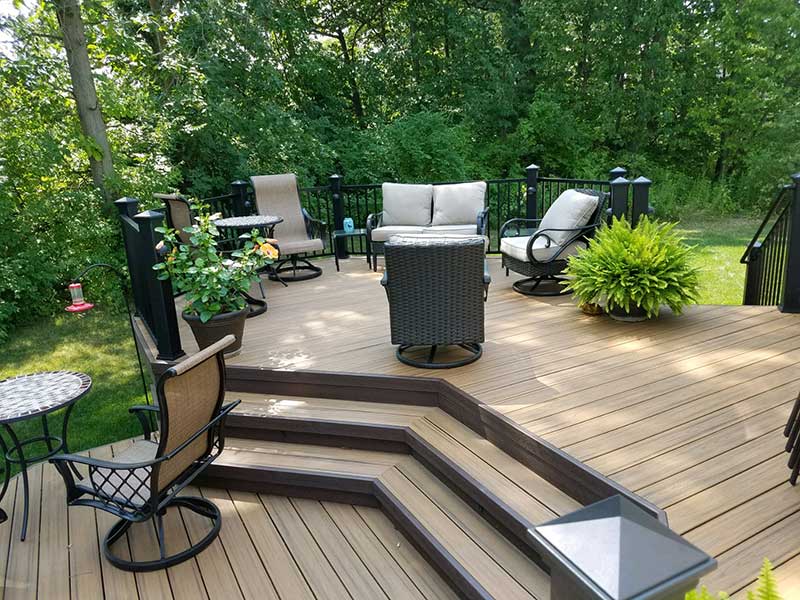 Farmington Hills is a beautiful and lavish Michigan city with a general population of 80,971. It is also a very family-oriented city. In addition, the schools are top-of-the-line and the area is shrouded in wealth. Also, the average home value is $207,200. The houses are big and beautiful and should be accompanied by gorgeous decks! A nice deck can make or break your home, so why not aim for the best?
Here at Miles Bradley, we build custom composite decks in Farmington Hills. We use Timbertech and Trex composite decking materials for the best quality decks. While our decks are of the highest quality, they are also beautiful. 
Timbertech vs Trex
Both Timbertech and Trex are popular composite decking companies. This means that both companies have similar advantages. Unlike wood, composite decks have desirable factors of durability, longevity, and maintainability. But there are some differences between Timbertech and Trex as well. 
Timbertech
Timbertech decks are generally more expensive than Trex decks. This is because of the slight difference in the board design. Although Timbertech boards are also made of recycled material, they contain a protective polymer shell that protects all four sides of the board. Because of this extra coverage, Timbertech materials are more resistant to harsh weather, an important quality to have in Michigan.
Trex
All of the Trex decking materials are made up of a protective shell and a composite score. The protective shell provides coverage to three sides of the board; the top and both sides. The bottom of the board is left unsealed, allowing the material to respire while also being protected. Furthermore, Trex decking materials tend to have more scratch resistance than Timbertech.
Composite Deck Building In Farmington Hills
Here at Miles Bradley, we construct Timbertech and Trex low-maintenance composite decks. We have served the people in Farmington Hills for over 25 years. With decades of experience and customer satisfaction, we are there to help you make the custom deck of your dreams. For more information, request a free quote! Finally, contact us today to make your deck-building appointment.
Have you been sitting on remodeling your basement? Renovating your basement will not only add value to your house but also gives you additional livable space for you and your family. Imagine what you could do with all that extra space in your home. Here at Miles Bradley, we can help you create your ultimate entertainment center, game room, or man cave from your dingy basement. We will help frame, insulate, and get your basement into a livable state for you and your family.
Finishing the room DIY can be overwhelming and drag out for months. Between codes, proper licenses and just finding the time to do it, you might as well hire a professional. We can help you get the space you've always wanted as we are a fully licensed and insured contractor. We'll take your old unfinished basement and help you design the basement of your dreams.
Finish your Michigan basement with Miles Bradley!
If you've never heard of the term "Michigan basement" we can paint you a picture: inhabitable. Hiring a professional contractor to finish your Michigan basement is a great way to make more room for your family. Whether you're increasing your family size and need additional room or just better storage space for your stuff, we can help. We've helped finish basements to guest rooms, storage space, and the best place to catch the game with your pals.  
Does your home have a second level that could use a deck? No problem! We can help create a "walkout" for your "Underdeck" from your basement area! No more wondering where you can entertain guests in a covered shaded area. Here at Miles Bradley, we help homeowners get the most out of their space. We'll even help you with your outdoor home renovation plan! Simply contact us and we'll give you a free quote and consultation! Contact us here
October is here, which means Halloween is coming up! Many homeowners get into the Halloween spirit by decorating their homes with spooky decorations. Whether you are hosting a Halloween party, or just want to show off your spirit, incorporating your deck into your ideas can add a great touch! Check out some of our great "deck-o-rating" ideas:
Mums and pumpkins up your stairs to your deck. Create a unique design by rotating their pattern! If you have deck lighting, this will even look great at night
Utilize the steps– Using the steps to your deck; add rubber spiders and webbing, but make sure they are safely on the back or sides.
Carved or Painted Pumpkins-  There are many creative ways to use pumpkins as decoration. You can drill holes in special patterns and add a candle to shine through, or if you have a squirrel problem, painting maybe your best option! This is also a great way to get the kids involved in the decorating process!
Spooky Skeletons- If you are looking to add a little fear factor to your deck during the Halloween season, you can purchase plastic skeletons that can be maneuvered however you like. Bend the joints of the skeleton to make them look as if they are climbing up your deck or onto your home. You can add fog, lights, or gravestones to enhance the look even more!
These are just a few of our ideas on how to decorate your deck for Halloween. We have shared much more DIY-inspired ideas for patios, porches, or decks on our Pinterest page. Be sure to check them out and share some of your favorites!
We would love to see what you have come up with this year! Be sure to share your Halloween-inspired decorations on our Facebook page!
Fall Deck Building in Michigan
Fall is a great time to have a deck built in Michigan. Because temperatures are dropping and building conditions aren't so "perfect," you can save tons of money on your build! With the demand lower in the fall or winter months, you can save nearly 20% with an offseason build, talk to our professional deck builders today for more information!