It is time for some spring deck cleaning! After an intense winter season, the weather is warming up. Now that the snow has melted away, you should be setting up your deck for springtime. That means cleaning up your deck and getting an inspection! However, what is the best method to clear up your outdoor space? Miles Bradley has some amazing tips to help you with your spring deck cleaning!
Clear the Debris
Over the winter, debris can build up on your deck. Dirt and grime get packed onto the planks. This can surface damage to your deck if it is not removed thoroughly. While you can sweep dirt and dust from the deck, debris can find itself between the planks and in the grooves. In order to get these components out, we recommend using a plastic putty scraper. A metal scraper can cause permanent damage to your deck. However, a plastic scraper is less traumatizing to the deck material.
You will also need to clear the potential mildew and mold that can be forming on your deck from the extensive winter. After all, the snow can prevent proper ventilation and sunlight from reaching your deck. Once you are clearing all the debris and giving it efficient sweeping, it is time to use some cleaner. However, the type of cleaner and techniques that you use can vary depending on your deck.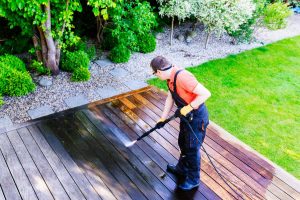 Cleaning or Power Washing Your Deck
getting the initial dirt off of your outdoor space, it is time to wash it down. However, the material used for your deck will affect how you approach this process. While you can use a standard deck cleaner for wood decks, composite and PVC decking is different. For composite decks, you should find a cleaner that is formulated for composite materials. Furthermore, you should not powerwash this type of deck. The power washing process is too rough for a composite deck and can cause damage. Unlike wood, PCV material is easier to clean but lacks some of the preferred attributes of composite decks. You can use general soap and warm water to wash down your PVC deck.
One of the best ways to clean your deck's surface is by using a stiff brush and using a circular motion to get any remaining grime from the grooves. Once you are done rinsing the deck, you should let the outdoor space dry for a couple of days before putting furniture onto the surface. This will also give you time to seal your deck (if you need to).
In some cases, you may want to get your deck inspected first. If you have a wood deck especially, it can be adversely affected by moisture.
Spring Deck Inspection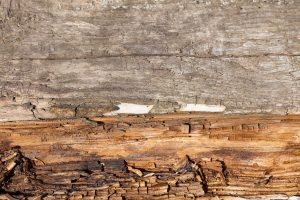 Winter can warp, rot, decay, and crack in your deck due to the weather conditions. The extent of the damage might not be obvious. However, over the years it can cause the lifespan of the deck to dwindle. A wood deck inspection will help you determine if repairing and replacing wood will meet your needs in the years to come. Depending on the age and level of wear, you may want to get a quote for low maintenance Trex deck!
Get a Deck Inspection or Request a Quote on a New Deck!
Posted In: Deck Cleaning, Deck Inspection
Tags: cleaning or power washing your deck, spring deck cleaning, wood deck inspection