Creating Weatherproof Storage Space Under Your Deck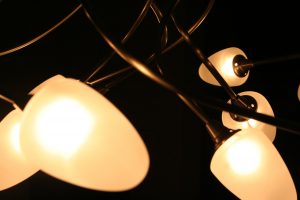 Seasonal decorations are always a fun way to change things up and spice up any living space. But while you're decorating your interior space for the holidays, don't forget your outdoor spaces as well. We're talking about perking up your deck for the holidays, and what better way to do that than with some festive lights!  We offer custom lighting that can brighten up your festivities, and make your deck that much safer. If you would like a more temporary solution, Christmas tree lights and outdoor decorations will make you the envy of the neighborhood.
What to do to with all those decorations once the celebrations are over? We're sure you're running out of space to store all of your holiday decoration and could use some help figuring out new space.
One of the easiest ways to get extra storage space is by utilizing the space you already have. We are talking about the space you may have under your deck. If you have a deck that is high enough off the ground we can turn that old unused space into a weather proof storage area for your seasonal decorations, deck furniture, and any other items your garage doesn't have space for.
We will create the perfect environment for you that will be properly sealed and prepared for those Midwest winters. This includes a drainage system and insulation so you don't have to worry about your items being exposed to the elements. We know that a harsh winter could be on our horizon, so make sure your storage spaces are ready for it.
Contact us today to ask about our storage spaces and find out how you can utilize that unused space for your storage needs!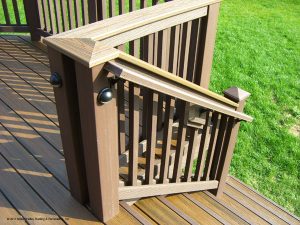 There are many decisions to be made when having a new deck built or even rebuilding or enhancing an old deck.
Adding lighting is a great way to improve your deck. We can put lighting on your steps, rails or posts on your deck. Adding this lighting provides an illuminating glow on your deck, decorative accents and warm highlighting.
Step and rail lighting has many advantages not only is it a great enhancement for looks but is a safety advantage as well. Though the lighting is subtle the lights help people see where they are walking or the railing they are grabbing.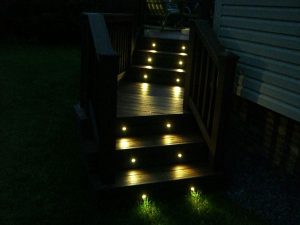 Our Experts in the Metro Detroit area or Chicago, Illinois area can help you decide on the many choices of deck lighting; function, combination, style, size, layout.
Right now we have a great special on our deck railings! Set of 6 free deck rail lights with photo cell/timer with every deck purchased before the 4th of July!
Have you been searching for ideas on sprucing up your plain deck or landscape? There are so many great ideas for whatever style you are going for! Whether you are looking to add lighting to your stairway, structure to your landscape, or flower boxes to your deck, Miles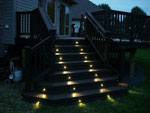 Bradley can help you with all of the decking accessories you may need.
Trellis' or Pergolas are great ideas for adding structure to you space or deck while also serving as a home to your flowers or vines. There are many different pergola or trellis styles that will enhance your deck space.
Another great deck accessory that will enhance your deck space is lighting. Miles Bradley can create custom lighting that will suit your deck perfectly. Whether you would like your entire deck lit up or just your deck's staircase, Miles Bradley can create lighting that will bring out your deck structure and landscaping.
Having  deck built and adding enhancing deck accessories can help to improve your Michigan or Chicago, IL home value. There are many options when it comes to having accessories added to your deck space. Visit Miles Bradley's accessory portfolio for more ideas and photos.
To schedule your deck build, or add deck accessories to your current deck contact and schedule your project with Miles Bradley Building and Remodeling, Inc.  professional deck builders today.