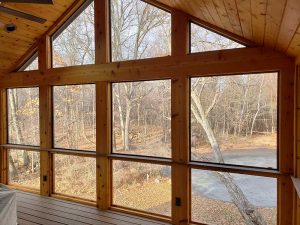 A screened enclosure is a great thing to construct before the Summer arrives. At the beginning of Summer, bugs start to spawn, trees start to pollinate and mess with your allergies, and hot temperatures force you to blast your air conditioning system. In addition, a screened enclosure from Miles Bradley allows for you and your family to be outside with all of the benefits of being indoors! Furthermore, you can avoid the numerous bug species, pesky tree pollen, and even the hot temperatures (by installing a fan in the enclosure)!
Advantages of having a screened enclosure
Summer weather can be unpredictable. When it rains, usually it ruins your plans for outdoor festivities. With an enclosure, you can still enjoy the outdoor activities and festivities with your family while still being protected against the rain or other harsh elements.
Enclosures use up that extra space that you don't really use. Do you have a deck or porch that sits empty for half of the year? With a screened enclosure, you can use the space year-round. You can use the full value of your property all the time!
The enclosures we build are a great fit with your composite deck made from Trex decking. You can have a matching enclosure and deck that would make your house look great!
Enclosures and Decks are all the rage nowadays. Homebuyers look for houses with a screened enclosure and well-made deck so they will not have to add to the cost of buying the house when they add one.
Contact
If you are interested in having a screened enclosure constructed at your home, contact Miles Bradley today! Request a quote for your home and check out our website gallery to see some of our previous projects. So, what are you waiting for? Contact us today!
Posted In: Deck Builders, Enclosures
Tags: enclosure, Screened enclosure, Trex, trex composite decking