Here at Miles Bradley, we strive to provide the best and highest quality service to our clients. We have been committed to giving our clients competitive pricing and the highest quality experience in the industry. For over 25 years we have proven time and time again that we are the best deck builder in Michigan and Illinois, and we have the awards to prove it.
It started back in 1991 when our owner Paige Bradley Wedgle wanted to create a custom deck designing and building company. Over 25 years and countless awards later Miles Bradley has two locations and many happy clients. We made sure that from concept to completion that your deck is perfect. You can see our portfolio or work that we've done over the years, from decks to gazeebos, and three seasons room, we've done it all.
Custom Structures and Patios We Excel At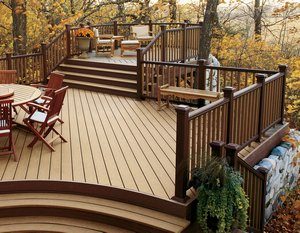 Custom Deck Designs
Whether it's a multi-level deck, wrap around deck, or a hot tub addition, we can build it. There are several examples of how we were able to custom fit and design each deck to suit our client's needs. Our expert team of designers will create a mock-up and give you the deck of your dreams.
Composite Decks
If you want a deck that is low maintenance, easy to clean, and will stand the test of time composite decking is for you.We wanted to provide a lasting solution to deck longevity, which is why we became Trex platinum certified. Trex decking not only has longevity and is easy to clean but its also made from recycled materials and is eco-friendly. Check out more information about Trex decking here.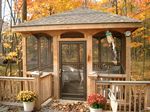 Pergolas, Trellises, and Privacy Walls
If you have a deck, but it's missing a certain.. something we recommend adding a Pergola, Trellis, or privacy wall for added comfort. Not only will you create an ambiance and increase your home's value in the process!
Want to see what else we can do? Check out our online portfolio 
IF you want to be able to enjoy the Michigan summer on your new deck, book your deck installation soon! Our books are wide open during this time of year, so get your date booked today!
Groundhogs day and came and went, and the prediction was bleak. Even though Punxsutawney Phil, the famous groundhog, saw his shadow we won't let that get us down.  Being outside in the cool spring air or the summer sun on a new deck is the only way to enjoy your home. Winter may be in full swing for another 6 weeks but you should start planning for Summer. If you envision BBQs and family time out on a new deck, three seasons room, or pergola, nows the time to book your install date. Hire Miles Bradley now to ensure your summer dreams of a new deck come true!
The great outdoors can be that much better with an outdoor patio, three season room, or pergola addition! Being able to be outside while still being at you home is a luxury and increases your home's resale value. When you add a deck to your home, you're not only increasing the space that you can use in your home, you're also investing in your home.
Why Should I Schedule My Spring Or Summer Deck Installation Now?
The best time to book your deck installation is during the slow periods for deck installers. Since installing decks is seasonal, now is the best time while the ground is frozen. As they say "The early bird gets the worm" and the same is true with scheduling your patio, three seasons room, or pergola installation.
During the winter months, our schedules are wide open and ready for your spring deck installation. Since we book up quickly closer to the spring, now is the best time to get your ideal installation date. In some cases, people who wait too long to schedule their deck install have to wait and miss out on summertime spent outdoors.
So don't wait for Spring before you book your install. Call or contact us today and get your date locked in! Don't say we didn't warn you.
When the leaves change and back-to-school ensues you may have a few home renovations still on your list from the summer. While you may think that fall isn't an ideal time to add "Hire a company to build my deck" to the list, you couldn't be further from the truth! Fall is a great time to have your deck inspected, repaired, or build from the ground up! With the holiday season ramping up, hiring a deck building company in the Metro Chicago and Detroit area will help save your sanity and time this fall.
We here at Miles Bradley have been building decks in the fall (and even the winter) for years!
Installing a deck in the fall is a good alternative to installing a deck in the summer for many reasons. So if you've had to put off your dream deck installation this summer, fret not!
Why Fall is a Great Time to get a Deck Installed:
-Frost Hasn't Set in Yet
Since the ground hasn't quite frozen yet, fall is a great time to install the outdoor deck or patio. Posts can still be put into the ground and a deck can still be built before the frost sets in and the ground becomes hard.
-We're Less Busy!
Summer is our peak season, and we are stretched thin as a business. In the fall the deck building season slows down
-You'll be Able to Enjoy the Fall, Outdoors
Getting out and enjoying the great outdoors from the comfort of your backyard is a gift all it's own. Enjoying the brisk fall nights with
Give the Gift of a Deck For The Holidays!
Why not give your loved one the gift they've always wanted? Putting your down payment on a new Trex deck can ensure that your following spring and summer is going to be spent outside with friends and family!
So why wait to get the deck of your dreams? Contact us today!
October is here, which means Halloween is coming up! Many homeowners get into the Halloween spirit by decorating their home with spooky decorations. Whether you are hosting a Halloween party, or just want to show off your spirit, incorporating your deck into your ideas can add a great touch! Check out some of our great "deck-o-rating" ideas:
Mums and pumpkins up your stairs to your deck. Create a unique design by rotating their pattern! If you have deck lighting, this will even look great at night
Utilize the steps– Using the steps to your deck; add rubber spiders and webbing, but make sure they are safely on the back or sides.
Carved or Painted Pumpkins-  There are many creative ways to use pumpkins as decoration. You can drill holes in special patterns and add a candle to shine through, or if you have a squirrel problem, painting may be your best option! This is also a great way to get the kids involved in the decorating process!
Spooky Skeletons- If you are looking to add a little fear factor to your deck during the Halloween season, you can purchase plastic skeletons that can be maneuvered however you like. Bend the joints of the skeleton to make them look as if they are climbing up your deck or onto your home. You can add fog, lights, or gravestones to enhance the look even more!
These are just a few of our ideas on how to decorate your deck for Halloween. We have shared much more DIY inspired ideas for patios, porches, or decks on our Pinterest page. Be sure to check them out and share some of your favorites!
We would love to see what you have come up with this year! Be sure to share your Halloween inspired decorations on our Facebook page!
Fall Deck Building in Michigan
Fall is a great time to have a deck built in Michigan. Because temperatures are dropping and building conditions aren't so "perfect," you can save tons of money on your build! With the demand lower in the fall or winter months, you can save nearly 20% with an offseason build, talk to our professional deck builders today for more information!
Miles Bradley Building  is participating in deck safety awareness all throughout the month of May in Michigan. With all the storms that have been rolling through, you never know if you deck has sustained any damage from falling debris or regular wear and tear. Letting your old wooden unsealed deck rot doesn't make your time outside enjoyable or safe.
This point especially rings true for all the DIYers out there who may have missed a step or safety code when building their deck. Getting a professional deck inspection will not only give you peace of mind but will ensure that your investment will pay off in the long run. We encourage everyone to get their old deck regularly inspected by a licensed professional to ensure that they are safe and up to code.
Over the years, code requirements for decks have changed. Older decks may not be built to adhere today's code requirements and can cause a safety hazard. One example of an overlooked Some older decks were not built using the correct deck tension hardware which can cause ledger failures.
Code requirements were established to protect the consumer and any future buyers of the consumer's. Repairing an old wooden deck can be costly, and in some cases replacing a deck may be the only option. That's why getting an inspection can help you catch any problems before they start.
Schedule Your Michigan Deck Inspection
As a supporter of NADRA or the North America Deck and Railing Association, we are highly qualified deck builders that can provide a deck inspection for you.  Miles Bradley has the training, expertise, and special knowledge to provide deck inspections and repair your damaged deck. We can help repair and replace your old deck with new composite deck materials that can stand the test of time.  All decks that we construct are up to code and will pass any inspection with flying colors.
Contact us now or get a free quote on your next professional deck inspection!