Schedule your Spring or Summer deck installation now! Groundhogs day and came and went, and the prediction was bleak. Even though Punxsutawney Phil, the famous groundhog, saw his shadow we won't let that get us down. Being outside in the cool spring air or the summer sun on a new deck is the only way to enjoy your home. Winter may be in full swing for another 6 weeks but you should start planning for Summer. If you envision BBQs and family time out on a new deck, three seasons room, or pergola, now is the time to book your install date. You won't have to wish for a beautiful deck for your Summer party because you can have it ready before the hottest season starts! Hire Miles Bradley now to ensure your summer dreams of a new deck come true!
The great outdoors can be that much better with an outdoor patio, three-season room, or pergola addition! Being able to be outside while still being at your home is a luxury and increases your home's resale value. When you add a deck to your home, you're not only increasing the space that you can use in your home, but you're also investing in your home. Miles Bradley has the ability to your deck in time and within your budget! Large deck? Small Deck? Single or multi-level? No problem! The deck of your dreams is one call away.
Why Should I Schedule My Spring Or Summer Deck Installation Now?
The best time to book your deck installation is during the slow periods for deck installers. Since installing decks is seasonal, now is the best time while the ground is frozen. As they say "The early bird gets the worm" and the same is true with scheduling your patio, three seasons room, or pergola installation. If you want the best installation times, you should be booking your appointment now!
During the winter months, our schedules are wide open and ready for your spring deck installation. Since we book up quickly closer to the spring, now is the best time to get your ideal installation date. In some cases, people who wait too long to schedule their deck install have to wait and miss out on summertime spent outdoors.
So don't wait for Spring before you book your installation. Call or contact us today and get your date locked in! Don't say we didn't warn you.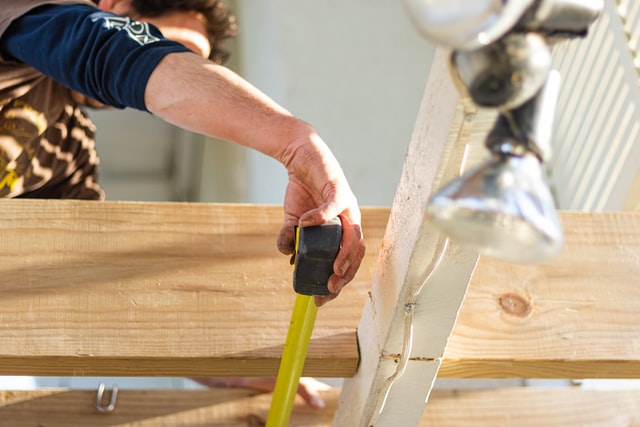 What to look for in a professional deck builder? It is an important question to ask. After all, you need someone to be prepared and capable of getting the job done. There are a variety of different deck-building companies out there. However, some of these companies could be complete duds. So, how can you distinguish which one is a true professional deck builder? Here are a few qualities that you should be looking for.
---
Proof of License and Insurance
License and insurance are required and vital to start building. A Contractor's license proves that your contractor holds liability for the project being up to code and the safety of workers. Hiring an unlicensed is just asking for trouble. If your contract is not licensed, you can not legally enforce a contractor without a license. If something happens during the project, such as damage to your house and or a worker gets hurt, you hold all liability. Furthermore, if they do not build it code, you will be responsible for bringing it to code at additional cost. If a contractor is unable to show their license, do not hire them.
This includes if they refuse to show their insurance. There is multiple types of insurance that contractors should have. First of all, they should have worker compensation insurance. This type of insurance covers workers who get an injury on the job. While homeowners might not think it's their problem, they will be if there is no worker comp. Also, they should have general liability insurance. General liability covers damage that may occur during the project. Without it, any possible damages to other property will become your financial responsibility. In addition, general liability protects you from lawsuits for damages. It also gives you the policy to collect on if you are injured.
---
A Good Track Record
While you are sorting through builders, you should look at their track record. If you go on their website, do they complete projects on there? While looking through reviews, are they scathing or glowing? These are important things to consider. After all, you don't want to hire a company that has more negative reviews than positive ones. Furthermore, you should see if the company has testimonials. People who have a positive experience with a company typically will agree to tell their story. No testimonials might be a clear indication that most people were not satisfied.
---
Experience
Without a doubt, this is one of the important qualities you should be looking for. Experience matters. If you have to choose between an experienced or an inexperienced contractor, always choose the one with experience. When someone has been working in a field for an extended period of time, they gain skill and knowledge. An experienced contractor, they would be able to foresee potential issues with the project and make adjustments to avoid them. They will know the best ways to put your deck together that could make your project even better. Professionals with experience also are upfront about estimates and try to make them as accurate as possible.
---
Communication Skills
Communication is key. After all, it is the foundation where all relationships start. This is why this is a fundamental quality to look for. Does your contractor not return calls to answer questions? Are they avoid giving you cost and payment conditions? Is the contractor not being transparent about the end date? If you said yes to any of these then you should look for a new contractor. When looking for a contractor, you want someone who will return your calls, be clear with the cost and payment conditions, and be transparent about when the project will end. Do not settle for anything less. If the starting communication is bad then it will only get worse during the project. And you don't want them messing up on your deck.
---
Knowledge of Your Project
When it comes to your project, knowledge is everything. Your contractor/builder needs to understand what you want. Although you could have a clear idea of what you want, a professional can always give feedback and suggestions that can improve your project. They could even recommend add-ons that can improve the quality of life of your new deck.
---
Hire A Professional Deck Builder at Miles Bradley
All these qualities are what to look for in a professional deck builder. Question is, where can you find a professional that embodies all these traits? Well, look no further because Miles Bradley has all these qualities and more! For 20 years, Miles Bradley has been providing high-quality in deck building, enclosures/gazebos,trellises, and custom deck designs. Miles Bradley has an amazing track record with testimonials to prove it. We have a nationwide reputation for being experts in low-maintenance decks and building materials.
Spring and Summer are the main seasons for deck building in Michigan and Illinois. During this season, we get many questions asking about the cost of a new deck. There are many deck-building companies out there but few can compete with the high-quality workmanship, materials, and knowledge that Miles Bradley provides. We will tell you all you need to know about the procedures and costs of getting a new deck built for your home. Our offices are located near Detroit and Chicago, serving both metro areas. It should be noted that cost can vary for different types of materials. The ranges below reflect the current year's prices, but will undoubtedly change year to year.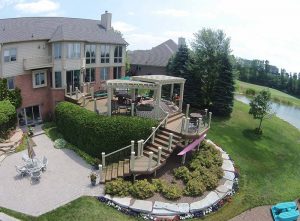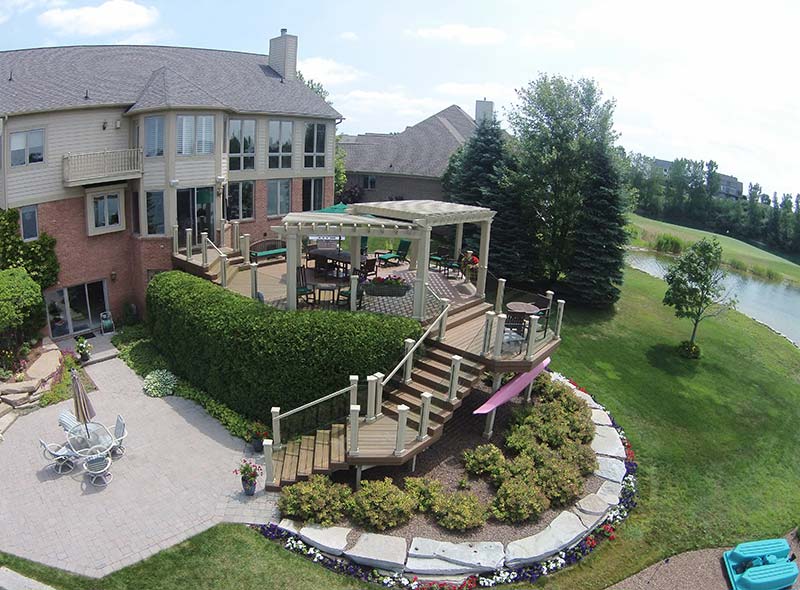 Miles Bradley cost guideline for a typical new custom deck construction.
The average deck is around 300-400 square feet.
A pressure-treated wood deck can cost around $15,000-$18,000 depending on how it is constructed.
Cedar decks can cost between $20,000 and $25,000 depending on the specs of the deck.
Composite decks can cost between $20,000 and $25,000. Despite the price, these decks are the best value. They are built to brave the elements so forget warping, weathering, and damage by insects. Check out our Trex Low Maintenance Composite Decks, there is no need to paint, seal, or stain.
Deck cost pricing includes; permits from the city, clean up, labor, material, warranty, and some beautiful rail lighting. (We add in to thank you for your business!)
The prices above are for complete deck construction. Your custom deck will vary within the pricing. Contact us for pricing on building a new deck for your home.
Custom Deck features can increase deck building cost;
Your options are endless! Keep in mind custom features such as curved rails, steel frames, spiral staircases, radius decks, and custom decking patterns can increase costs. Right now is the perfect time to have Miles Bradley help design and build your custom deck. Call our Detroit Michigan office: 248-478-8660 or our Chicago Illinois office: 847-920-7601 for new deck-building costs in your area.
Updated March 2021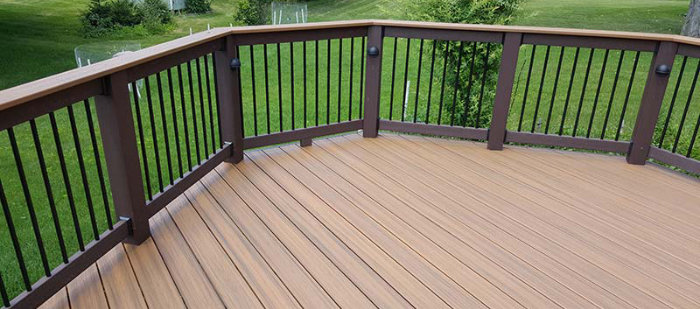 The best composite deck builder in Michigan or Illinois is Miles Bradley Building and Remodeling.  In addition, Mile Bradley has been installing composite decks for over three decades. As a certified Trex contractor, Miles Bradley can build your new deck to look exactly how you wanted it. Adding a deck to your home is always a great idea. It will add to the curb appeal and overall value of your home.
Trex Composite Deck Building
We always highly recommend Trex or another composite decking.  Of course, we do also install wood decks as well, but composite decks have some distinct over wood. One great advantage Trex decking has is its durability.  Trex decking can resist fading, scratching, staining, and mold that wood decks experience. Another advantage is the low maintenance to maintain a Trex deck. Wood decks require sanding or painting, while a Trex deck does not.
Sustainability is a big part of a composite deck. Composite decks have less of an environmental impact than a more traditional wood deck. Composite decking is made from recycled materials to create the decking. Aesthetics is also another advantage. Composite decks will give you a large choice of colors to choose from. With rich colors and nice accessories, composite decking is always a great choice. Finally, value is an advantage.
With next to no ongoing maintenance and easy to maintain, the price of the composite deck pays for itself in ten years. As you can see there are quite a few advantages for low-maintenance composite decks. Hire an experienced and highly recommended deck builder in Miles Bradley Building and Remodeling. Miles Bradley services all of Michigan and Illinois and can have your deck up and installed before you know it.
Contact us today for more information about your new composite deck or give us a call at 248-478-8660.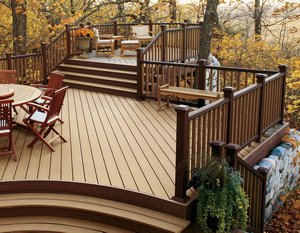 Over time, the decking industry has made drastic improvements to materials used to create your dream deck. Trex or Timbertech is a very popular composite deck company. Also, manufacturing composite decking materials that give homeowners the wood look they want, yet easy maintenance and longevity. As time continues to pass, composite decking continues to transform and other composite decking manufacturers are being introduced.
If you are planning on having your dream deck constructed out of low-maintenance composite decking materials, Trex or Timbertech both supply high-quality decking materials and have very similar collections for you to choose from. So what is the difference between the two? Which should you choose? Looking for tips on maintaining your Trex deck? Click here.
Timbertech or Trex
The decision on when to choose Trex composite decking or Timbertech composite decking is completely up to you. As far as the product goes, they are very similar and both offer the same low maintenance aspect that everyone is searching for. You may realize that your decision on which company to select may come down to texture, color, or customization you wish for your deck or landscaping project to have.
When searching for a Timbertech installer, look no further than Miles Bradley!
Miles Bradley Building has been installing composite decks for decades. Our experienced staff can help find exactly what you are looking for. At Miles Bradley, we construct your low-maintenance dream deck with the highest quality Trex or Timbertech composite decking materials. Our decking professionals will review your deck plans and help you determine whether Timbertech or Trex composite decking is right for you. Finally, contact our professional deck builders today so we can get started.
View Trex Composite Decking Collections