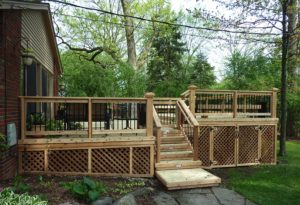 With winter on the horizon, many people will begin to put away their deck furniture if they haven't already. You may be wondering what you are going to do with it or where you are going to put all of your outdoor equipment. Many people are unaware that the under-deck area or dry space can actually be very useful if finished properly!
Under Deck Storage
Patios and decks add a lot of outdoor space, allowing you to expand your living space. However, people forget about the space underneath the deck. The under deck provides a great opportunity to add to your storage options. After all, hauling all your patio furniture and decorations to the garage is not ideal. It is a lot easier just to move these big items into a dry space under your deck.
However, you can put anything into this storage area. Need easier access to winter tools? Put your snowblower or shovel into the under-deck! If you have kids, you can keep your backyard clean and clear of toys by having them stored on the deck when you are done. Having additional storage space is always a bonus but some people are concerned what they store will be susceptible to water damage, bugs, or critters. That is why people need to hire professional construction companies like Miles Bradley!
Under Deck Construction
Miles Bradley Building and Remodeling will ensure your under-deck storage space has a proper seal, drainage system, and insulation leaving no room for damage to your stored items. However, if you don't want an under deck, why not add a dry space? If you don't need the additional storage, you can expand your living space even more with dry space underneath your deck.
During the Holiday season, Miles Bradley Building and Remodeling is offering specials to those who wish to get their decks built during the month of December.
Whether you are living in Detroit, Michigan, or Chicago, IL, Miles Bradley is here to make your deck or dry space beautiful!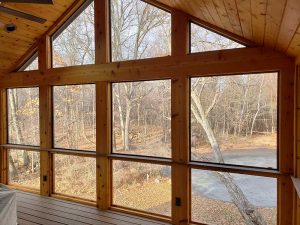 A screened enclosure is a great thing to construct before the Summer arrives. At the beginning of Summer, bugs start to spawn, trees start to pollinate and mess with your allergies, and hot temperatures force you to blast your air conditioning system. In addition, a screened enclosure from Miles Bradley allows for you and your family to be outside with all of the benefits of being indoors! Furthermore, you can avoid the numerous bug species, pesky tree pollen, and even the hot temperatures (by installing a fan in the enclosure)!
Advantages of having a screened enclosure
Summer weather can be unpredictable. When it rains, usually it ruins your plans for outdoor festivities. With an enclosure, you can still enjoy the outdoor activities and festivities with your family while still being protected against the rain or other harsh elements.
Enclosures use up that extra space that you don't really use. Do you have a deck or porch that sits empty for half of the year? With a screened enclosure, you can use the space year-round. You can use the full value of your property all the time!
The enclosures we build are a great fit with your composite deck made from Trex decking. You can have a matching enclosure and deck that would make your house look great!
Enclosures and Decks are all the rage nowadays. Homebuyers look for houses with a screened enclosure and well-made deck so they will not have to add to the cost of buying the house when they add one.
Contact
If you are interested in having a screened enclosure constructed at your home, contact Miles Bradley today! Request a quote for your home and check out our website gallery to see some of our previous projects. So, what are you waiting for? Contact us today!
Did you spend your summer wishing you had a better seating area outside your home? Imagine sitting outside and not having to run indoors when the rain started to fall or a chill takes over the air. Having a screened enclosure or 3 season rooms will not only increase the value of your home but offer covered seating all year long, or for at least three seasons. It's something for all your family and friends to enjoy.
There are two common types; covered and enclosed seating in Michigan. Homeowners in Plymouth or Novi are adding 3 season rooms or screened enclosures throughout the year. Did you know that you can save big on the construction cost of a screened enclosure or three-season room during the off-season? Check out our current specials for more incentives!
3 Season Rooms or Screened Enclosures
Determining whether you want a 3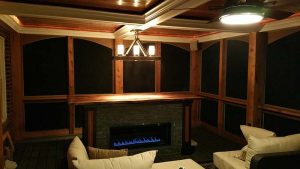 season room or a screened enclosure is based on your needs and preferences. A screened enclosure is just that, an enclosure that is screened in. The screens allow for airflow and lighting throughout the seating area. A 3 season room is very similar, although instead of screens, there are windows. Some homeowners opt into convertible screened enclosures. This allows for a screened enclosure to be converted to a 3 season sunroom during the cooler months.
With any type of enclosed seating, whether 3 season room or screened enclosure, you can have full customization to fit your needs and desires. Many homeowners choose to have custom lighting, TVs, or custom rail lighting installed. Your contractor will discuss all available customization options with you to make sure your enclosed seating space is just how you would like it. View our 3 season rooms board on Pinterest!
Miles Bradley has been constructing screened enclosures and 3-season rooms in Plymouth or Novi for years. If you need help determining which type of room is right for you, speak to one of our professionals today. Contact us today to find out just how much you can save with off-season building!
Custom Enclosure Builder Wixom, Novi, Commerce Twp, South Lyon, Orchard Lake
Here at Miles Bradley, we're more than just a great deck builder! We can also build your dream 3 season room, screened-in porches, or custom pergola in the Metro Detroit area. Check out these local custom enclosure projects built by Miles Bradley.
Location: Wixom, MI
You can see this custom-made 3 seasons room was just the touch this house needs to be able to enjoy Michigan's seasons while in the comfort of their own home. Finished off with cedar and T&G trim that made this custom order have the warm finishing touches it needed.
Final Price: $30,000
---
Location: Novi, MI
This three-season addition has taken the indoor/outdoor room to the next level. They added a gas-fired fireplace and an indoor bar to entertain guests in style. They added coffered ceilings, lights, and fans to make their porch into the main place to be in any of the seasons!
Final Price $38,000
Trex Deck Builder
---
Location: Orchard Lake, MI.
This little walk-out deck was just what this house needed to finish off its stone patio. You can see how the bent glass rail compliments the house and the stone patio. The customer wanted a low-maintenance Trex deck composite deck so they wouldn't have to worry about regular maintenance on their deck. The Trex Transcend decks are made for customers who want a deck that won't succumb to the wear and tear that our Michigan seasons can produce. Read more about them here.
Final Price: $20,000
---
Location: South Lyon, MI
The property owners of this walkout level screened-in porch had a view, and they wanted this addition to compliment it. We were able to add on the multi-level deck with the Trex Transcend Deck system with rail steps so they didn't have to worry about cleaning or fading. This deck created space to be in the winter and space outside for the warmer months. We loved it!
Final Price: $50,000
---
Location: Commerce, MI
We do more than just decks! Here you can see an elegant cedar timber pergola with round columns that we built for this client in Commerce Michigan. We wanted to upgrade their outdoor experience and give them the best service in the process.
Final Price: $10,000
So if you want to create the deck of your dreams let us help!
'Tis The Season!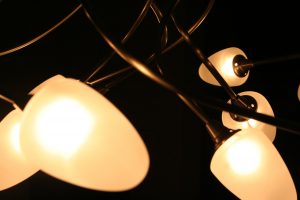 Seasonal decorations are always a fun way to change things up and spice up any living space. But while you're decorating your interior space for the holidays, don't forget your outdoor spaces as well. We're talking about perking up your deck for the holidays, and what better way to do that than with some festive lights!  We offer custom deck lighting that can brighten up your festivities, and make your deck that much safer. If you would like a more temporary solution, Christmas tree lights and outdoor decorations will make you the envy of the neighborhood.
What to do with all those decorations once the celebrations are over? Well,  it's very easy to run out of space to store all of your holiday decorations. Miles Bradley has an idea for the perfect place for getting new space!
Under Your Deck Dry Space for Storage
One of the easiest ways to get extra storage space is by utilizing the space you already have. We are talking about the space you may have under your deck. If you have a deck that is high enough off the ground we can turn that old unused space into a weatherproof storage area for your seasonal decorations, deck furniture, and any other items your garage doesn't have space for.
We will create the perfect under deck dry space for you that will be properly sealed and prepared for those Midwest winters. This includes a drainage system and insulation so you don't have to worry about your items being exposed to the elements. We know that a harsh winter could be on our horizon, so make sure your storage spaces are ready for it.
Contact us today to ask about our storage spaces and find out how you can utilize that unused space for your storage needs!