As spring soon transitions to summer, bugs including mosquito's are beginning to come out more than ever. Now is the perfect time to enhance your deck by adding a screened enclosure! This is the season where everyone is outside either barbecuing, swimming, or spending time with their family and friends. Having a screened enclosure, adds a bit of uniqueness to your beautiful backyard in the daytime and at night.
Enclosures That Keep Mosquitoes Out
Owning a screened enclosure gives your home a new look altogether. It ensures the safety of your children and pets, allows you to change an area into a relaxation, party, or playroom, and adds a lot of usable space to your backyard.  Because screened enclosures act as a barrier, it also protects you and your loved ones from mosquitoes and other insects that seem to become a hassle when the weather warms up.
Screened enclosures provide you and your family a great way to enjoy the outdoors without the bugs. Also, it can provide shade and a great area to eat while enjoying the weather. At Miles Bradley, we specialize in decks and screened enclosures. Furthermore, we can build an outdoor area you have always wanted quickly and affordable. Rest assured we build all year long. So if you cannot have your addition built in the summer, we can do it in the fall and winter as well.
If you're interested in having a screened enclosure built right outside of your home, Miles Bradley is more than happy to be an aid for you. Finally, we specialize in building screened enclosures. So don't wait any longer; now is the time to have it installed. Let us help you keep mosquitoes out with a screened enclosure or composite deck, so you can enjoy the beauty of nature.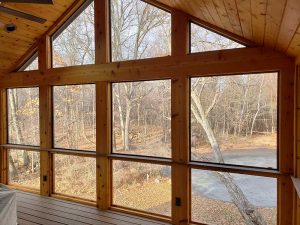 A screened enclosure is a great thing to construct before the Summer arrives. At the beginning of Summer, bugs start to spawn, trees start to pollinate and mess with your allergies, and hot temperatures force you to blast your air conditioning system. In addition, a screened enclosure from Miles Bradley allows for you and your family to be outside with all of the benefits of being indoors! Furthermore, you can avoid the numerous bug species, pesky tree pollen, and even the hot temperatures (by installing a fan in the enclosure)!
Advantages of having a screened enclosure
Summer weather can be unpredictable. When it rains, usually it ruins your plans for outdoor festivities. With an enclosure, you can still enjoy the outdoor activities and festivities with your family while still being protected against the rain or other harsh elements.
Enclosures use up that extra space that you don't really use. Do you have a deck or porch that sits empty for half of the year? With a screened enclosure, you can use the space year-round. You can use the full value of your property all the time!
The enclosures we build are a great fit with your composite deck made from Trex decking. You can have a matching enclosure and deck that would make your house look great!
Enclosures and Decks are all the rage nowadays. Homebuyers look for houses with a screened enclosure and well-made deck so they will not have to add to the cost of buying the house when they add one.
Contact
If you are interested in having a screened enclosure constructed at your home, contact Miles Bradley today! Request a quote for your home and check out our website gallery to see some of our previous projects. So, what are you waiting for? Contact us today!