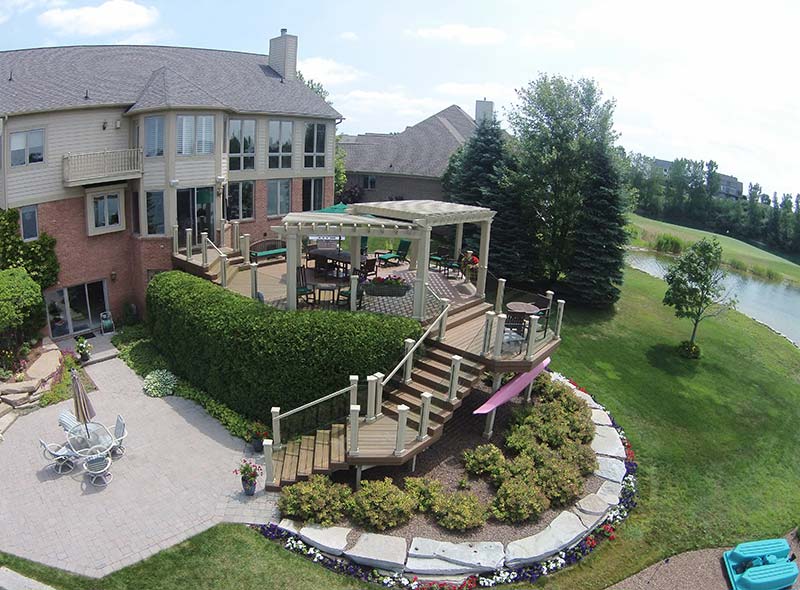 Are you looking for a deck builder near you in Farmington Hills? Here at Miles Bradley, we build composite decks in Farmington Hills. While they are stable and dependable, they are also unmatched in beauty. With decades of experience and customer satisfaction, we are there to help you make the custom deck of your dreams.

Farmington Hills is a beautiful and prosperous Michigan city. The schools are top-of-the-line and the area is shrouded in wealth. The beautiful houses should be accompanied by beautiful custom decks! A nice deck can make or break your home, so why not aim for the best?
Why a Composite Deck?

Unlike a wood deck which shows its age over the years, low-maintenance composite decks are built to last. Composite decks are made from Trex materials that can withstand harsh Michigan weather patterns. That is why more and more homeowners are seeing benefits of low-maintenance composite decks. They maintain their beauty for a longer amount of time and by requiring little-to-no maintenance, they are practical for anyone. Furthermore, there are several advantages to having a composite deck.
The deck boards are made from recycled materials so you will not have to worry about killing trees in order to get new wood.
Composite decking is designed to resist scratching, fading, staining and mold. Also, unlike wood, composite decks are insect proof so you have no threat of infestation or material damage.
At first, a composite deck will be higher of a cost but in the long run with way less maintenance and a longer durability, you will save money.
Contact
If you are interested in building a new composite deck, contact Miles Bradley right away! We treat your home like it is our own, the care only expected of family. The best place to go to for a new deck is here with our decades of experience and customer satisfaction. Finally, request a quote from us today!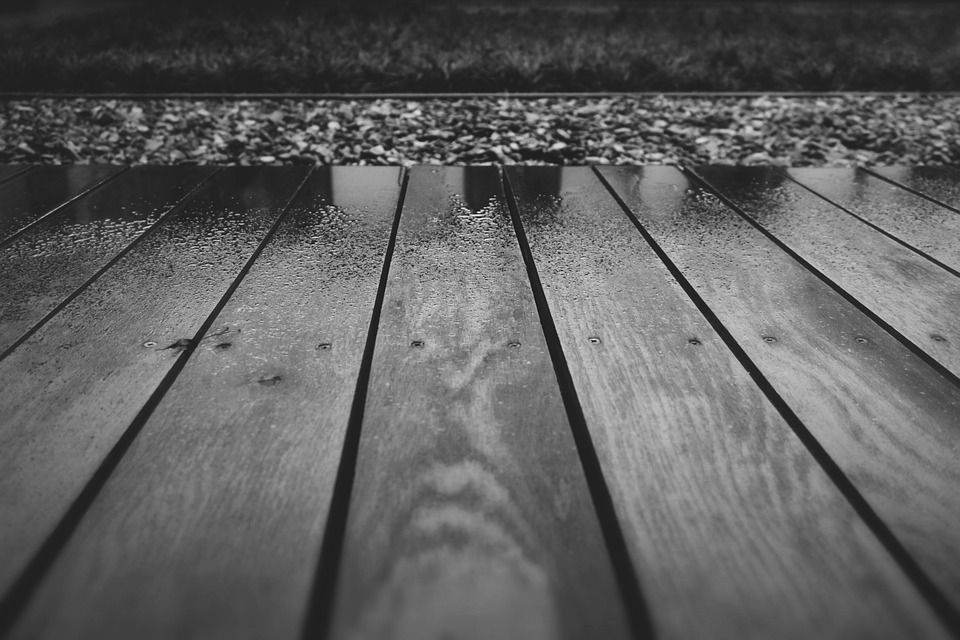 The months of January and February can be rough, weather wise. When deciding on a new deck for your home, there are a number of things to keep in mind. Whether if you are looking to have a small, large, single or multi-level deck…the possibilities are endless. As the weather begins to change, preparing and ensuring that your home and new deck will be ready for the snow and ice should be your number one priority, in regards to winter maintenance. If you are looking to invest in a new deck in Michigan, what better time to start saving than a time such as this?
How to Save For Your Dream Deck In The New Year
Depending on your deck's size and style will determine the cost that it takes to build your deck. Planning out your deck's cost in advance will not only keep the total price under control, but it will also help you build the deck of your dreams without destroying your budget. Here are some ways to help reduce the cost of your new deck:
Time it right: it's pretty common for people to get their deck installed in the warmer months. If you schedule your installation between the months of November and March, there's a greater chance that the rates will be a lot cheaper.
Carefully choose your wood: wood decks typically require annual maintenance, however, if you invest in a composite deck or pressure-treated wood, you will be saving time and money in the long run.
Keep it simple: by simply eliminating fancy designs, curves and other features will help to reduce cost. Using things like footings and pre-made concrete piers can help, too.
Certified Deck Contractor in Michigan
If you are looking for a certified decking contractor in Michigan to install your new deck this season, contact Miles Bradley. As our customer, we promise to provide you with exceptional workmanship and product. Finally, fill out our quote today to start planning the deck of your dreams!
If you've never experienced the luxury and bougieness of a pergola, you're missing out! Pergolas are a beautiful way to increase your outdoor living space. In addition to beautiful design, they also provide a shady garden feature to walkways, decks, or outdoor sitting areas.
While we may highlight the practical uses, adding a pergola to your home will increase your home's resale value in the long run. If you're unsure of what a pergola is, let us explain them. Pergolas are known by their vertical pillars that support either cross beams or open lattice. The most common sight on a Pergola is climbing vines, hanging lights, or curtains, all of which make the pergola stand out and look beautiful. 
Why should I get a pergola?
Pergolas are wonderful because not only do they enhance your outdoor space, but they are also functional as well. They add an extra usable space on your deck or garden that can provide a layer of shade between you and the hot summer sun. If your Pergola is big enough, entertaining your guests in a cozy and warm environment will make your next dinner party feel fabulous. Being able to lounge under the shade on your porch or back deck is a wonderful feeling. In addition to letting you be outside longer and more comfortably, pergolas add more to your home's value as well.
Pergola Vs.Gazebo Vs. Arbor vs. Trellis Vs. Lattice
Pergola Vs. Gazebo
The biggest difference between a gazebo and a pergola is that gazebos are almost always shaped like an octagon with a roof over top. Pergolas do not have covered roofs and are generally square with exposed beams.  
Pergola Vs. a Trellis
A Trellis is different from a pergola in that it consists of latticework that is attached to a structure for vines to climb on. Whereas a pergola has larger columns and (most popularly) have horizontal planks of wood on top.
Pergola Vs. Arbor
Arbors are small archways that can be used for climbing plants to use as lattice as they grow. While pergolas and arbors both have the same vine climbing feature, pergolas are much biggest and more structurally sound.
No matter what kind of structure you're looking for in your backyard Miles Bradley can help! We have been building pergolas, gazebos, and trellises for our clients in South East Michigan for over 25 years. We've had clients from Brighton, Livonia, to Farmington Hills and Southfield. So why wait? Get a free quote on your next project today!
Miles Bradley Building  is participating in deck safety awareness all throughout the month of May in Michigan. With all the storms that have been rolling through, you never know if you deck has sustained any damage from falling debris or regular wear and tear. Letting your old wooden unsealed deck rot doesn't make your time outside enjoyable or safe.
This point especially rings true for all the DIYers out there who may have missed a step or safety code when building their deck. Getting a professional deck inspection will not only give you peace of mind but will ensure that your investment will pay off in the long run. We encourage everyone to get their old deck regularly inspected by a licensed professional to ensure that they are safe and up to code.
Over the years, code requirements for decks have changed. Older decks may not be built to adhere today's code requirements and can cause a safety hazard. One example of an overlooked Some older decks were not built using the correct deck tension hardware which can cause ledger failures.
Code requirements were established to protect the consumer and any future buyers of the consumer's. Repairing an old wooden deck can be costly, and in some cases replacing a deck may be the only option. That's why getting an inspection can help you catch any problems before they start.
Schedule Your Michigan Deck Inspection
As a supporter of NADRA or the North America Deck and Railing Association, we are highly qualified deck builders that can provide a deck inspection for you.  Miles Bradley has the training, expertise, and special knowledge to provide deck inspections and repair your damaged deck. We can help repair and replace your old deck with new composite deck materials that can stand the test of time.  All decks that we construct are up to code and will pass any inspection with flying colors.
Contact us now or get a free quote on your next professional deck inspection!

Trex Deck Builders Wixom, Novi, Commerce Twp, South Lyon, Orchard Lake
Here at Miles Bradley, we're more than just a great deck builder! We can also build your dream 3 season room, patio, or custom pergola in the Metro Detroit area. Check out these local custom project built by Miles Bradley.
Location: Wixom, MI
You can see this custom made 3 seasons room was just the touch this house need to be able to enjoy Michigan's seasons while in the comfort of their own home. Finished off with cedar and T&G trim that made this custom order have the warm finishing touches it needed.
Final Price: $30,000
---
Location: Novi, MI
This three season addition has taken the indoor/outdoor room to the next level. They added a gas fired fireplace and an indoor bar to entertain guests in style. They added coffered ceilings, lights, and fans to make their porch into the main place to be in any of the seasons!
Final Price $38,000
---
Location: Orchard Lake, MI.
This little walk out deck was just what this house needed to finish off their stone patio. You can see how the bent glass rail compliments the house and the stone patio. They wanted a low maintenance Trex deck so they wouldn't have to worry about regular maintenance on their deck. The Trex Transcend decks are made for customers who want a deck that won't succumb to the wear and tear that our Michigan seasons can produce. Read more about them here.
Final Price: $20,000
---
Location: South Lyon, MI
The property owners of this walkout level screened in porch had a view, and they wanted this addition to compliment it. We were able to add on the multi-level deck with the Trex Transcend Deck system with rail steps so they didn't have to worry about cleaning or fading. This deck created space to be in the winter and space outside for the warmer months. We loved it!
Final Price: $50,000
---
Location: Commerce, MI
We do more than just decks! Here you can see an elegant cedar timber pergola with round columns that we built for this client in Commerce Michigan. We wanted to upgrade their outdoor experience and give them the best service in the process.
Final Price: $10,000
So if you want to create the deck of your dreams let us help!