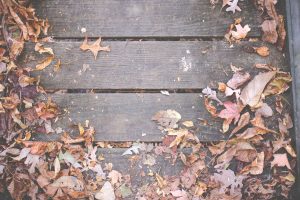 Keeping your deck clean in the fall can be a challenge. A change of seasons leads to new deck problems for you to solve. Especially in Autumn. Leaves are falling, covering your deck. Dirt and grime can build up faster. As a result, your deck needs some fall cleaning care before the first snow and ice arrive.
---
Grime and Dirt
Fall is a beautiful season, especially in Michigan. The leaves transition from green to shades of red, orange, and yellow. The fluttering of these leaves as they fall to the ground. It is a wonderful site to watch as children enjoy playing in leaf piles. However, this beauty can be an annoyance for your deck. First of all, they can quickly cover your deck. Because of how frail leaves are, they can break apart easily. As a result, broken leaves can make clean-up harder. Furthermore, rain can makes these leaves cling to your deck and create slipping hazards.
Another issue is dirt and grime. Wet leaves and broken leaves can cause dirt and grime. However, the leaves are not the only source. Build up from the summer activities could still remain. Grease stains, leaf stains, mold/mildew, and water spots. All of these and more can be causing your deck to look grimy. In conclusion, your deck needs to be cleaned.
Keeping Your Deck Clean
But what can you do to keep your deck clean this fall? Well, there are a few things you can do. First of all, you should use a leaf blower. A leaf blower can remove leaves and loose dirt from your deck. In addition, cleaning off this dirt between your deck boards can lead to better drainage during the winter and spring. This will prevent melting snow from sitting on your deck and prevent deterioration. After that, you should power wash your deck. A power wash can help get dirt grains that can embed themselves in your wood grain. This leads to an overall deeper clean.
Another thing is to put your patio furniture away. Although you have some time, putting your furniture away can prevent problems in the future. Leaving your patio furniture outside during cleaning or until first snow can lead to rust stains and growth on your furniture and deck.
Decks at Miles Bradley
Whether you need a composite or wood deck, Miles Bradley can help you get a new deck installed this fall. Our professionals can construct the perfect deck before snowfalls. In addition, Miles Bradley has additional products that can enhance your backyard and deck! Don't need a new deck? Fall is the perfect time to get your deck inspected! A deck inspection can help identify any maintenance that you need to be done before it becomes winter. Regardless, Miles Bradley can help you will all your deck needs this fall.
Posted In: Deck Cleaning