Does your home need a new deck or maybe just some deck modifications? Now is the time! We have many solutions from building a new deck to rebuilding your old deck.
Some decks can be rebuilt using your existing understructure (the existing structure that your deck was built on top of). If the understructure on your current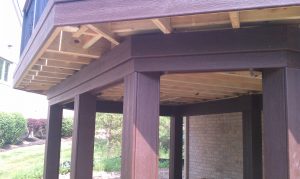 deck is in good shape we can remove the worn-out decking and railing, and build the new deck on the existing understructure. We replace it with a new, low-maintenance railing and decking saving you lots of money over building a brand new deck.
We service all of Michigan, the Detroit Metro area, and the Chicago Land area. We will come to your home for an estimate and see if your deck is a candidate for a rebuild on your existing understructure. When we rebuild a deck we rip out your old cedar deck and we install a low maintenance deck using Trek low maintenance material.
Also using the existing understructure we can rebuild and probably make modifications like creating an under deck dry space as part of the new design for the deck.  You can go bigger or smaller; whatever you want to suit your style and home. Call us today so we can figure out the best option for your deck!
Posted In: Deck Materials, Deck Rebuild, Deck understructure, Decks, Under Deck Dry Space
Tags: deck modifications, deck rebuild, deck understructure, rebuild deck understructure, trek low maintenance decking