The recent Michigan snowfall has stirred up concerns for new deck owners on how to properly maintain their deck during the winter months. We often get questions about removing the snow on your deck in the winter. As your trusted deck building company, we are happy to address any concerns that you may have about maintaining your deck in the winter.
Should I remove the snow from my winter deck? 
You do not have to remove the snow from the deck. Also, we only recommend that you clear a path if the deck is connected to your house to avoid accidents.
Will my deck collapse if I don't remove the snow from it?
Your deck will not collapse from the added weight from the snow. Miles Bradley builds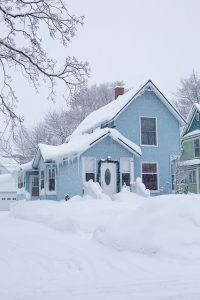 high-quality low maintenance decks that are built to withstand the Michigan winter. When you mix Trex decking with our great workmanship, you get a strong deck that can handle the weight from people, furniture, or snow.
Will I mess up the deck by shoveling it?
If you plan to shovel the snow off of your deck, we recommend that you use a rubber shovel. Metal shovels can possibly scratch up your deck. When shoveling, we also recommend that you use one big stroke and run the shovel down the length of the boards.
What products are recommended to remove snow and ice?
To remove snow and ice, we recommend that you use rock salt or calcium chloride.
Finally, thanks for being a valued customer of Miles Bradley. We look forward to another great year with you. If you are in need of deck repairs or a new deck this fall or winter call 248-478-8660. In addition, you can request a quote right now!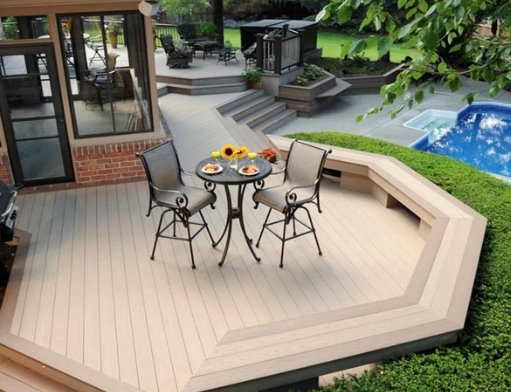 Azek Building Products offers a large variety of products such as decking, railings, moulding, lighting and much more.  In addition, they offer TimberTech brand products as well. TimberTech offers composite decking in a wide arrange of colors to choose from. Similar to Trex, TimberTech is a composite decking that is easy to maintain and requires less maintenance than a traditional wood deck. Miles Bradley is an experienced installer of TimberTech composite decking.
Azek Decking Professionally Installed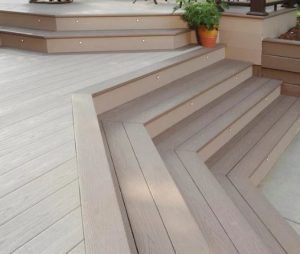 Backed by a 50-year warranty, Azek decking is a great choice for your new deck.  In addition, they have three unique collections to choose from. Those collections are the Vintage Collection, the Arbor Collection, and Harvest Collection. Each collection has its own unique look and feel with different widths and colors available. At Miles Bradley we offer Azek and TimberTech, also we offer Fiberon deck options as well.
Fiberon composite decking is a good choice for your decking as well. Their product is an eco-friendly wood alternative. Also, their product looks and feels like hardwood but without the maintenance. Like Azek, Fiberon is available in a wide variety of colors to choose from. At Miles Bradley Building and Remodeling, we offer a large option of brands of decking to choose from. Also, we offer wood decks as well as composite decks.
As you can see, we have a multitude of composite decking to choose from.  Here at Miles Bradley Building and Remodeling, we recommend Trex decking. Trex decking is a durable and reliable decking that we have installed for years. Also, Trex decking will maintain its beauty for decades to come.
No matter what brand of decking you choose, make sure to hire expert installers like Miles Bradley.  We can install the deck you have always wanted. Finally, give us a call today at 248-478-8660 and see what Miles Bradley can do for you.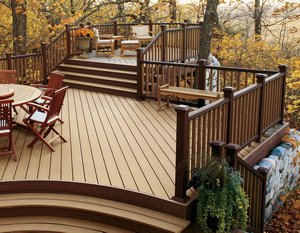 Over time, the decking industry has made drastic improvements to materials used to create your dream deck. Trex or Timbertech are very popular composite deck companies. Also, manufacturing composite decking materials that give homeowners the wood look they want, yet easy maintenance and longevity. As time continues to pass, composite decking continues to transform and other composite decking manufacturers are being introduced.
If you are planning on having your dream deck constructed out of low maintenance composite decking materials, Trex or Timbertech both supply high-quality decking materials and have very similar collections for you to choose from. So what is the difference between the two? Which should you choose? Looking fo tips on maintaining your Trex deck? Click here.
Timbertech or Trex
The decision on when to choose Trex composite decking or Timbertech composite decking is completely up to you. As far as the product goes, they are very similar and both offer the same low maintenance aspect that everyone is searching for. You may realize that your decision on which company to select may come down to texture, color, or customization you wish for your deck or landscaping project to have.
When searching for a Timbertech installer, look no further than Miles Bradley!
Miles Bradley Building has been installing composite decks for decades. Our experienced staff can help find exactly what you are looking for. At Miles Bradley, we construct your low maintenance dream deck with the highest quality Trex or Timbertech composite decking materials. Our decking professionals will review your deck plans and help you determine whether Timbertech or Trex composite decking is right for you. Finally, contact our professional deck builders today so we can get started.
View Trex Composite Decking Collections
View Timbertech Composite Decking Collections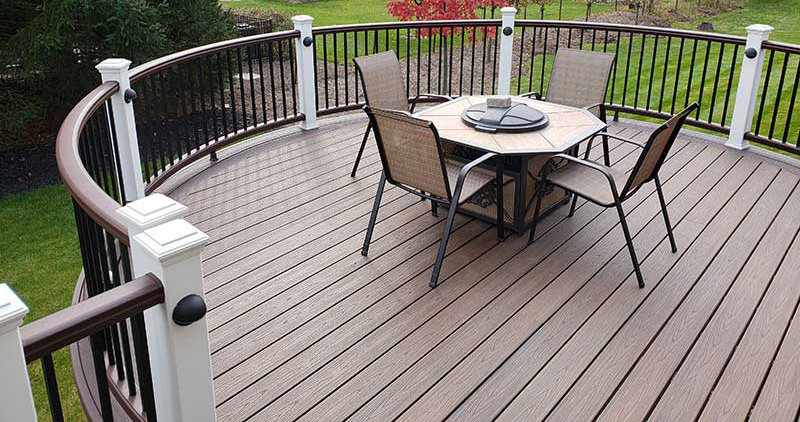 While enjoying the outdoors on your new Trex Composite Deck, you may think you would like a fire pit on the deck.  So the question becomes, can you put a fire pit on your composite deck? Well, the answer is a little muddy. First, you should never put a fire pit directly on your deck with no protection. The heat alone can warp the decking materials as well as embers can burn the deck as well.
Trex decking can soften at about 176 degrees Fahrenheit so you have to very cautious on the size of your fire. In addition, never install the firepit directly on top of the deck.  A gas type fire pit is a much better option than a wood-burning one
Composite Deck Fire Pit On Trex Safety Steps
If you are determined to add a fire pit to your deck try to keep some of this advice in mind.  Make sure under the firepit you install fire-resistant material for the pit to rest on. Insulated walls of stone or other types of materials are used to prevent heat from escaping. Deck Protect is another product that is used to prevent fire damage to your deck. Also, you can have a new custom-built deck that encompasses the fire pit and does not have the fire pit directly on the deck.
At Miles Bradley, we custom build low maintenance composite decks all the time and we can accommodate your needs. While it is not highly recommendable to put a large fire pit on your composite deck. With careful planning and the right type of materials and fire pit, it can be done. Call us today at 248-478-8660 in the Detroit area or 847-920-7601 in the Chicago area. Finally, we can answer any questions you have about Trex composite decks and your options.
Cedar decks are one of the most popular deck material choices across Michigan. Cedar decks give you that natural beautiful wood look, that many other materials just can't compare to. Cedar does not absorb moisture as fast as other woods, which helps to prevent future damage such as twisting and splitting. A life span of a cedar deck is usually around 15 to 20 years if treated properly.
Because cedar is durable and reliable material it's used in other exterior products as well, such as siding, fencing, shingles, gazebos, sheds, out side windows and doors. The only downside to cedar, is it should be stained and treated at least once every couple of years. The four best grades of cedar are architect clear, custom clear, architect knotty and custom knotty.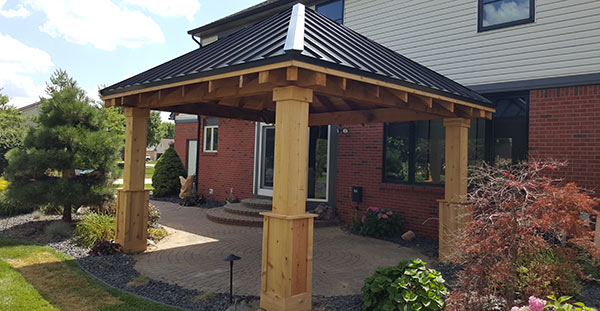 Benefit of a Cedar Pavilion or Pergola
Having a cedar pergola or pavilion installed in your yard, adds certain benefits for the home owner.  One of the first features a pergola or a pavilion adds to your yard is privacy. These structures offer a great place to enjoy the outdoors with out the prying eye's of the neighbors as a added bonus.
Pergolas and pavilions provide shade and protection from harsh weather. Pergolas also add value to your home. Attractive landscaping to a home can add almost 20% to your overall value of your home.
A cedar deck or a pergola can really improve the over all beauty of your yard, while providing a great area to entertain guests. At Miles Bradley, we have decades of experience with working with and installing cedar decks and pergolas as well as pavilions, three season rooms, and gazebos.
A cedar deck can give your yard the look of beautiful natural wood and last your family for decades. Contact Miles Bradley today for a quote on a new deck installation or give us a call at 248-478-8660 in the Detroit area or 847-920-7601 in the Chicago area, you will be glad you did!