Creating Weatherproof Storage Space Under Your Deck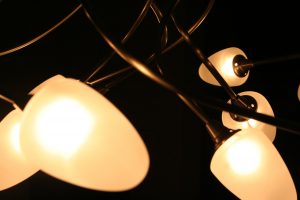 Seasonal decorations are always a fun way to change things up and spice up any living space. But while you're decorating your interior space for the holidays, don't forget your outdoor spaces as well. We're talking about perking up your deck for the holidays, and what better way to do that than with some festive lights!  We offer custom lighting that can brighten up your festivities, and make your deck that much safer. If you would like a more temporary solution, Christmas tree lights and outdoor decorations will make you the envy of the neighborhood.
What to do to with all those decorations once the celebrations are over? We're sure you're running out of space to store all of your holiday decoration and could use some help figuring out new space.
One of the easiest ways to get extra storage space is by utilizing the space you already have. We are talking about the space you may have under your deck. If you have a deck that is high enough off the ground we can turn that old unused space into a weather proof storage area for your seasonal decorations, deck furniture, and any other items your garage doesn't have space for.
We will create the perfect environment for you that will be properly sealed and prepared for those Midwest winters. This includes a drainage system and insulation so you don't have to worry about your items being exposed to the elements. We know that a harsh winter could be on our horizon, so make sure your storage spaces are ready for it.
Contact us today to ask about our storage spaces and find out how you can utilize that unused space for your storage needs!
Does your home need a new deck or maybe just some deck modifications? Now is the time! We have many solutions from building a new deck to rebuilding your old deck.
Some decks can be rebuilt using your existing understructure (the existing structure that your deck was built on top of). If the understructure on your current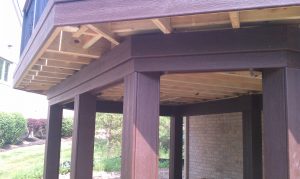 deck is in good shape we can remove the worn out decking and railing, and build the new deck on the existing understructure. We replace it with new, low maintenance railing and decking saving you lots of money over building a brand new deck.
We service all of Michigan, the Detroit Metro area and the Chicago Land area. We will come to your home for an estimate and see if your deck is a candidate for a rebuild on your existing understructure. When we rebuild a deck we rip out your old cedar deck and we install a low maintenance deck using Trek low maintenance material.
Also using the existing understructure we can rebuild and probably make modifications like creating an under deck dry space as part of the new design for the deck.  You can go bigger or smaller; whatever you want to suit your style and home. Call us today so we can figure out the best option for your deck!
With flurries falling this morning many people will begin to put away their deck furniture if they haven't already. You may be wondering what you are going to do with it or where you are going to put all of your outdoor equipment. Many people are unaware that the under-deck area or dry space can actually be very useful if finished properly.
Many people are concerned what they store will be susceptible to water damage, bugs, or critters. Miles Bradley Building and Remodeling will ensure your under-deck storage space has a proper seal, drainage system, and insulation leaving no room for damage to your stored items.
During the Holiday season Miles Bradley Building and Remodeling is offering specials to those who wish to get their decks built during the month of December.
Whether you are living in Detroit, Michigan or Chicago, IL, Miles Bradley is here to make your deck or dry space beautiful!