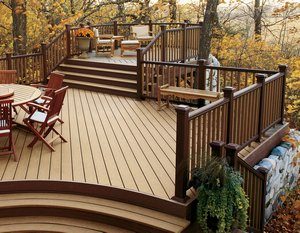 Are you considering moving into a home that already has a deck installed? Deciding which house is right for you can be a tough choice to make. What are things one should consider upon saying, "I'll take it"? Here are a few helpful deck tips to keep in mind before making a final decision.
Four Things to Ask Before Buying a Home with a Deck:
What is the deck's overall condition? Take a thorough look around the perimeter and "under the hood" of the deck to see what shape it's in. Do not just look at the surface of the deck to check out its health. Make sure that the joists and other components are supporting one another and that the deck isn't decaying, rusting, or rotting.
Does the deck meet current building codes? If the home that you're trying to purchase has a deck that is not up to code, this can turn ugly. The last thing you would want to do is to pay a fine for an outdated deck–or even, have difficulty trying to sell your home later on down the road. Be sure to ask your realtor if the deck meets the community's guidelines.
What's the age of the deck? Now, this question is super important to ask. Obviously the older the deck, the sooner it needs to get inspected. Make sure to have the deck inspected (if it hasn't been already) and to ask to see if any part of the deck was replaced.
What type of deck is it? Is it an older composite deck? Or is it a wood deck? Whatever deck it may be, be sure to ask to know how to treat and maintain it so that it can last for a good while.
Maintaining Your Deck
So you've finally found the home of your dreams, but your deck needs a little bit of maintaining, eh? Maintaining your deck takes a lot of work. You have to consider all of the time it takes to power-wash, sand, stain and even, paint. However, once the work is done, it's such a refreshing feeling knowing that your work did not go in vain.
Contact Us!
Are you currently looking for a moving company to help make your move a smooth transition? Men on the Move would be more than happy to help make your move a successful one. Are you planning on getting a deck installed soon? Contact Miles Bradley today to help you get started or to find out more information regarding the deck tips.
Posted In: Decks, Men on the Move, Miles Bradley, Moving to a Home with a Deck
Tags: Deck, deck inspection, deck tips, professional moving