If you've never experienced the luxury and bougies of a pergola, you're missing out! Pergolas are a beautiful way to increase your outdoor living space. In addition to beautiful design, they also provide a shady garden feature to walkways, decks, or outdoor sitting areas.
While we may highlight the practical uses, adding a pergola to your home will increase your home's resale value in the long run. If you're unsure of what a pergola is, let us explain them. Pergolas are known for their vertical pillars that support either cross beams or open lattice. The most common sight on a Pergola is climbing vines, hanging lights, or curtains, all of which make the pergola stand out and look beautiful. 
Why should I get a pergola?
Pergolas are wonderful because not only do they enhance your outdoor space, but they are also functional as well. They add an extra usable space on your deck or garden that can provide a layer of shade between you and the hot summer sun. If your Pergola is big enough, entertaining your guests in a cozy and warm environment will make your next dinner party feel fabulous. Being able to lounge under the shade on your porch or back deck is a wonderful feeling. In addition to letting you be outside longer and more comfortably, pergolas add more to your home's value as well.
Pergola Vs.Gazebo Vs. Arbor vs. Trellis Vs. Lattice
Pergola Vs. Gazebo
The biggest difference between a gazebo and a pergola is that gazebos are almost always shaped like an octagon with a roof over top. Pergolas do not have covered roofs and are generally square with exposed beams.  
Pergola Vs. a Trellis
A Trellis is different from a pergola in that it consists of latticework that is attached to a structure for vines to climb on. Whereas a pergola has larger columns and (most popularly) has horizontal planks of wood on top.
Pergola Vs. Arbor
Arbors are small archways that can be used for climbing plants to use as lattice as they grow. While pergolas and arbors both have the same vine climbing feature, pergolas are much biggest and more structurally sound.
No matter what kind of structure you're looking for in your backyard Miles Bradley can help! We have been building pergolas, gazebos, and trellises for our clients in South East Michigan for over 25 years. We've had clients from Brighton, Livonia, to Farmington Hills and Southfield. So why wait? Get a free quote on your next project today!
Here at Miles Bradley, we strive to provide the best and highest quality service to our clients. We have been committed to giving our clients competitive pricing and the highest quality experience in the industry. For over 25 years we have proven time and time again that we are the best deck builder in Michigan and Illinois, and we have the awards to prove it.
It started back in 1991 when our owner Paige Bradley Wedgle wanted to create a custom deck designing and building company. Over 25 years and countless awards later Miles Bradley has two locations and many happy clients. We made sure that from concept to completion that your deck is perfect. You can see our portfolio or work that we've done over the years, from decks to gazebos, and three seasons room, we've done it all.
Custom Structures and Patios We Excel At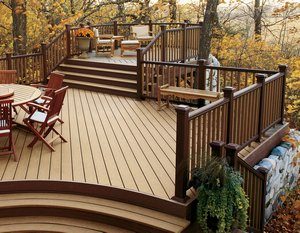 Custom Deck Designs
Whether it's a multi-level deck, wrap-around deck, or a hot tub addition, we can build it. There are several examples of how we were able to custom fit and design each deck to suit our client's needs. Our expert team of designers will create a mock-up and give you the deck of your dreams.
Composite Decks
If you want a deck that is low maintenance, easy to clean, and will stand the test of time composite decking is for you. We wanted to provide a lasting solution to deck longevity, which is why we became Trex platinum-certified. Trex decking not only has longevity and is easy to clean but it's also made from recycled materials and is eco-friendly. Check out more information about Trex decking here.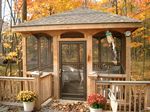 Pergolas, Trellises, and Privacy Walls
If you have a deck, but it's missing a certain.. something we recommend adding a Pergola, Trellis, or privacy wall for added comfort. Not only will you create an ambiance and increase your home's value in the process!
Want to see what else we can do? Check out our online portfolio 
IF you want to be able to enjoy the Michigan summer on your new deck, book your deck installation soon! Our books are wide open during this time of year, so get your date booked today!