Spring and Summer are the main seasons for deck building in Michigan and Illinois. During this season, we get many questions asking about the cost of a new deck. There are many deck-building companies out there but few can compete with the high-quality workmanship, materials, and knowledge that Miles Bradley provides. We will tell you all you need to know about the procedures and costs of getting a new deck built for your home. Our offices are located near Detroit and Chicago, serving both metro areas. It should be noted that cost can vary for different types of materials. The ranges below reflect the current year's prices, but will undoubtedly change year to year.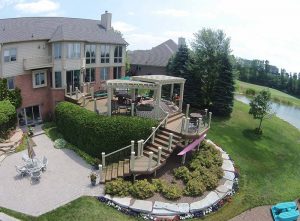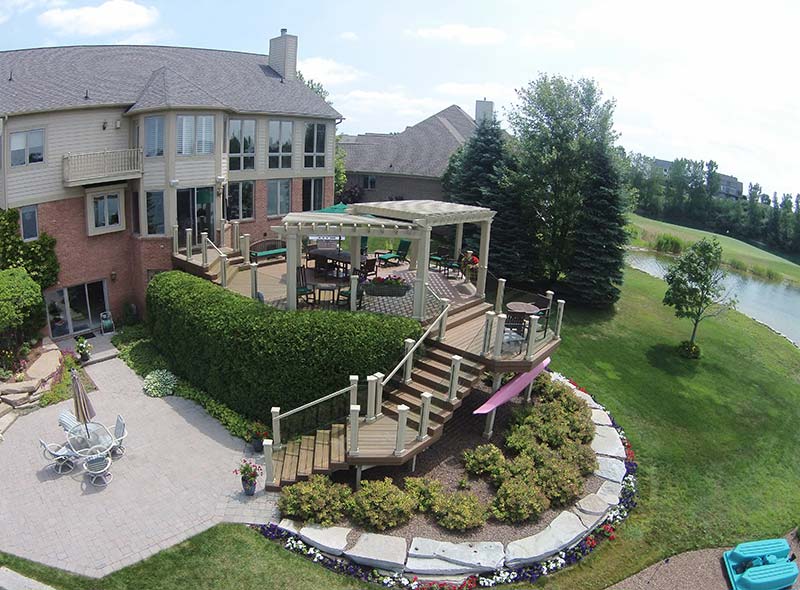 Miles Bradley cost guideline for a typical new custom deck construction.
The average deck is around 300-400 square feet.
A pressure-treated wood deck can cost around $15,000-$18,000 depending on how it is constructed.
Cedar decks can cost between $20,000 and $25,000 depending on the specs of the deck.
Composite decks can cost between $20,000 and $25,000. Despite the price, these decks are the best value. They are built to brave the elements so forget warping, weathering, and damage by insects. Check out our Trex Low Maintenance Composite Decks, there is no need to paint, seal, or stain.
Deck cost pricing includes; permits from the city, clean up, labor, material, warranty, and some beautiful rail lighting. (We add in to thank you for your business!)
The prices above are for complete deck construction. Your custom deck will vary within the pricing. Contact us for pricing on building a new deck for your home.
Custom Deck features can increase deck building cost;
Your options are endless! Keep in mind custom features such as curved rails, steel frames, spiral staircases, radius decks, and custom decking patterns can increase costs. Right now is the perfect time to have Miles Bradley help design and build your custom deck. Call our Detroit Michigan office: 248-478-8660 or our Chicago Illinois office: 847-920-7601 for new deck-building costs in your area.
Updated March 2021
Cedar is one of the most widely used materials for outdoor structures like; Decks, Pavilion, Pergolas, and Gazebos. All of which are custom-made by Miles Bradley builders. When considering wood decks for a home, Cedar Decks are a very popular choice in Michigan and Illinois. That natural beautiful wood gives you the look and feels that many other materials just can't compare to. Cedar does not absorb moisture as fast as other woods, which helps to prevent future damage such as twisting and splitting. A life span of a cedar deck is usually around 15 to 20 years if treated properly.
Because cedar is durable and reliable material it's used in other exterior products as well, such as siding, fencing, shingles, saunas, sheds, outside windows, and doors. The only downside to cedar is it should be stained and treated at least once every couple of years. The four best grades of cedar are architect clear, custom clear, architect knotty, and custom knotty.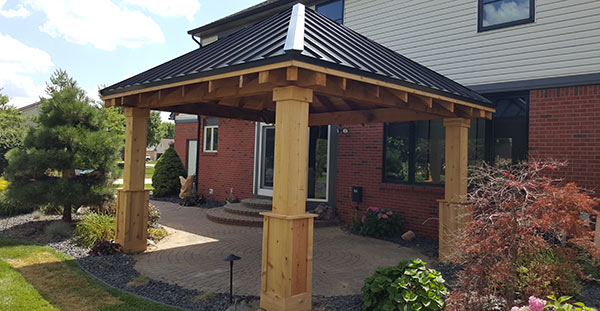 Cedar Pavilion or Pergola
Having a cedar pergola or pavilion installed in your yard adds certain benefits for the homeowner.  One of the first features a pergola or a pavilion adds to your yard is privacy. These structures offer a great place to enjoy the outdoors without the prying eyes of the neighbors as an added bonus.
Pergolas and pavilions provide shade and protection from harsh weather. Pergolas also add value to your home. Attractive landscaping to a home can add almost 20% to the overall value of your home.
Any one of our custom-built cedar structures will really improve the view and beauty of your yard while providing a great area to entertain guests. At Miles Bradley, we have decades of experience with working with and installing cedar decks and pergolas as well as pavilions, three-season rooms, and gazebos.
Save On Cost of Cedar Deck
A cedar deck can give your yard the look of beautiful natural wood and last your family for decades to be sure. However, the cost may be a consideration when having one built. The price for building a Trex Deck for example may be cheaper depending on the current prices. There is a way to save on the cost of building a deck and still use cedar. The following is a recently built deck with pressure-treated decking. It has cedar rails and cedar fascia with black aluminum balusters. That combination is cheaper than Trex. So, if you have a huge deck to replace, that combo of material is price competitive.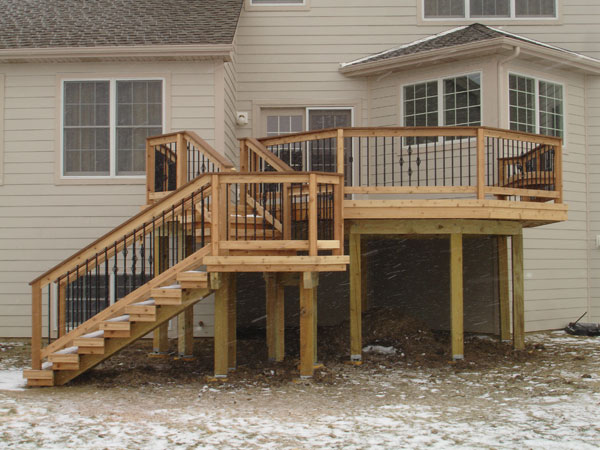 Finally, please Contact Miles Bradley today for a quote on a new cedar deck installation.  Or, feel free to give us a call at 248-478-8660 in the Detroit area or 847-920-7601 in the Chicago area, you will be glad you did!