Have you been searching for ideas on sprucing up your plain deck or landscape? There are so many great ideas for whatever style you are going for! Whether you are looking to add lighting to your stairway, structure to your landscape, or flower boxes to your deck, Miles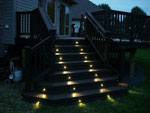 Bradley can help you with all of the decking accessories you may need.
Trellis' or Pergolas are great ideas for adding structure to your space or deck while also serving as a home to your flowers or vines. There are many different pergola or trellis styles that will enhance your deck space.
Another great deck accessory that will enhance your deck space is lighting. Miles Bradley can create custom lighting that will suit your deck perfectly. Whether you would like your entire deck lit up or just your deck's staircase, Miles Bradley can create lighting that will bring out your deck structure and landscaping.
Having a deck built and adding enhancing deck accessories can help to improve your Michigan or Chicago, IL home value. There are many options when it comes to having accessories added to your deck space. Visit Miles Bradley's accessory portfolio for more ideas and photos.
To schedule your deck build, or add deck accessories to your current deck contact and schedule your project with Miles Bradley Building and Remodeling, Inc. professional deck builders today.
Posted In: deck accessories
Tags: chicago deck builders, deck accessories, deck lighting, michigan deck builders