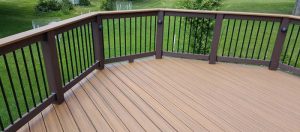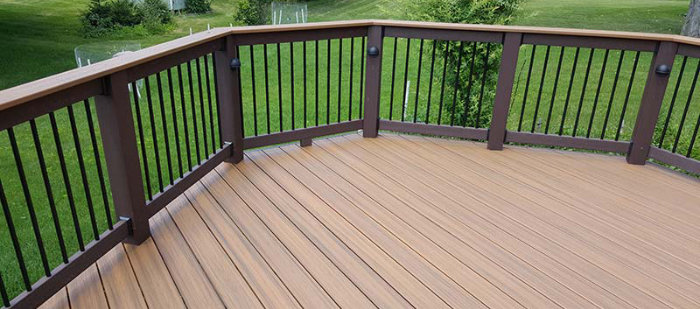 After 2020, I think we can all agree that we are relieved things are returning to normal. The state of Michigan is opening up and the restrictions are being lifted. Finally, you can interact with your loved ones and enjoy yourself freely. Now is the perfect time to relax outside on your deck. Don't have one? Don't worry! At Miles Bradley, we do local deck installations so you can enjoy yourself outside.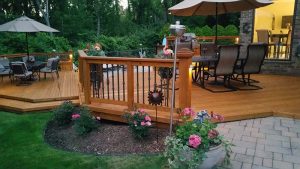 Are you thinking about decorating your deck, but aren't sure where to start? There are so many ideas to choose from, but which one is right? When it comes to transforming your deck into an outdoor living space, there is no right answer. Each deck has its own style and brings its own personality to the table. Below are a few ways to decorate your deck with the style just right for you.
Decorating your Deck
Add furniture: it's always nice to start off with a focal point and move from there. Placing your main piece of furniture in a focal area will make it stand out more. There are an endless amount of furniture items you could play around with to see which one works best for you. Also, when it comes to deciding what colors you want to use, your options are limitless.
Make it comfy: not only should your outdoor living space look comfortable, but it should feel comfortable as well. Adding a bunch of comfy pillows always seems to do the trick.
Create privacy: creating privacy is key, especially if your home is fairly close to your neighbors. Planting a row of evergreens or planter boxes with flowers forms a privacy wall for your deck. It also adds a pop of scenery to your backyard.
Lattice wall: putting up a wooden square lattice wall on one side of the deck is in right now. Planting certain plants such as climbing roses and clematis will eventually grow up the lattice and form a fragrant wall filled with blooms.
Add water: adding a water feature to your decks, such as a water garden or fountain, creates a smooth, tranquil environment. Nothing is better than coming home after a long day of work to a peaceful atmosphere right in your backyard. Adding water is a great addition when it comes to decorating your deck.
Deck Installation
As you can see, there are many options to choose from when it comes to decorating your deck. However, choose what will make you happy. If you are currently looking for a company to do your deck installation, please call Miles Bradley or feel free to fill out our quote form. We are a full-service custom decking firm that strives to see our customers satisfied.
When the leaves change and back-to-school ensure you may have a few home renovations still on your list from the summer. While you may think that fall isn't an ideal time to add "Hire a company to build my deck" to the list, you couldn't be further from the truth! Fall is a great time to have your deck inspected, repaired, or build from the ground up! With the holiday season ramping up, hiring a deck building company in the Metro Chicago and Detroit area will help save your sanity and time this fall.
We here at Miles Bradley have been building decks in the fall (and even the winter) for years!
Installing a deck in the fall is a good alternative to installing a deck in the summer for many reasons. So if you've had to put off your dream deck installation this summer, fret not!
Why Fall is a Great Time to get a Deck Installed:
-Frost Hasn't Set in Yet
Since the ground hasn't quite frozen yet, fall is a great time to install the outdoor deck or patio. Posts can still be put into the ground and a deck can still be built before the frost sets in and the ground becomes hard.
-We're Less Busy!
Summer is our peak season, and we are stretched thin as a business. In the fall the deck-building season slows down
-You'll be able to Enjoy the Fall, Outdoors
Getting out and enjoying the great outdoors from the comfort of your backyard is a gift all its own. Enjoying the brisk fall nights with
Give the Gift of a Deck For The Holidays!
Why not give your loved one the gift they've always wanted? Putting your down payment on a new Trex deck can ensure that your following spring and summer is going to be spent outside with friends and family!
So why wait to get the deck of your dreams? Contact us today!