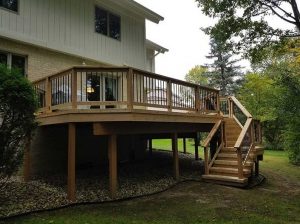 While composite decks have been gaining popularity, wood decks are still in constant demand. However, picking the right type of wood is important. If that is the route you are going, then you will want to pick out the best materials for wood decks. While Trex and other composite decking brands have similar compositions, the materials for wooden decks can vary greatly. There are a variety of wood types to choose from.
Choosing the Type of Materials for Wood Decks
There are many reasons why people gravitate toward wood decks. Compared to other decking materials, wood is cost-effective and efficient for building an outdoor patio or deck. In addition, wood decks always look nice and can weather any storm. However, selecting the material for your deck can be a challenge. So, what are some of the best materials to use for your wood deck?
Cedar Wood
Cedar decks are a very popular choice for outdoor structures such as decks, gazebos, and railings. In addition to this material being beautiful, a properly maintained cedar deck can last between 15 to 20 years! This wood is also resistant to water absorption, making it less likely to split or warp. Cedar is so durable that it is used in saunas and sheds. The only disadvantage that cedar decks have is that they need to be treated every couple of years. Many of the wooden decks that Miles Bradley built are made out of cedar. You can never go wrong with cedar wood for your deck.
Pressure-Treated Wood
If you are looking for a classic, cost-effective material for your deck, then pressure-treated wood might be for you. These woods are composed of soft-woods that are easy to cut and drill into compared to other decking materials. However, this material is prone to splinters and cracking if not regularly maintained. Furthermore, you have to treat the cut ends of the wood and it can cost extra to get pressure-treated wood that is appearance-grade.
Redwood for Decks
Redwood is another standout for decking material. While redwood is more expensive and difficult to obtain compared to other woods, it has plenty of appeal. In addition to natural preservatives in the wood, the wood's natural deep red color is eye-catching. That means you do not have to stain or paint the wood. Furthermore, redwood decks can last for 30 years if maintained properly. Add the resistance to warping and buckling, redwood is a good choice for those who have extra cash to spend.
Wood Decks at Miles Bradley
Regardless of what wood you choose for your deck, you'll want to hire professional deck builders to put it all together. Fortunately, you have found the best deck builders in Michigan and Illinois! Our company builds patios and decks to their specifications. If you need a custom deck, we can build it! In addition to constructing wooden decks, we do composite and PCV decks as well. We also install a variety of deck accessories to customize your space. If you are looking to build a new outdoor space, contact us today!