Cedar decks are one of the most popular deck material choices across Michigan. Cedar decks give you that natural beautiful wood look, that many other materials just can't compare to. Cedar does not absorb moisture as fast as other woods, which helps to prevent future damage such as twisting and splitting. A life span of a cedar deck is usually around 15 to 20 years if treated properly.
Because cedar is durable and reliable material it's used in other exterior products as well, such as siding, fencing, shingles, gazebos, sheds, out side windows and doors. The only downside to cedar, is it should be stained and treated at least once every couple of years. The four best grades of cedar are architect clear, custom clear, architect knotty and custom knotty.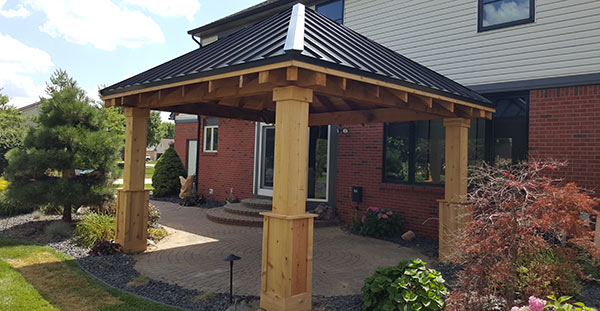 Benefit of a Cedar Pavilion or Pergola
Having a cedar pergola or pavilion installed in your yard, adds certain benefits for the home owner.  One of the first features a pergola or a pavilion adds to your yard is privacy. These structures offer a great place to enjoy the outdoors with out the prying eye's of the neighbors as a added bonus.
Pergolas and pavilions provide shade and protection from harsh weather. Pergolas also add value to your home. Attractive landscaping to a home can add almost 20% to your overall value of your home.
A cedar deck or a pergola can really improve the over all beauty of your yard, while providing a great area to entertain guests. At Miles Bradley, we have decades of experience with working with and installing cedar decks and pergolas as well as pavilions, three season rooms, and gazebos.
A cedar deck can give your yard the look of beautiful natural wood and last your family for decades. Contact Miles Bradley today for a quote on a new deck installation or give us a call at 248-478-8660 in the Detroit area or 847-920-7601 in the Chicago area, you will be glad you did!
Trex Deck Builders Wixom, Novi, Commerce Twp, South Lyon, Orchard Lake
Here at Miles Bradley, we're more than just a great deck builder! We can also build your dream 3 season room, patio, or custom pergola in the Metro Detroit area. Check out these local custom project built by Miles Bradley.
Location: Wixom, MI
You can see this custom made 3 seasons room was just the touch this house need to be able to enjoy Michigan's seasons while in the comfort of their own home. Finished off with cedar and T&G trim that made this custom order have the warm finishing touches it needed.
Final Price: $30,000
---
Location: Novi, MI
This three season addition has taken the indoor/outdoor room to the next level. They added a gas fired fireplace and an indoor bar to entertain guests in style. They added coffered ceilings, lights, and fans to make their porch into the main place to be in any of the seasons!
Final Price $38,000
---
Location: Orchard Lake, MI.
This little walk out deck was just what this house needed to finish off their stone patio. You can see how the bent glass rail compliments the house and the stone patio. They wanted a low maintenance Trex deck so they wouldn't have to worry about regular maintenance on their deck. The Trex Transcend decks are made for customers who want a deck that won't succumb to the wear and tear that our Michigan seasons can produce. Read more about them here.
Final Price: $20,000
---
Location: South Lyon, MI
The property owners of this walkout level screened in porch had a view, and they wanted this addition to compliment it. We were able to add on the multi-level deck with the Trex Transcend Deck system with rail steps so they didn't have to worry about cleaning or fading. This deck created space to be in the winter and space outside for the warmer months. We loved it!
Final Price: $50,000
---
Location: Commerce, MI
We do more than just decks! Here you can see an elegant cedar timber pergola with round columns that we built for this client in Commerce Michigan. We wanted to upgrade their outdoor experience and give them the best service in the process.
Final Price: $10,000
So if you want to create the deck of your dreams let us help!
Spring is in the air in the Metro Detroit area. When spring cleaning your house, don't forget about  your Michigan deck. Leaving stains or improperly cleaning your deck can lead to the warranty on your deck being voided out. Miles Bradley recommends that you watch the video below to learn the proper steps to clean your composite custom deck in Novi, Northville or all over southeastern Michigan.
How to Properly Clean Your Trex Deck Without Voiding Your Warranty
Spring is the season for deck building in Michigan and Illinois. During this season, we get many questions asking about the cost of a new deck. There are many deck building companies out there but few can compete with the high quality workmanship, materials and knowledge that Miles Bradley provides. We will tell you all you need to know about the procedures and costs of getting a new deck built for you home.
Miles Bradley cost guideline for a typical new custom deck construction.
The average deck is around 300-400 square feet.
Pressure treated wood deck can cost around $8,500-$12,000 depending on how it is constructed.
Cedar decks can cost between $10,000 and $13,000 depending on the specs of the deck.
Composite decks can cost between $13,000 and $19,000. Check out our Trex Low Maintenance Composite Decks, don't let the price discourage you, these decks are built to stand up to the outdoor weather. There is no need to paint, seal or stain they last up to warping, weathering and insects.
Deck cost pricing includes; permits from the city, clean up, labor, material , warranty, and some beautiful rail lighting.(We add in to thank you for your business!)
The prices above are for a complete deck construction. Your custom deck will vary within the pricing. Contact us for pricing on building a new deck for your home.
Custom Deck features can increase deck building cost;
Your options are endless! Keep in mind custom features such as curved rails, steel frames, spiral staircases, radius decks, and custom decking patterns can increase costs.
The first day of spring has started, right now is the perfect time to have Miles Bradley help design and build your custom deck. Call our Detroit Michigan office: 248-478-8660 or our Chicago Illinois office: 847-920-7601 for new deck building costs in your area.
>
The days of walking around our deck barefoot are over, but did you count how many splinters your old deck gave you this summer? Believe it or not, the type of material used when your deck is built can have a huge impact on how well or how long your deck will last. From wet to dry, hot to cold, or summer to winter, understanding decking material can make the difference of a deck lasting just 5 years, to a deck lasting 20 or more years!
The various weather conditions Michigan has to offer can take a toll on your deck. How do you know the winter snow or standing ice or water won't ruin your deck? Have you heard about cedar decks? Here are some reasons why we recommend cedar decks to Michigan homeowners;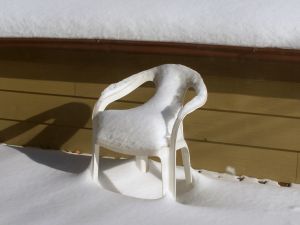 aesthetically pleasing appearance of natural wood
resistant to moisture
cheaper alternative to composite decking
designed to protect against the unkind elements of the winter season
To save big on having your custom cedar deck built, be sure to schedule your deck build in the off season. Winter deck building is the perfect time to get great discounts, and allows you to use your deck on the very first day of spring!