Did you spend your summer wishing you had a better seating area outside your home? Imagine sitting outside and not having to run indoors when the rain started to fall or a chill takes over the air. Having a screened enclosure or 3 season rooms will not only increase the value of your home but offer covered seating all year long, or for at least three seasons. It's something for all your family and friends to enjoy.
There are two common types; covered and enclosed seating in Michigan. Homeowners in Plymouth or Novi are adding 3 season rooms or screened enclosures throughout the year. Did you know that you can save big on the construction cost of a screened enclosure or three-season room during the off-season? Check out our current specials for more incentives!
3 Season Rooms or Screened Enclosures
Determining whether you want a 3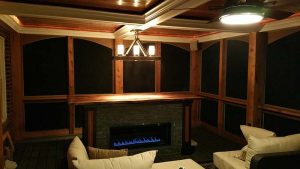 season room or a screened enclosure is based on your needs and preferences. A screened enclosure is just that, an enclosure that is screened in. The screens allow for airflow and lighting throughout the seating area. A 3 season room is very similar, although instead of screens, there are windows. Some homeowners opt into convertible screened enclosures. This allows for a screened enclosure to be converted to a 3 season sunroom during the cooler months.
With any type of enclosed seating, whether 3 season room or screened enclosure, you can have full customization to fit your needs and desires. Many homeowners choose to have custom lighting, TVs, or custom rail lighting installed. Your contractor will discuss all available customization options with you to make sure your enclosed seating space is just how you would like it. View our 3 season rooms board on Pinterest!
Miles Bradley has been constructing screened enclosures and 3-season rooms in Plymouth or Novi for years. If you need help determining which type of room is right for you, speak to one of our professionals today. Contact us today to find out just how much you can save with off-season building!
Posted In: 3 Season Rooms, Enclosures
Tags: 3 season rooms Novi, 3 season rooms Plymouth, Discounts on off season construction, Screened enclosures, sunrooms, Three season rooms