The 2017 holiday season is finally ramping up! The recent snowfall has really made the winter season set in. Even though the beauty of the snow is a highlight of the season it may have you missing the summer months. If you want your summer of 2018 to be spent having fun in the sun consider adding on a sunroom or a low maintenance Trex deck. What better way to kick in the New Year than with the plan of adding on a deck or screened-in enclosure to your home! Giving the gift of a fun summer or investment into your home is something that everyone can get behind.
You may be asking yourself "Why should I buy a three-season room In December?". Well as we all know giving a gift that takes their breath away for the holiday. What better way to give the gift that you'll enjoy for years to come! This time of year is the perfect time to plan your deck installation for 2018. Our production and scheduling slow down this time of year, which means we can get your deck installed when you want. Getting your down payment in during our slow time ensures that you'll get your screened-in porch before we book up during the spring.
Can't wait until the spring or summer of 2018? Well, we can build during the winter too! We keep our production and construction going during the cold months as well as the warm ones. Miles Bradley also offers winter discounts on projects booked before the spring. So why wait? Contact us about the details before the gift opening begins.  
Why a Three-Season Room or Sun Room This Holiday?
It goes by different names, a three-season room, screened-in porch, or sunroom. They may have different names but they all give you the same thing: Enjoyment of the great outdoors from the comfort of your home.  
Three-season rooms or Sunrooms are a great way to experience the great outdoors without the bugs while keeping you cool and in the shade. Giving your home a sunroom gives you a place that you can relax, kick back, and enjoy the fresh open air.
So why wait? Contact us today and get your quote for your Christmas or Hannukah deck or three-season room today!
---
Did you spend your summer wishing you had a better seating area outside your home? Imagine sitting outside and not having to run indoors when the rain started to fall or a chill takes over the air. Having a screened enclosure or 3 season rooms will not only increase the value of your home but offer covered seating all year long, or for at least three seasons. It's something for all your family and friends to enjoy.
There are two common types; covered and enclosed seating in Michigan. Homeowners in Plymouth or Novi are adding 3 season rooms or screened enclosures throughout the year. Did you know that you can save big on the construction cost of a screened enclosure or three-season room during the off-season? Check out our current specials for more incentives!
3 Season Rooms or Screened Enclosures
Determining whether you want a 3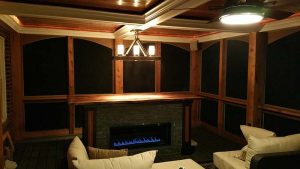 season room or a screened enclosure is based on your needs and preferences. A screened enclosure is just that, an enclosure that is screened in. The screens allow for airflow and lighting throughout the seating area. A 3 season room is very similar, although instead of screens, there are windows. Some homeowners opt into convertible screened enclosures. This allows for a screened enclosure to be converted to a 3 season sunroom during the cooler months.
With any type of enclosed seating, whether 3 season room or screened enclosure, you can have full customization to fit your needs and desires. Many homeowners choose to have custom lighting, TVs, or custom rail lighting installed. Your contractor will discuss all available customization options with you to make sure your enclosed seating space is just how you would like it. View our 3 season rooms board on Pinterest!
Miles Bradley has been constructing screened enclosures and 3-season rooms in Plymouth or Novi for years. If you need help determining which type of room is right for you, speak to one of our professionals today. Contact us today to find out just how much you can save with off-season building!