Cedar decks are one of the most popular deck material choices across Michigan. Cedar decks give you that natural beautiful wood look, that many other materials just can't compare to. Cedar does not absorb moisture as fast as other woods, which helps to prevent future damage such as twisting and splitting. A life span of a cedar deck is usually around 15 to 20 years if treated properly.
Because cedar is durable and reliable material it's used in other exterior products as well, such as siding, fencing, shingles, gazebos, sheds, out side windows and doors. The only downside to cedar, is it should be stained and treated at least once every couple of years. The four best grades of cedar are architect clear, custom clear, architect knotty and custom knotty.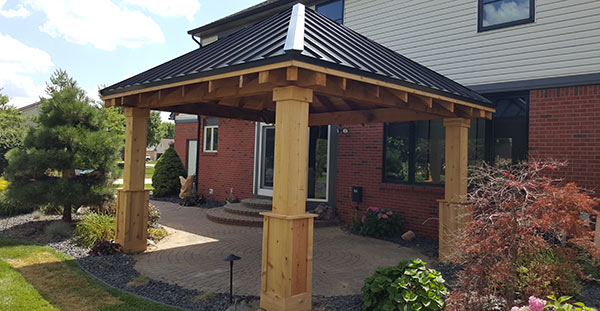 Benefit of a Cedar Pavilion or Pergola
Having a cedar pergola or pavilion installed in your yard, adds certain benefits for the home owner.  One of the first features a pergola or a pavilion adds to your yard is privacy. These structures offer a great place to enjoy the outdoors with out the prying eye's of the neighbors as a added bonus.
Pergolas and pavilions provide shade and protection from harsh weather. Pergolas also add value to your home. Attractive landscaping to a home can add almost 20% to your overall value of your home.
A cedar deck or a pergola can really improve the over all beauty of your yard, while providing a great area to entertain guests. At Miles Bradley, we have decades of experience with working with and installing cedar decks and pergolas as well as pavilions, three season rooms, and gazebos.
A cedar deck can give your yard the look of beautiful natural wood and last your family for decades. Contact Miles Bradley today for a quote on a new deck installation or give us a call at 248-478-8660 in the Detroit area or 847-920-7601 in the Chicago area, you will be glad you did!