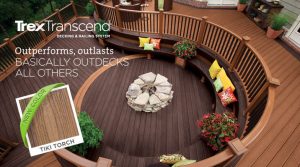 We are proud to offer such a great product from the largest manufacturer of composite decking (wood-alternative). Today Trex was awarded the 2013 Green Award from Washingtonian Magazine. This award recognizes people, companies, and organizations in the DC area that work to improve the environment and encourage eco-friendly living.
Trex was awarded this because of their efforts in salvaging more than 400 million pounds of plastic and wood scrap out of landfills each year. They kept more than 2.5 billion pounds total from 2007 through 2012 alone. Trex decking products are manufactured from more than 95 percent of recycled content. This includes; wood and sawdust, along with plastic and newspapers from household items.
Trex is committed to going "Green"
Their green efforts do not stop there. Trex manufacturing's final process also is green. This is done by using a proprietary method that recycles factory refuse back onto the manufacturing line. By continuously improving their process with green methods, Trex supports their community through recycling and education.
We are delighted to see Trex earn this award and are proud to support this company as a platinum builder. Contact us today to see how we can build your deck with Trex composite decking material.
Posted In: Deck Materials, Trex Decking
Tags: composite deck material, going green, trex low maintenance decking, wood-alternative