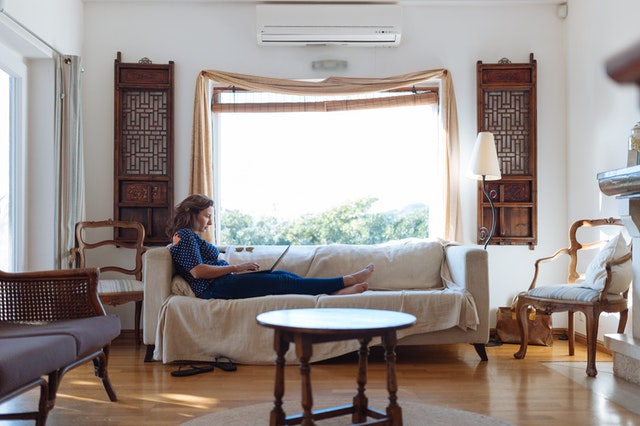 The COVID-19 Pandemic has been a challenge for everyone. However, the gloom around the situation is beginning to change. As a result, it is the perfect time to make some positive changes. Fortunately, you don't have to wait — you can make a few quick tweaks to your home now that will have a big impact on your overall outlook and could even impact your home's appraisal value. From changing out the fixtures and revitalizing pieces you already have to revamp your outdoor space, here are some ideas for every budget, presented below by Miles Bradley Building and Remodeling.
Revitalize With Small Changes
Changes don't have to be drastic to be profound. Even something as simple as swapping out the fixtures in your kitchen and bathroom will have a positive effect on the overall feel of these rooms. You can also add a new rug to the living room, invest in new bedding for each bedroom, or change out the curtains to a light, airy material to let in more light.
If you're looking to update without a huge investment, try switching the furniture around, giving the house a deep clean, or organizing the garage. You never realize quite how much impact these small actions have until you're looking at a clean and reorganized house.
Updating What You Own
If your budget is nearly bare, you can also re-envision your space with a few simple, inexpensive, and attractive updates. This includes some fun DIY projects. One of these attractive additions can be a pallet bookcase. Jen Woodhouse explains that this is a relatively easy project to do. After all, the materials for the project are common wood pieces. You can use recycled materials for your project. Many people tend to discard pallets, so take a trip on trash day and see what you find.
However, there are other inexpensive updates you can make without going trash day hunting. This is where an accent wall comes in. An accent wall can be as simple as painting one wall in a room. A popular way to install an accent wall is through the wallpaper. Peel and stick wallpaper is a simple DIY that only requires a few tools and patience. You could also use stencils to create art anywhere that needs a quick pick me up.
You can also apply these tricks to your workspace, especially if you're among the people who began working from home. In addition to creating a relaxing, comfortable environment that also keeps you productive, ZenBusiness mentions that you need to allow for plenty of natural light. 
An Amazing Outdoors
If the pandemic had no other positives, it's that it made us spend lots of time outdoors. Being outside is one of the best things you can do for your mental and physical health, so don't rush back inside to the mall or movie theater now just because you can. A few ways you can elevate your outdoor space include repainting an old umbrella or letting the kids stock the garage with backyard games that they make themselves.
You can also update any outdoor features you use regularly; if your BBQ range is looking a little dated, a new range hood could be just the things you need to help bring that back to life. Or, if you want to go all-out and add a new deck to your property, you can work with Miles Bradley Building and Remodeling to ensure you get one that suits your needs.
Although it's early, this is a good time to prepare for a fall garden.  If you don't know much about plants, you can host a plant swap, which can turn into a community event with a little bit of effort. Gardening can be a great opportunity to bond with family and household members. Regardless of your reason, gardens are a lovely addition to your home.
Making your home a healthier and happier environment doesn't have to cost an arm and a leg. With a bit of creativity, you can turn your space from drab to fab in an afternoon. The above tips can get you started but don't be afraid to try your ideas. Remember, you can always change it back … though you probably won't want to! 
---
Image via Pexels
Posted In: Home Improvements, New Deck Projects
Tags: DIY, increase home value, upgrading