Groundhogs day and came and went, and the prediction was bleak. Even though Punxsutawney Phil, the famous groundhog, saw his shadow we won't let that get us down.  Being outside in the cool spring air or the summer sun on a new deck is the only way to enjoy your home. Winter may be in full swing for another 6 weeks but you should start planning for Summer. If you envision BBQs and family time out on a new deck, three seasons room, or pergola, nows the time to book your install date. Hire Miles Bradley now to ensure your summer dreams of a new deck come true!
The great outdoors can be that much better with an outdoor patio, three-season room, or pergola addition! Being able to be outside while still being at your home is a luxury and increases your home's resale value. When you add a deck to your home, you're not only increasing the space that you can use in your home, you're also investing in your home.
Why Should I Schedule My Spring Or Summer Deck Installation Now?
The best time to book your deck installation is during the slow periods for deck installers. Since installing decks is seasonal, now is the best time while the ground is frozen. As they say "The early bird gets the worm" and the same is true with scheduling your patio, three seasons room, or pergola installation.
During the winter months, our schedules are wide open and ready for your spring deck installation. Since we book up quickly closer to the spring, now is the best time to get your ideal installation date. In some cases, people who wait too long to schedule their deck install have to wait and miss out on summertime spent outdoors.
So don't wait for Spring before you book your install. Call or contact us today and get your date locked in! Don't say we didn't warn you.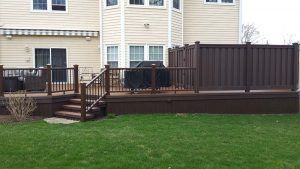 Everyone needs a little privacy. If you live close to your neighbors or next to a busy road, you can understand the value of privacy while you're outside on your deck. Those prying eyes of neighbors and passersby can be too much and can take away from enjoying time with your family. But what can you do? We here at Miles Bradley can think of a suggestion!
It's amazing what a privacy wall can do to help you feel a little relief. It's a simple thing that can give you the retreat that you and your family need to enjoy the outdoors. Also, it's especially nice if you have an outdoor pool or hot tub on your deck and don't want your neighbors' eyes on you and your family
Getting a Privacy Wall Built on Your Deck or Patio
Building deck walls for privacy can do more than just give you a feeling of sanctuary in your own neighborhood but also act as a way to stay safe from the elements. A privacy wall on your deck or patio can block wind, rain, and snow that Michigan produces all year round. With a privacy wall, you can get out in your hot tub in the winter without the wind and snowmaking it unbearable.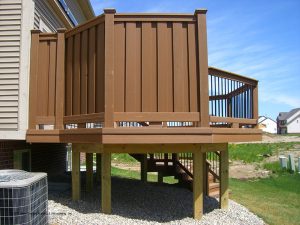 Not only do privacy walls on your deck give you these benefits, but they also add a visual element to your deck. We can help you design the privacy wall of your dreams. We can give you options for your wall that can take your deck from drab to fab.
If you've been wanting to build a privacy wall for you and your family, we here at Miles Bradley can help! We build all year round and can get your privacy wall or fence up in time for hot tub season so you and your family can have a little privacy while enjoying your deck. Finally, click here for a free quote on a privacy deck wall.
We did it again! Do you enjoy the unique decks we build here at Miles Bradley Building And Remodeling, Inc? Our deck contractors brainstormed with the homeowner, planned and designed all attributes of the deck; composite material, framing, railing, and lighting. Now,  we just finished our latest project, yet!! Introducing the Radius Deck!
Our Deck Building Contractors built this Radius Deck, using these Trex products;
Trex Transcend Vintage Lantern Decking
Trex Transcend White Rail Post
Trex Transcend Vintage Lantern Railings
Black Round Aluminum Baluster